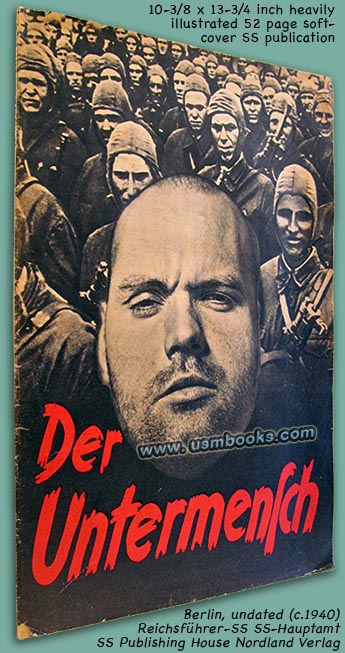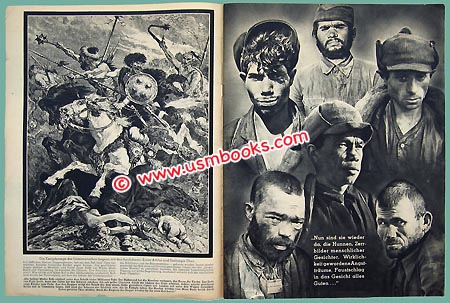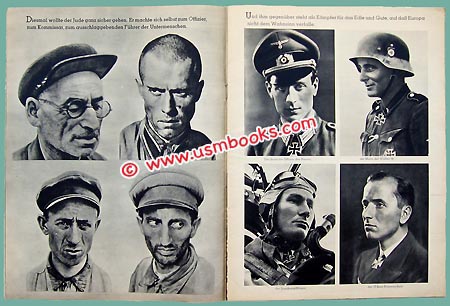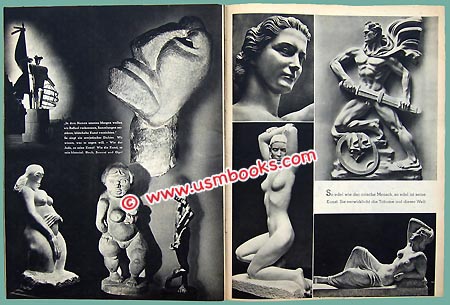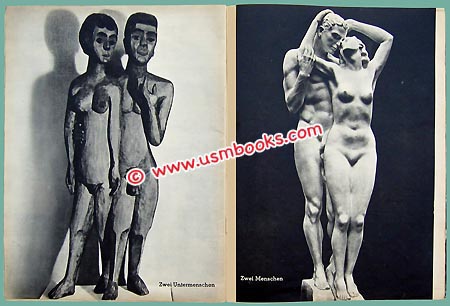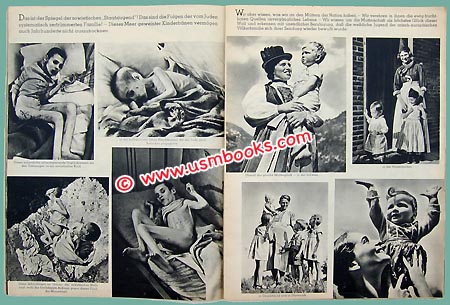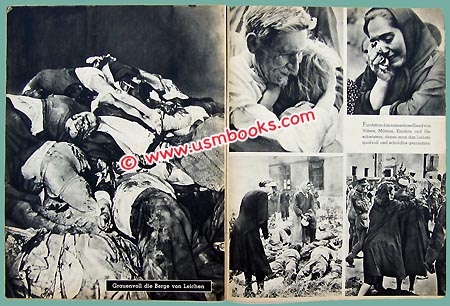 This is easily the most gruesome and derogatory anti-Jewish publication of the Third Reich of Adolf Hitler. Most others seem mild by comparison. It is a large 10 x 13-1/4 inch, 52 page very, very heavily illustrated magazine. In fact, it is virtually all photos with small, very direct captions.


Der Untermensch (The Sub-Human) is undated but was probably published in 1942 for the SS-Hauptamt - Schulungsamt by the SS publishing company, Nordland Verlag in Berlin.

Beginning with a quote from Reichsführer-SS Heinrich Himmler, the introduction to the book explains that certain populations are so biologically inferior to even average humans that they are virtually incapable of understanding how different they are from the remainder of humanity. They know nothing of culture, the plow, factory machinery or even something as basic as a house.
Such homo sapiens exist like the lowest forms of beasts and are referred to as "Untermensch" (sub-human). The book contends that the Jewish gangster governed Soviet Union was a hell on earth of Untermensch, and it goes on to depict them in the most miserable circumstances imaginable - alive, half-alive and dead.
Opposing photo pages in the book contrast the Jewish / Untermensch world with the world of Aryan Germanic people - a ghastly group of Soviet babies on the left, and healthy Germans on the right. Grotesque Jewish art objects made from cheap materials on the left and German super realism of the finest materials on the right. On and on.
The last pages of the book are devoted to pictures of dead bodies that were projected to be the eventual result of the Untermensch, breeding like rats, and over running civilized western Europe.

The last page of the book shows the corpse of a pretty young civilized woman above the caption Wehr dich Europa! or "Europe Defend Yourself!".
Because of the extremely inflammatory Nazi nature of this original Reichsführer-SS publication it was specifically targeted for destruction by Allied denazification teams in Germany after the war. Somehow, this original example survived and we purchased it recently in the former Grossdeutschland!

Complete and in very good used condition - the best example we have seen in years. For sale for a substantially lower price than on other websites!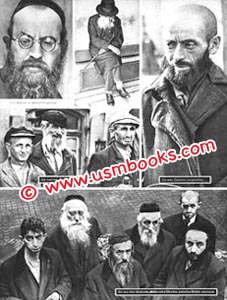 The images and the entire text used on this and all other USMBOOKS web pages are the copyrighted property of USM Inc. Those images and the text may be used by others ONLY AFTER completion of a formal international licensing agreement and payment of a licensing fee! It is therefore, illegal for anyone to take any of the material found on USMBOOKS.com and use it for their own purposes without our written permission, irrespective of any excuse they may feel they have for doing so.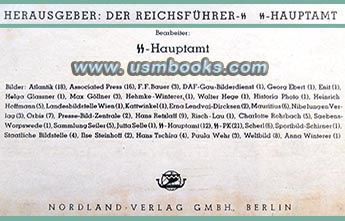 This 100% original example of Der Untermensch is **SOLD**

• IF you prefer faster and safer Priority Mail shipping with USPS Tracking add $7.95.
• IF you wish to purchase highly recommended, but optional insurance, add $10.95.
• We will be happy to ship abroad at additional cost. Please inquire.
NAZI UNTERMENSCH (SUB-HUMAN) PUBLICATION - 100% ORIGINAL
A RARE ORIGINAL
NAZI MAGAZINE PUBLISHED BY DER REICHSFÜHRER-SS
SS-HAUPTAMT AND ENTITLED SIMPLY
DER UNTERMENSCH
(THE SUB-HUMAN)