The images and text used on this and all other USM web pages are the copyrighted property
of USM Inc. Those images and the text may be used by others ONLY AFTER completion
of a formal international licensing agreement and payment of a licensing fee!
These genuine Third Reich racial theory books are **SOLD**
We will be happy to ship abroad at additional cost. Please inquire.
USM book # 253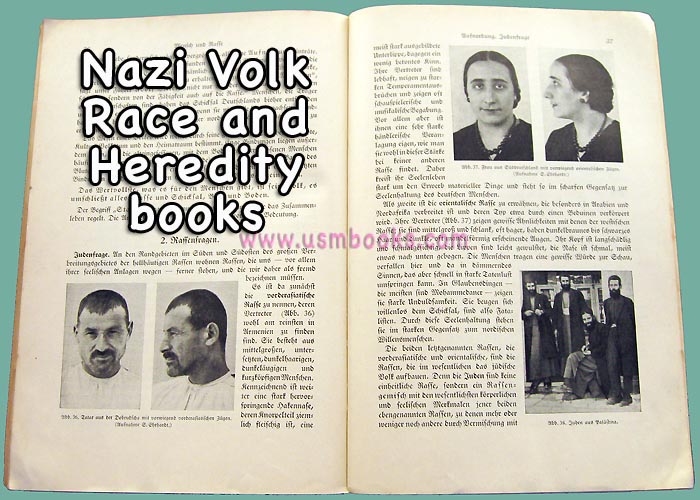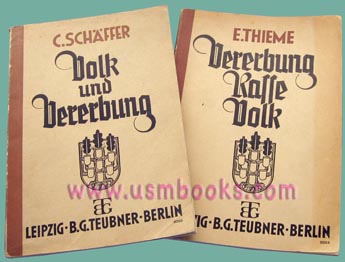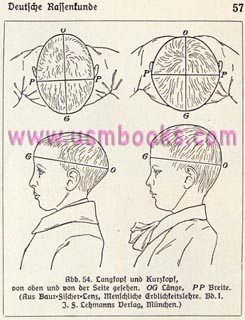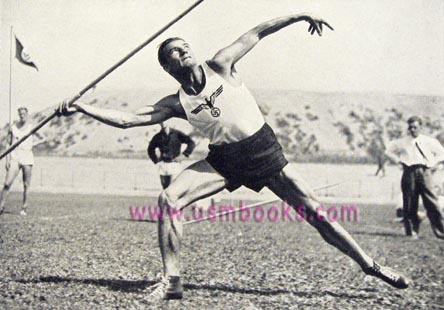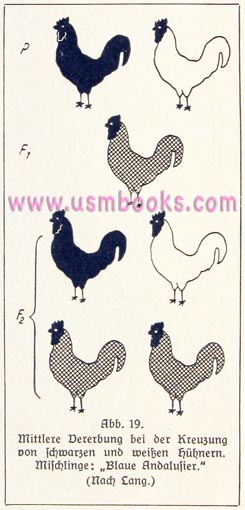 This lot consists of two 6 x 9 inch books by Erich Thieme, Lecturer at the Elisabeth-Granier School in Hanover, and Professor Dr. C. Schäffer of Hamburg, as published in 1937 and 1938 by Verlag B.G. Teubner of Leipzig and Berlin.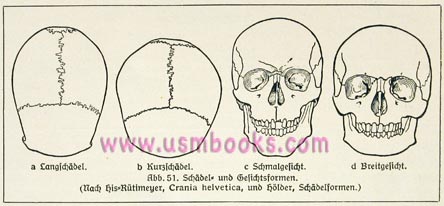 These two books, Volk und Vererbung (88 pages) and Vererbung, Rasse, Volk (60 pages), provide the basic structure of Nazi thought on hereditary research, family lore, racial studies, racial hygiene and population or demographic policy. They begin, quite literally, with the birds and the bees, rabbits and chickens, in an attempt to explain reproductive theory and then apply those concepts to the human race.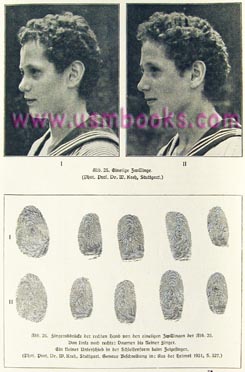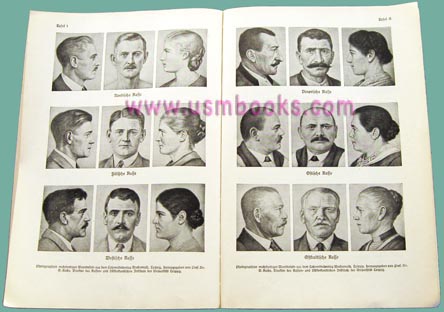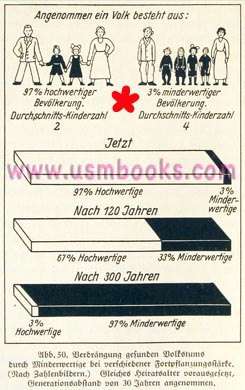 Using the German concept of Hochwertige (high value) populations as contrasted to Minderwertige (lesser value) populations the professors explain that a high percentage of high-value people survived the Middle Ages while lower-value people expired at a far more rapid rate. They make the case that in modern times with improved living conditions, the lower-value populations will vastly outbreed and out populate the high-value people in very short order. They predict a point where the 3% of high-value people in Europe is overrun by 97% of lower-value people coming from the east. Statistical information is projected incrementally from 1925 through the year 2075.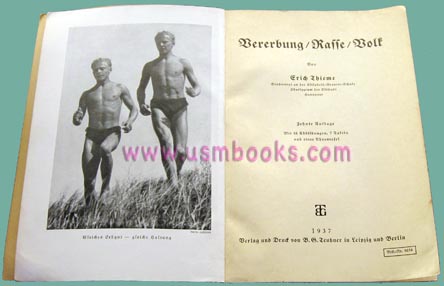 The books also go beyond the general theory of natural selection to discuss things like disease, venereal disease, alcoholism, twins, the measurement of skulls, racial characteristics, marriage, birthrates, negroes, the Judenfrage or Jewish Question. Very well illustrated. In the back of each book is a blank Ahnentafel or Chart of Ancestors to be filled in by the owner. Complete and in very good used condition.
NAZI RACIAL THEORY AND PRACTICE BOOKS
BASIC NAZI BOOKS
ON HEREDITY, RACE
AND PEOPLE -
VERERBUNG, RASSE, VOLK
and
VOLK UND VERERBUNG
This USMBOOKS web page is Copyright © 2014 by USM, Inc., and the text and images on it are fully protected by international copyright law. It is therefore, illegal for anyone to take any of the material found here and use it for their own purposes without our written permission, irrespective of any excuse they may feel they have for doing so.