This rare Nazi book comparing German and Degenerate Art is **SOLD**.


USM book # 510
• IF you prefer Priority Mail shipping with USPS delivery confirmation add $5.45.
• IF you wish to purchase highly recommended, but optional insurance, add $4.95.
• We will be happy to ship abroad at additional cost. Please inquire.
GERMAN ART AND DEGENERATE ART 1938

ART AND DISTORTED PICTURES AS A REFLECTION OF AN IDEOLOGY

THE VERY BEST ILLUSTRATED NAZI BOOK ON DEGENERATE ART
Copyright © 2016 USM Inc.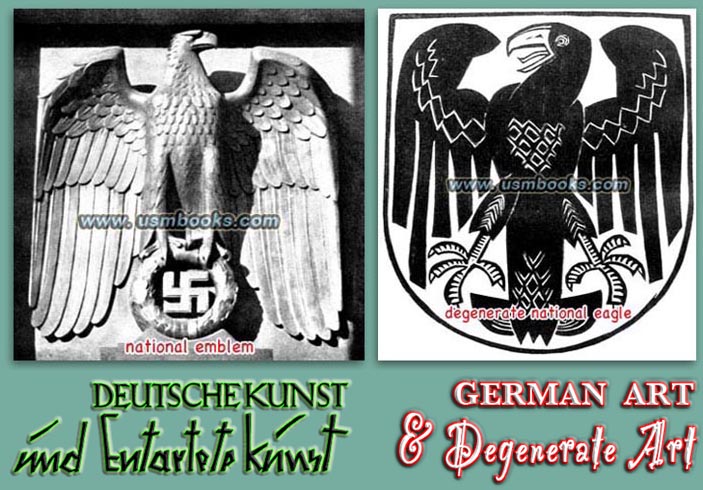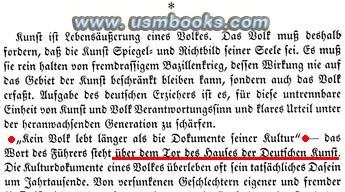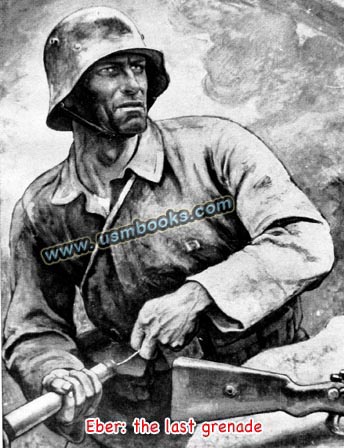 This is a very nice First Edition softcover example of the rare, heavily illustrated Nazi book Deutsche Kunst und Entartete Kunst by Dr. Adolf Dresler as published by NSDAP publishing house Deutscher Volksverlag of München (Munich) in 1938. Many advanced collectors of Third Reich books and Third Reich book dealers and experts are unfamiliar with this rare book, that remains to this day the only official explanation of what Hitler and the Nazis considered to be "German Art" and what they felt was "Degenerate Art".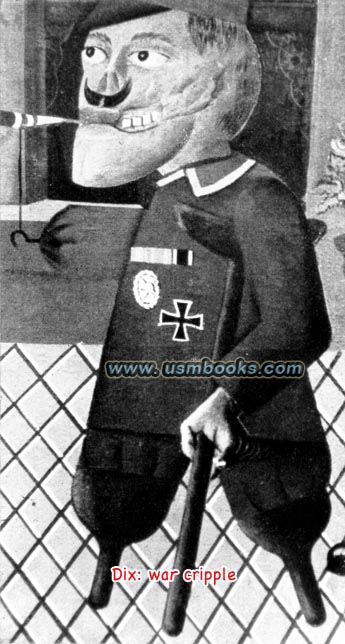 Dr. Dresler was a well-educated man, an author and a journalist, and at an early age was in charge of the Press Office of the NSDAP at the Braunes Haus in Munich. He was a member of the Presidential Council of the State Press Chamber of the Reichskulturkammer (RKK or State Chamber of Culture) and a lecturer at the University of Munich.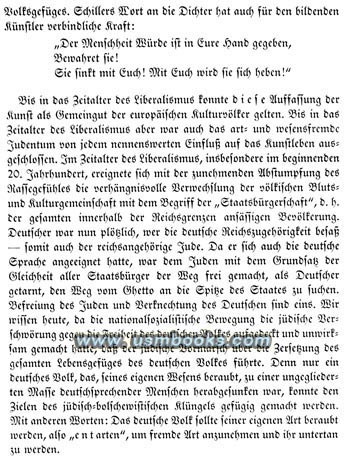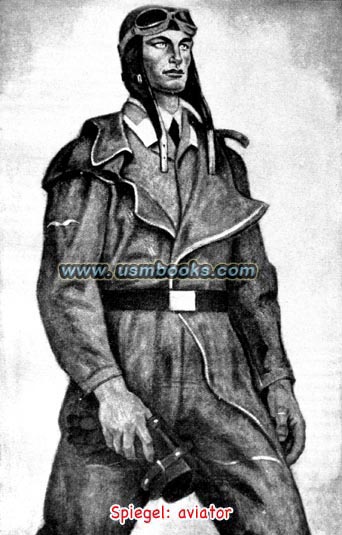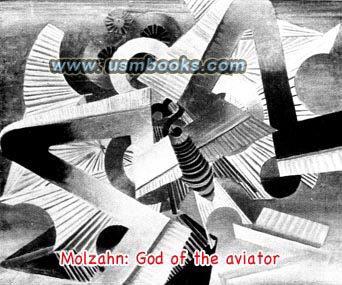 It was Dresler's conviction that even simple, uneducated German people should have very little trouble telling good art from bad art simply by viewing it. He believed that Hitler was precisely correct in describing traditional germanic classical realism in art as "German Art" and most of the modern European art of the previous 30 years or so as "Degenerate Art".

From the time the Nazis came to power in Germany early in 1933, they had required the art museums of the country to segregate "Degenerate Art" from their principal collections by displaying it in a separate gallery within the museum. That gallery was called the Schreckenkammer or "Chamber of Horrors". "Degenerate Art" was NOT destroyed or hidden away as many sources claim, but was kept in museums for years to provide a contrast to the germanic art favored by Hitler and the Nazis.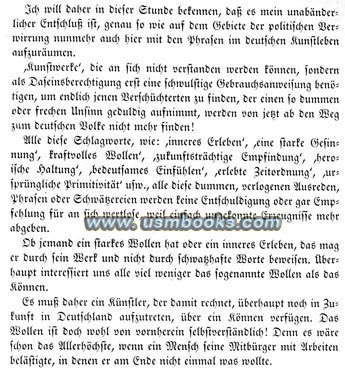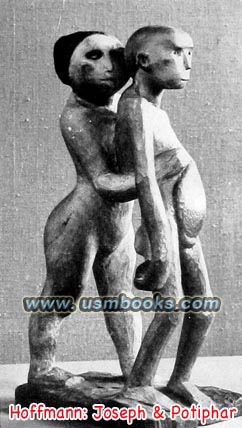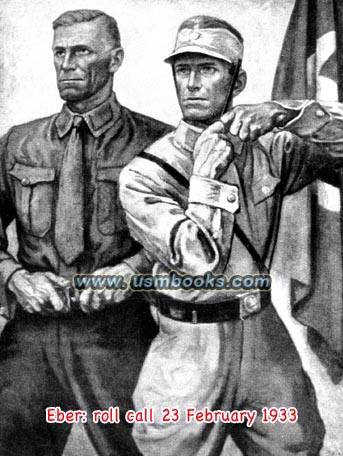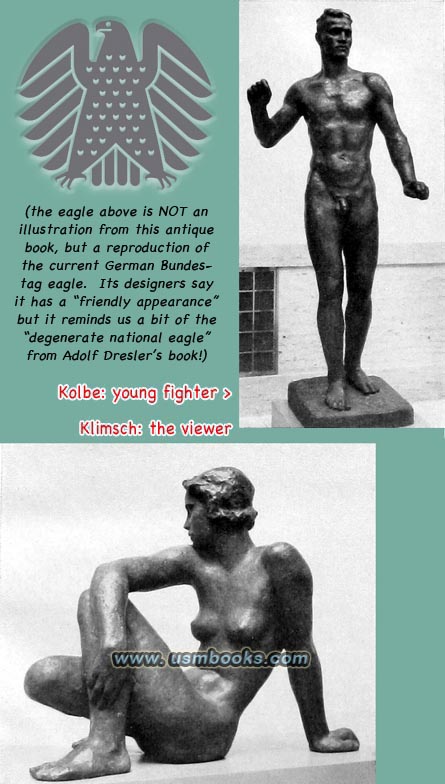 In anticipation of the grand opening of the new House of German Art in Munich in the summer of 1937, it was decided to mount an exhibition of 150 or so representative examples of Entartete Kunst from the Schreckenkammer of 32 of Germany's great art museums. The Entartete Kunst exhibition was displayed in a suitable building at Galleriestrasse 4, just across Prinzregentenstrasse from the House of German Art. At the opening of the House of German Art and the exhibition of Entartete Kunst nearby, Hitler said:
"From now on we are going to wage a merciless war of destruction against the last elements of cultural disintegration .... Should there be someone among [our artists] who still believes in his higher destiny - well, he has had four years' time to prove himself. Those four years are sufficient for us to have reached definite judgment as well. You may be certain that from now on all those supporting and thereby sustaining cliques of chatterers, dilettantes, and art forgers will be picked up and liquidated. For all we care, those prehistoric Stone-Age culture barbarians and art stutterers can return to the caves of their ancestors and there practice their primitive international scratchings."
The Degenerate Art show was such a sensation in Munich that it was sent on tour to many cities such as Berlin, Vienna, Leipzig, Hamburg, etc., across the Reich.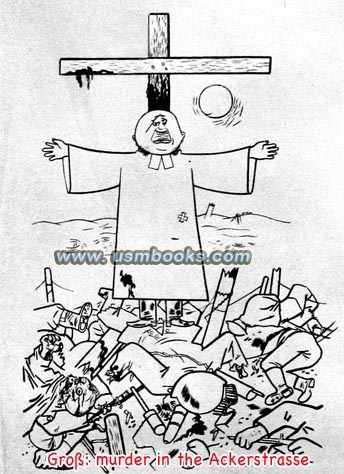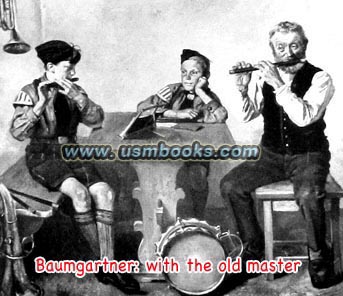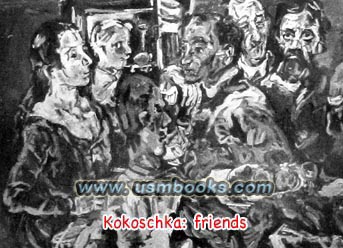 The small 30-page guidebook for the Degenerate Art exhibition showed a few of the pieces on display, but it was necessary for visitors to go back to the House of German Art exhibits across the street to contrast "Degenerate Art" with "German Art". This excellent book by Dr. Dresler was written and published with the intention of providing a cure for that very problem.

The sub-title for this book is "Art and Distorted Pictures as a Reflection of an Ideology," and early on in it Dresler explained Hitler's famous quote about art, that "No nation exists longer than the documents of its culture." That quotation was chiseled into the limestone above the entrance to the House of German Art along with the huge eagle and swastika emblem on the left at the top of this USMBOOKS web page.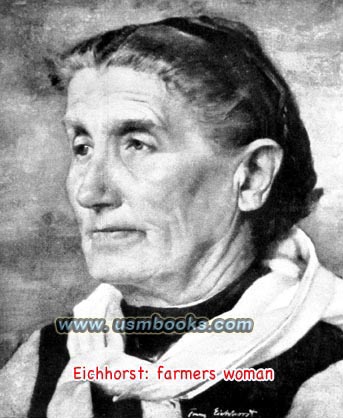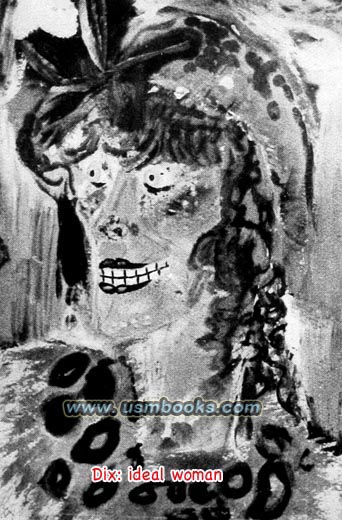 After Dresler's compelling arguments about the nature of modern art and its artists, devotees, benefactors and buyers, he devotes most of the book to full-page black & white reproductions of "German Art" contrasted with "Degenerate Art".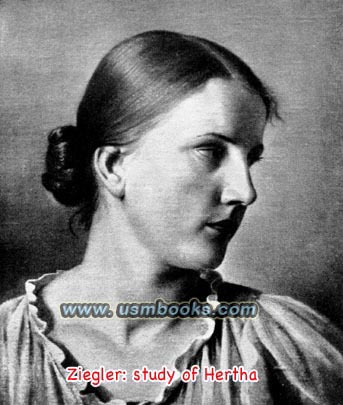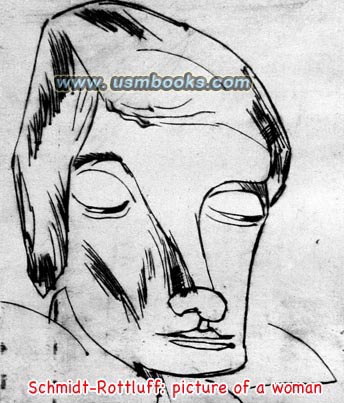 Examples he used include "The Last Grenade" by Elk Eber (purchased from the 1937 House of German Art exhibition by Adolf Hitler) and "War Cripple" by Otto Dix, "The Aviator" by Ferdinand Spiegel and "God of the Aviator" by Molzahn, sculptures by Georg Kolbe and Fritz Klimsch and those by Hoffmann, "Roll Call" by Elk Eber and "Murder in the Ackerstrasse" by Georg Groß, "In The Potato Field" by Josef Damberger and "Threshing Floor" by Schmidt-Rottluff, "Evening Landscape" by Heinrich von Richthofen and "Trees" by Paul Klee, "Study of Hertha" by Adolf Ziegler and "Picture of a Woman" by Schmidt-Rottluff, "Farmer's Woman" by Franz Eichhorst and "Ideal Woman" by Otto Dix, and many others.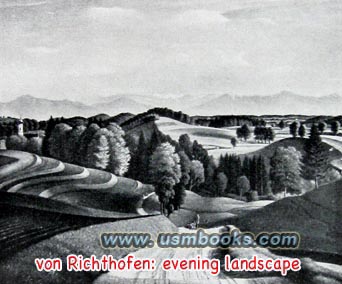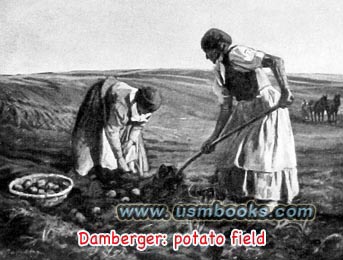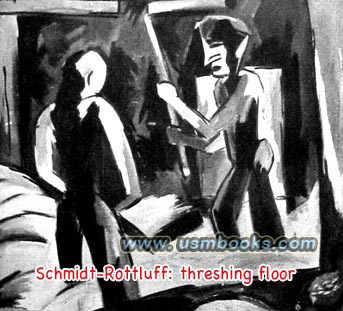 This softcover 5-7/8 x 8-1/4 inch, 80-page First Edition example of the rare Adolf Dresler examination of German and Degenerate Art is in very nice used condition. It comes in its original Third Reich dust jacket .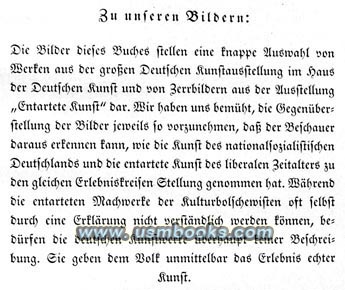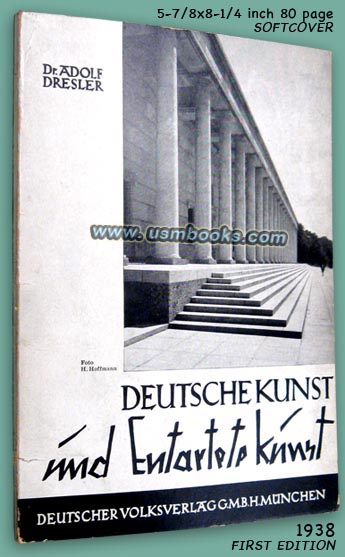 THE BEST ILLUSTRATED NAZI BOOK ON DEGENERATE ART


The images and the entire text used on this and all other USMBOOKS web pages are the copyrighted property of USM Inc. Those images and the text may be used by others ONLY AFTER completion of a formal international licensing agreement and payment of a licensing fee! It is therefore, illegal for anyone to take any of the material found on USMBOOKS.com and use it for their own purposes without our written permission, irrespective of any excuse they may feel they have for doing so.