This rare anti-Jewish Stürmer Verlag book TRAU KEINEM FUCHS .....
is **SOLD**

USM book #153
• IF you prefer faster and safer Priority Mail shipping with USPS Tracking add $7.25.
• IF you wish to purchase highly recommended but optional insurance, add $12.95.
• We will be happy to ship abroad at additional cost. Please inquire.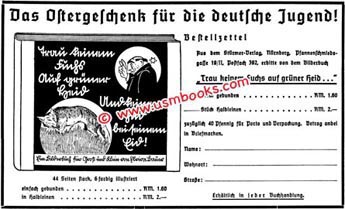 The illustration above is not from the book. It is a rare original Third Reich advertisement for this book with the headline "The Easter Gift for German Children!"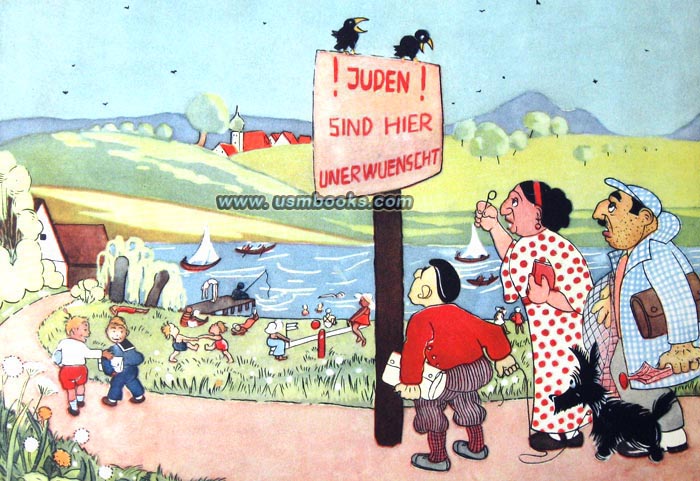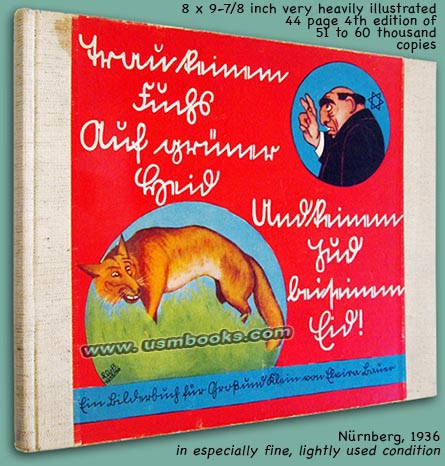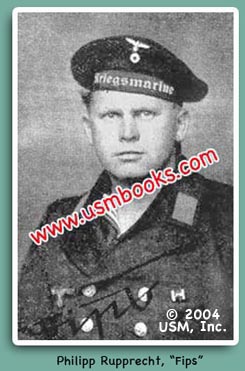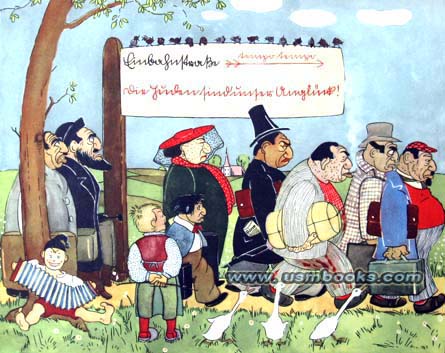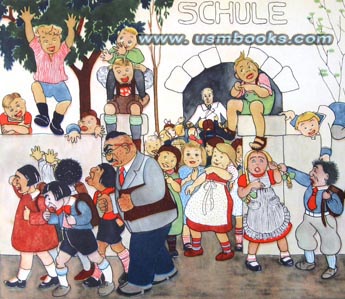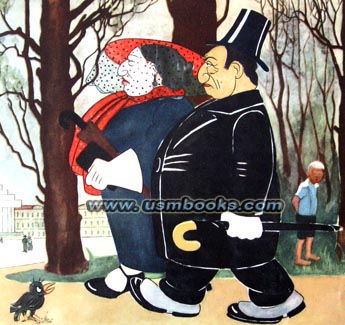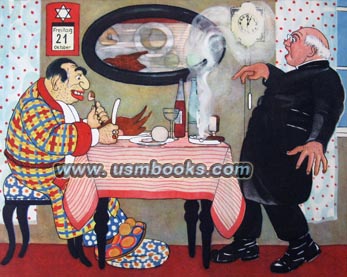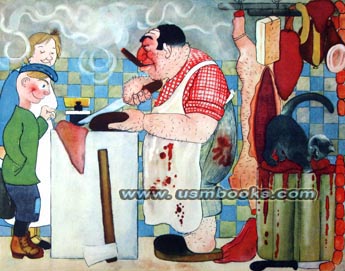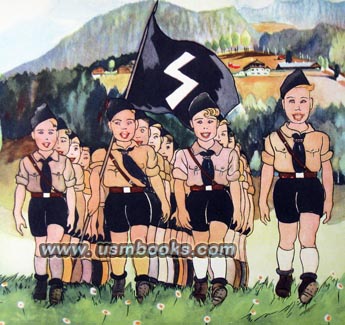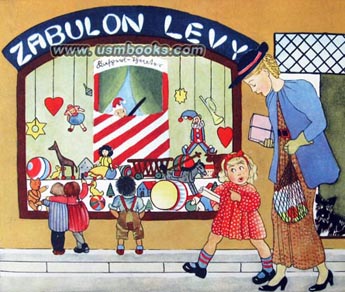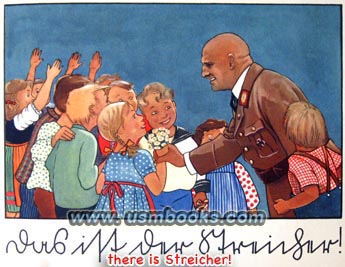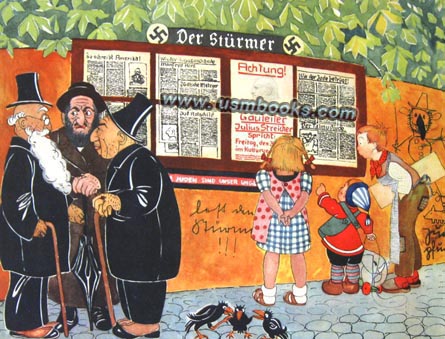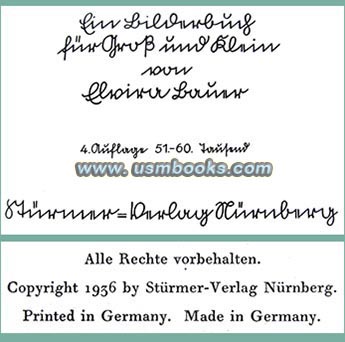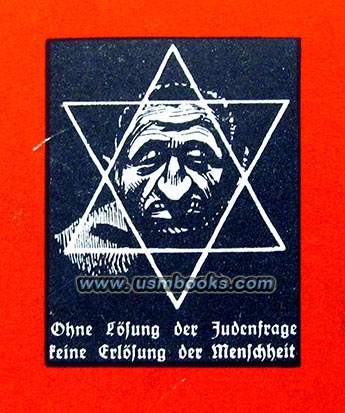 This is a very good original Third Reich example of the 81 year book Trau keinem Fuchs auf grüner Heid und keinem Jud auf seinem Eid. It is a Fourth Edition. Minimal wear to the spine and the internal pages of the book are in very good condition, the colors of the Fips illustrations are bright and clear.  None of the pages are defaced.
VERY RARE NAZI ANTI-JEWISH BOOK - DON'T TRUST A FOX OR A JEW ...
STÜRMER VERLAG BOOK

TRAU KEINEM FUCHS AUF GRÜNER HEID UND KEINEM JÜD AUF SEINEM EID!
(DO NOT TRUST A FOX
IN A GREEN PASTURE
OR A JEW
UPON HIS OATH!)

ONE OF THE MOST
ANTI-JEWISH BOOKS
EVER PUBLISHED!


The images and the entire text used on this and all other USMBOOKS web pages are the copyrighted property of USM Inc. Those images and the text may be used by others ONLY AFTER completion of a formal international licensing agreement and payment of a licensing fee! It is therefore, illegal for anyone to take any of the material found on USMBOOKS.com and use it for their own purposes without our written permission, irrespective of any excuse they may feel they have for doing so.
The
Stürmer Publishing Company
of
Gauleiter
and
Frankenführer
Julius Streicher in Nürnberg stands alone as far and away the most anti-Semitic publisher among dozens of publishers in Germany during the Third Reich. All others pale by comparison.
Among the first, most vitriolic and stereotypical of the Stürmer Verlag children's books was
Trau keinem Fuchs auf grüner Heid und keinem Jud auf seinem Eid
(Don't Trust a Fox in a Green Pasture Or a Jew Upon His Oath!)
an 7-5/8 x 9-5/8 inch very, very heavily illustrated 44 page hard cover by Elvira Bauer (not Elwira as it is spelled on some "scholarly" university websites), first published by
Stürmer Verlag
in 1936. The illustrations are by controversial artist
Fips
, shown in his Kriegsmarine uniform in the photo above left. Fips also illustrated Julius Streicher's other rabidly anti-Jewish children's book
Der Giftpilz
or The Poison Mushroom.
The book begins with a quick look at the creation of the races, and how, according to Bauer, from the earliest of times Jews made a burden of themselves on the others. Then it contrasts "typical" Germans with "typical" Jews, explains Jewish names, Jewish traits and the Jewish mistreatment of the non-Jews they came in contact with over time.
Toward the end the book explains that a man named Streicher from Franken had the Jews trembling with the truths he published in his newspaper
Der Stürmer
.
It explains the Jews would be expelled from schools and driven from Germany, and ends with the Streicher maxim
Die Juden sind unser Unglück
(The Jews are our Misfortune).
Reasonably accurate translations of
"
Don't Trust a Fox in a Green Pasture Or a Jew Upon His Oath"
are available on the internet so we will not bother with one here. Far more important than the specific textual content of this book are the illustrations, and the fact that it was ever published at all and reprinted in at least 4 editions. In the Allied denazification campaigns that followed the defeat of Nazi Germany in WW2 virtually all examples of this book were destroyed.
Julius Streicher, publisher of this book (shown in the image above), was hanged by the Allies in Nuremberg in 1946 seconds after shouting,
"Heil Hitler!"
This is an extremely rare and controversial Third Reich book! You can pay far more for this same book on other internet websites.