When historians discuss Nazi era German anti-Jewish publications, they almost always reference Julius Streicher's DER STÜRMER and his "Mushroom" and "Fox" books. They were only part of the story. The 8 x 11-3/4 inch, 24-page rabidly anti-Jewish publication we offer here, DIE JUDENFRAGE in Politik, Recht, Kultur und Wirtschaft, was the successor of the informational publication Mitteilungen über die Judenfrage (Information about the Jewish Question) and has to be the most anti-Jewish publication of the Third Reich!

It is no wonder that so few examples of this Nazi publication survived into the 21st century even though readers were allowed and encouraged to reproduce and redistribute DIE JUDENFRAGE in Politik, Recht, Kultur und Wirtschaft!


The images and the entire text used on this and all other USMBOOKS web pages are the copyrighted property of USM Inc. Those images and the text may be used by others ONLY AFTER completion of a formal international licensing agreement and payment of a licensing fee! It is therefore, illegal for anyone to take any of the material found on USMBOOKS.com and use it for their own purposes without our written permission, irrespective of any excuse they may feel they have for doing so.
This is issue 22 of year VII of DIE JUDENFRAGE in Politik, Recht, Kultur und Wirtschaftdated 15 November 1943, as published by the Antijüdische Aktion (Anti-Jewish Action) for Deutscher Verlag für Politik und Wirtschaft in Berlin. The cover page has a (very anti-Jewish, anti-British) excerpt from a speech Adolf Hitler gave 9 November March 1943 about the shameless impertinence of the Jewish Democracies of the West and that their lies would soon be ending if the Bolshevists in the East would take the wind out of their sails.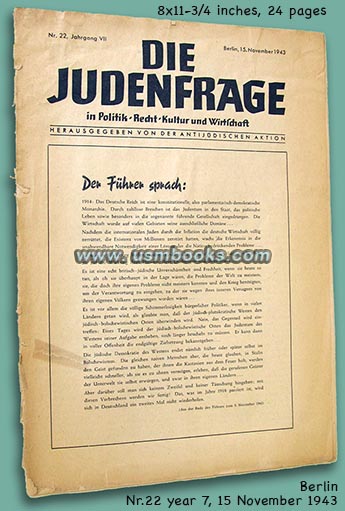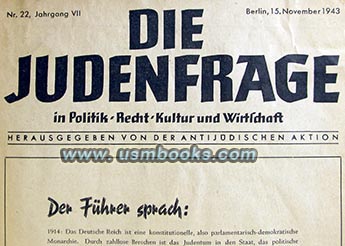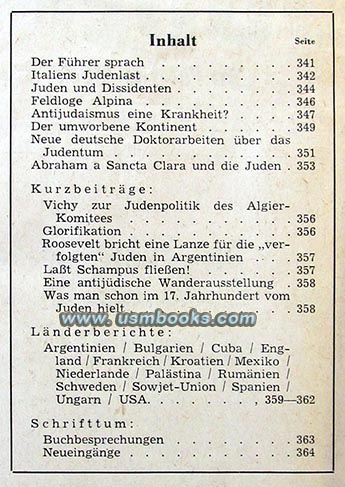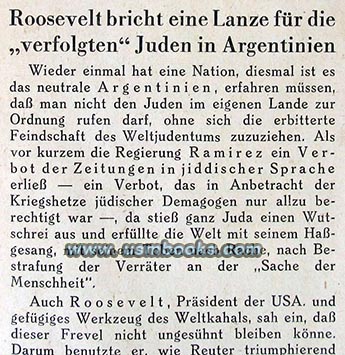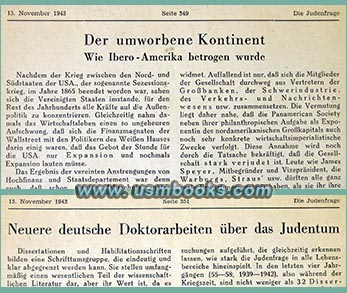 Other subjects covered are Jewish Problems in Italy and Mussolini's New Jewish Laws, Jews and Dissidents (behind the scenes of the French "Freedom Committee" in North Africa), the Demise of European Jehova's Witnesses, the Financial Courting of South American Countries by the USA, a German's Doctoral Thesis about the Judentum, Jewish Politics of the French Vichy Government, Thoughts About Jews in the 17th Century, etc.
As mentioned above, DIE JUDENFRAGE is an extremely anti-Jewish Nazi publication but the governments of the USA, Great Britain and France, "all influenced by the Jews", aren't spared either. There is also a section with short propaganda news blurbs from the press in Argentina, Bulgaria, England, the USA, France, Italy, Palestine, Rumania and other countries and a list of new anti-Jewish books recently published in Germany.
This issue of DIE JUDENFRAGE even contains an anti-Jewish story (shown directly above) about two Jewish business owners in America, Feitelbaum and Garfinkel, changing their names to O'Brien to make it easier for "Aryan Businessmen". The name change had a funny result!
The bottom of the back page (shown below) has publisher information. Interestingly, the head writer and publisher Wolfgang Fehrmann is listed as "currently in the Wehrmacht" and that he had been replaced by his Deputy, Horst Seemann.
The condition of this ultra-rare, exceedingly anti-Jewish Nazi publication is only fair, but it is perfectly readable and completely suitable for microfilming, reprinting or photocopying. Issues of this late-war Nazi monthly magazine were printed on poor quality German wartime paper, so years ago a previous owner very carefully used tiny pieces of transparent tape to repair many very small tears in the edges of the pages. There is no text missing in the pages of this very, very rare Nazi publication. For a sense of just how rare examples of DIE JUDENFRAGE in Politik, Recht, Kultur und Wirtschaft is, google it and see if you can find another issue for sale in any condition, anywhere in the world. This November 1943 example belongs in a comprehensive historical library or in a museum where it can be accessed by serious researches of the period.
This ultra-rare extremely anti-Jewish 1943 Nazi publication DIE JUDENFRAGE
is for sale for $155.00 delivered by Media Mail in the continental USA.

• IF you prefer faster and safer Priority Mail shipping with USPS Tracking add $6.65.
• IF you wish to purchase highly recommended, but optional insurance, add $3.45.
• We will be happy to ship abroad at additional cost. Please inquire.
THE MOST ANTI-JEWISH NAZI PUBLICATION EVER!
DIE JUDENFRAGE in Politik, Recht, Kultur und Wirtschaft
DIE JUDENFRAGE IN POLITIK, RECHT, KULTUR
UND WIRTSCHAFT
(THE JEWISH QUESTION IN POLITICS, LAW, CULTURE AND THE ECONOMY)
15 NOVEMBER 1943