The images and the entire text used on this and all other USMBOOKS web pages are the copyrighted property of USM Inc. Those images and the text may be used by others ONLY AFTER completion of a formal international licensing agreement and payment of a licensing fee! It is therefore, illegal for anyone to take any of the material found on USMBOOKS.com and use it for their own purposes without our written permission, irrespective of any excuse they may feel they have for doing so.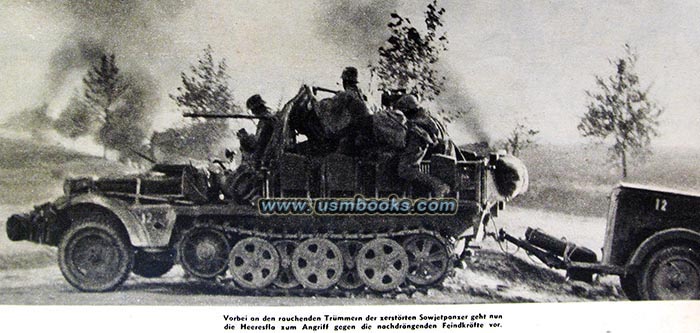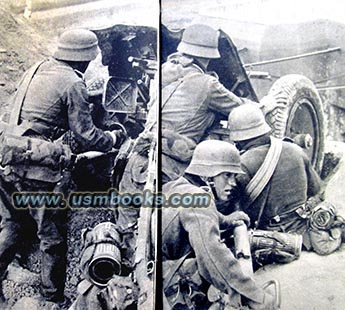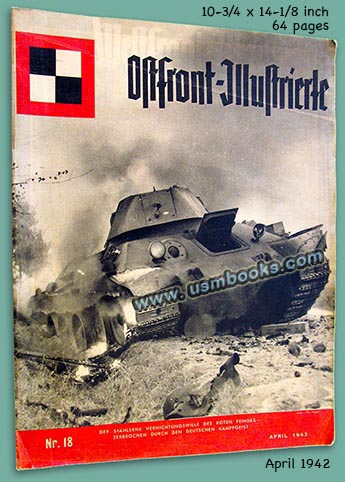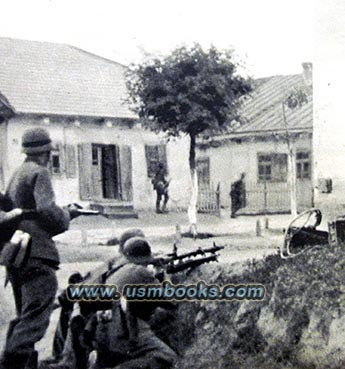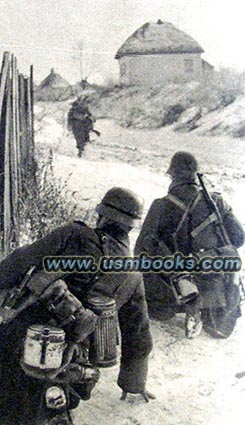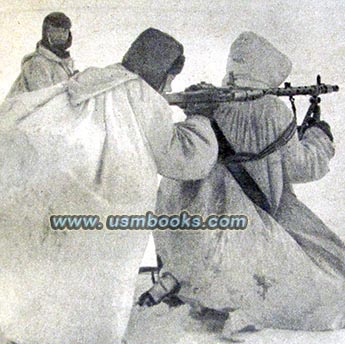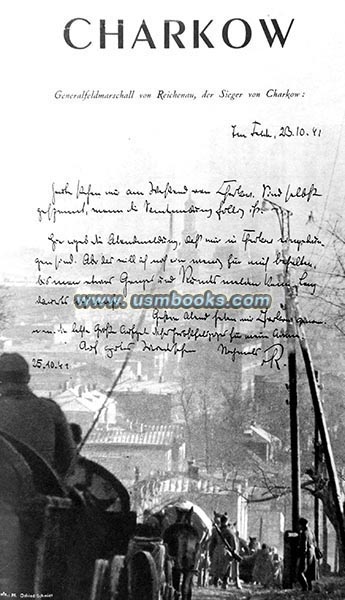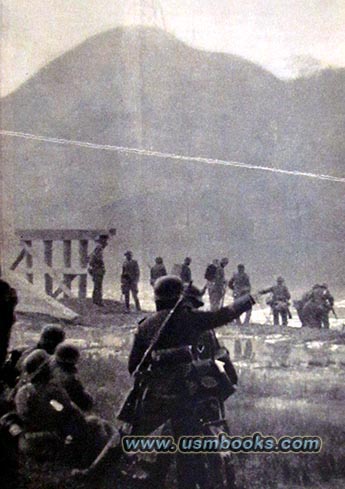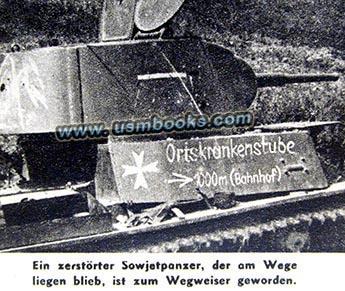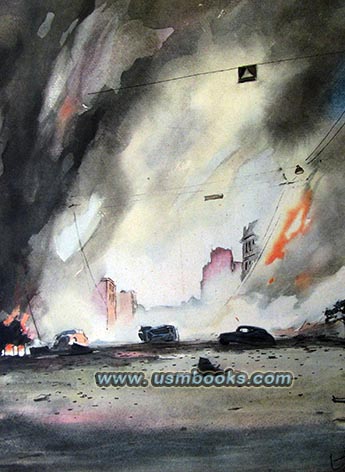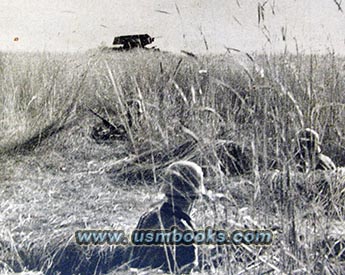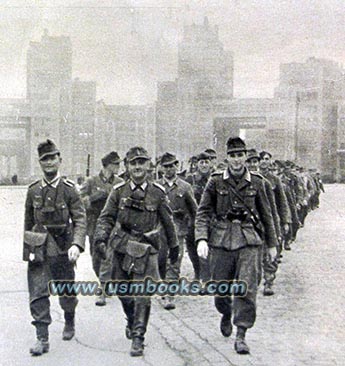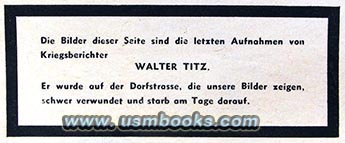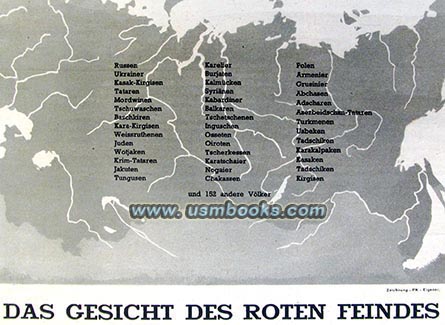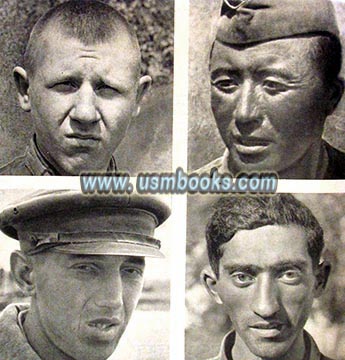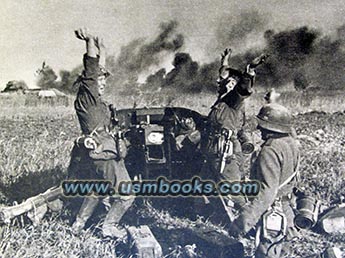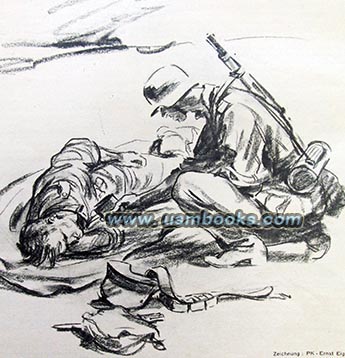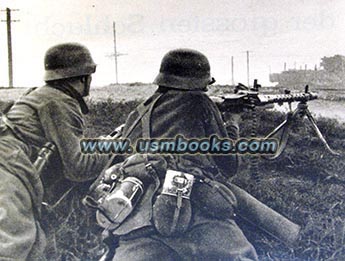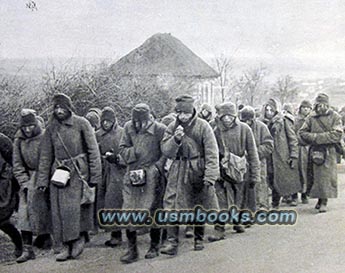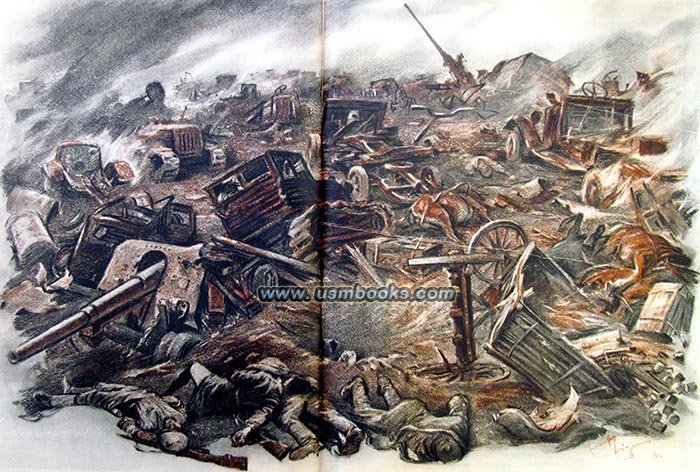 This is a very rare Nazi magazine Ostfront-Illustrierte, a special edition of Armee-Illustrierte titled "The Battle Against the Red Enemy" dated April 1942. Many Third Reich collectors are probably familiar with Westfront-Illustrierte, but many have never heard of the East Front version because it is much, much rarer.
Fewer of these magazines for Wehrmacht soldiers were printed, and fewer were distributed in the field in the Soviet Union, and very few ever made it back to Germany at the end of the war. Far fewer Ostfront-Illustrierte survived than editions of the similar but far more common Westfront-Illustrierte battlefield magazine.
Published by the "War Publicity Company of an Army", this 10-¾ x 14-1/8 inch, 64-page Nazi magazine has articles about life on the the East Front but it mainly consists of photos by Nazi war correspondents about "Generalfeldmarschall Walter von Reichenau's last battle": Wehrmacht engineers, troops on the move, the many different ethnic backgrounds of the men that make up the Soviet Army (more than 150 different peoples!), Wehrmacht troops fighting off Soviet tank attacks, the destruction of Soviet tanks, Ukrainian people welcoming their German liberators, the battle for the Dnjepr Bridge at Gornostaipol, the battle for Kiev, Nazi victory at Charkow, Soviet POWs, terrible winter weather during Nazi advances, battle sketches and paintings, etc.
The gritty photos are all close-ups of the difficult and challenging circumstances at the East Front: Wehrmacht supply troops with horses in -35°C weather, machine gun positions, river crossings, tank battles, the local population caught in the battle, battle casualties - very rare combat photos not found in other Third Reich books, magazines or newspapers.
The last page of this rare 1942 issue of Ostfront-Illustrierte contains a list of the names of all the war correspondents whose work was used in this magazine. Among them several photos by Kriegsberichter Walter Titz who was severely wounded while taking action photos of the Wehrmacht infantry attack on a village on the Bug river (left). He died of his injuries on 22 June 1941.
Few examples of the Ostfront-Illustrierte were ever published and we have not been able to buy even one single other example in the past 15 years.

None are available in digitalized form today. This rare Nazi combat magazine is in very good used condition complete with its original insert, a full-page color illustration by Ernst Eigener called "Kiev on Fire". Nothing has been cut out of or removed from this rare 74 year old Third Reich magazine; no writing, no odor.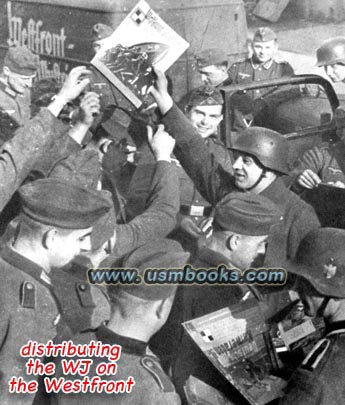 The photo on the right shows the distribution of a new issue of Westfront-Illustrierte to Nazi soldiers on the west front. It is for reference only.
This rare edition of Ostfront-Illustrierte is **SOLD**.

• IF you prefer faster and safer Priority Mail shipping with USPS Tracking add $6.95.
• IF you wish to purchase highly recommended, but optional insurance, add $3.50.
• We will be happy to ship abroad at additional cost. Please inquire.
VERY RARE APRIL 1942 NAZI EAST FRONT PHOTO MAGAZINE
OSTFRONT-ILLUSTRIERTE
SPECIAL 1942 EAST FRONT EDITION OF THE NAZI SOLDIER MAGAZINE OSTFRONT-ILLUSTRIERTE - SUPERB PHOTO CONTENT