This Nazi photo book about the RAD in action on the East Front is offered
for sale for $95.00 delivered by Media Mail in the continental USA.


USM book #534
• IF you prefer faster and safer Priority Mail shipping with USPS Tracking add $6.95.
• IF you wish to purchase highly recommended, but optional insurance, add $3.45.
• We will be happy to ship abroad at additional cost. Please inquire.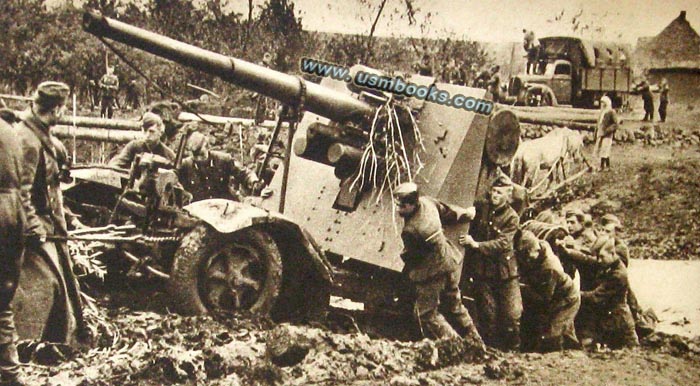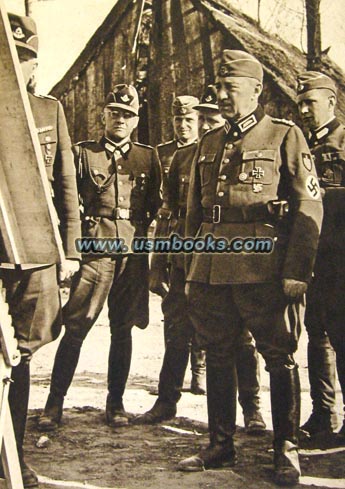 By the fall of 1941 Hitler already recognized that to get the most out of his combat troops in the Soviet Union or on the East Front it would be necessary to send units of Reichsarbeitsdienst (RAD) soldiers to Russia to assist in things like the movement of equipment, the repair and rebuilding of roads, the evacuation of wounded, the rounding up and imprisonment of Soviet POWs, construction of bridges and defensive fortifications, assisting the Luftwaffe in the loading of bombs, construction power and communication lines, repairing the railroads, etc., etc.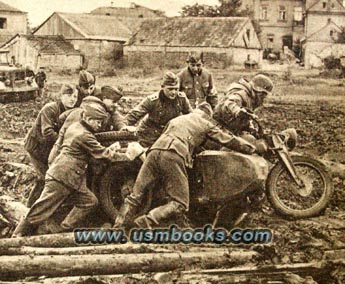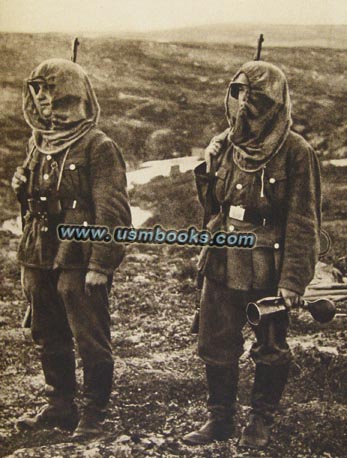 This excellent photo book, Arbeitsmänner zwischen Bug und Wolga - Erlebnisberichte und Bilder vom Einsatz des jüngsten Jahrganges an der Ostfront (RAD Men between the Bug and the Volga - Experiences and Pictures of our Youngest Generation on the East Front), consists of a fine text about what Germans found when they arrived in the "Soviet Paradise" and what the RAD battalions working in concert with the Wehrmacht were able to do about it. The men suffered greatly from insects, climate, and the unimaginable infrastructure in the medieval parts of the worker's paradise. They carried weapons and lived just like combat troops and they were awarded medals for their bravery. This is the only book we know of that tells their story in anything like an appropriate way.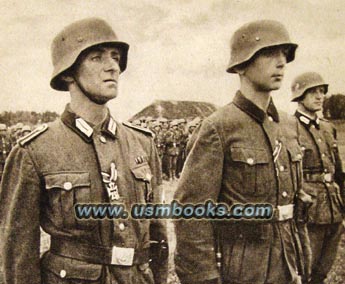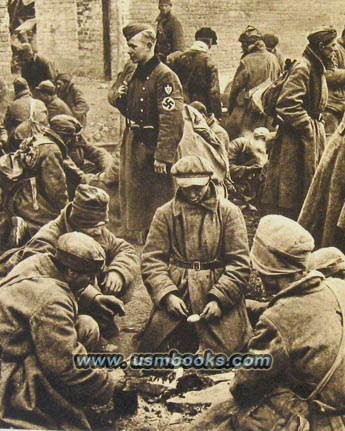 The material in this heavily illustrated 7-5/8 x 10-1/2 inch, 104 page soft cover book was assembled by Hans Looks and Hans Fischer. It was published by the Zentralverlag der NSDAP Franz Eher Nachfolger GmbH in berlin in 1942 by order of the Chef des Presse- und Propagandaamts beim Reichsarbeitsführer. Very good used condition.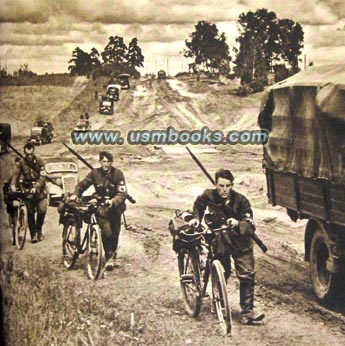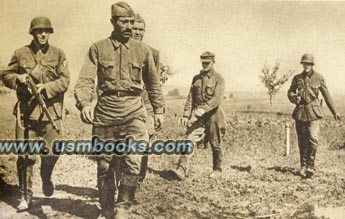 1942 NAZI BOOK ON THE REICHSARBEITSDIENST ON THE EAST FRONT
THIRD REICH PHOTO BOOK: RAD MEN BETWEEN THE
BUG AND VOLGA RIVERS
ON THE EAST FRONT


The images and the entire text used on this and all other USMBOOKS web pages are the copyrighted property of USM Inc. Those images and the text may be used by others ONLY AFTER completion of a formal international licensing agreement and payment of a licensing fee! It is therefore, illegal for anyone to take any of the material found on USMBOOKS.com and use it for their own purposes without our written permission, irrespective of any excuse they may feel they have for doing so.