The images and the entire text used on this and all other USMBOOKS web pages are the copyrighted property of USM Inc. Those images and the text may be used by others ONLY AFTER completion of a formal international licensing agreement and payment of a licensing fee! It is therefore, illegal for anyone to take any of the material found on USMBOOKS.com and use it for their own purposes without our written permission, irrespective of any excuse they may feel they have for doing so.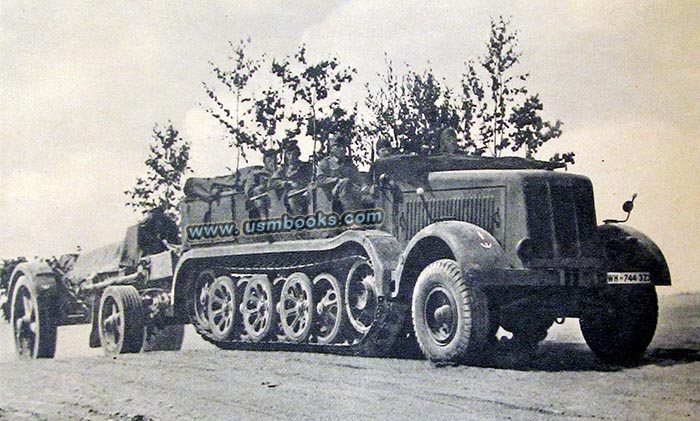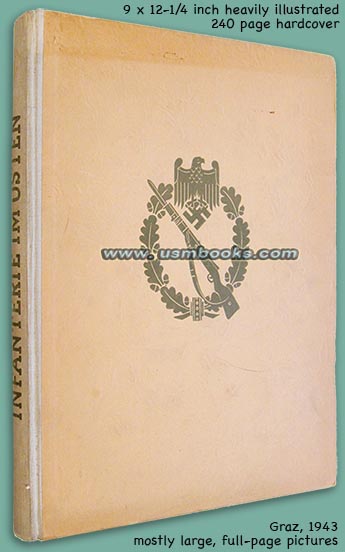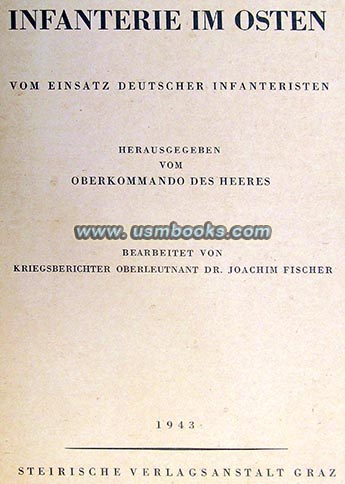 Infanterie im Osten. Vom Einsatz deutscher Infanteristen (Infantry in the East - Operations by German Infantrymen) is a rare hard cover book published for the Oberkommando des Heeres (OKH) by Steirische Verlagsanstalt of Graz in 1943. The 9 x 12-¼ inch, 240 page book, dedicated to the "Incomparable German Infantrymen", was assembled by war correspondent Oberleutnant Dr. Joachim Fischer and has a dozen or so drawings by Wilhelm M. Busch (P. K.).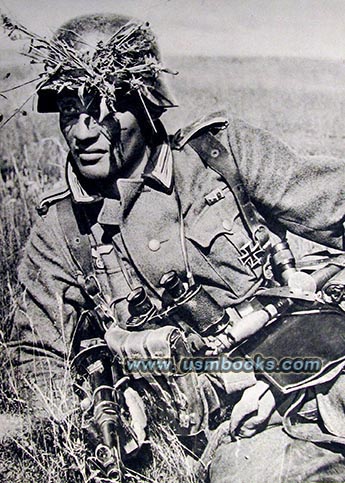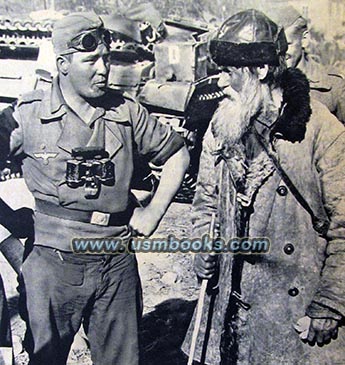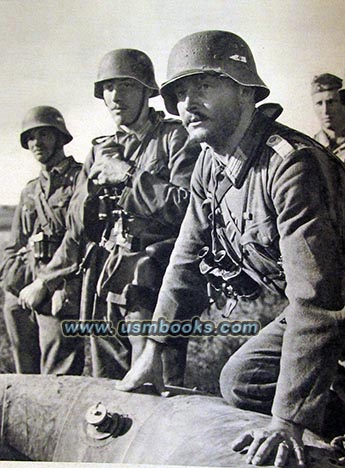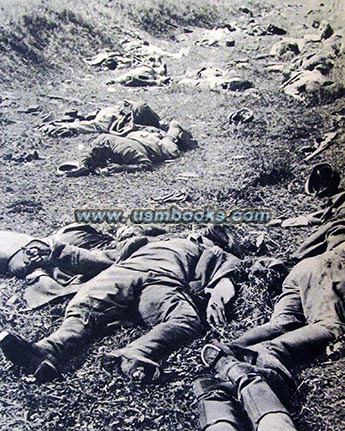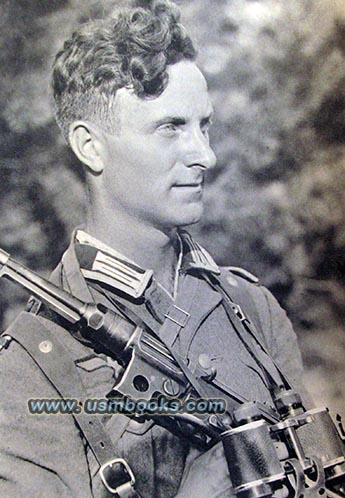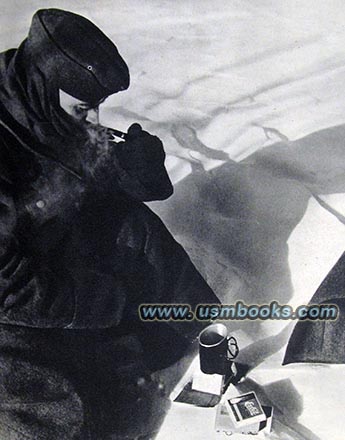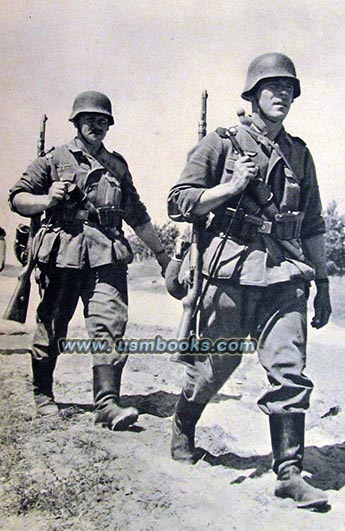 The first 43 pages have highly complimentary text about the courageous actions of the Wehrmacht infantry on the east front during Operation Barbarossa. The remaining 239 pages have big impressive, beautiful, highly detailed, mostly full-page photos of the German invasion of the Soviet Union that started the morning of 22 June 1941.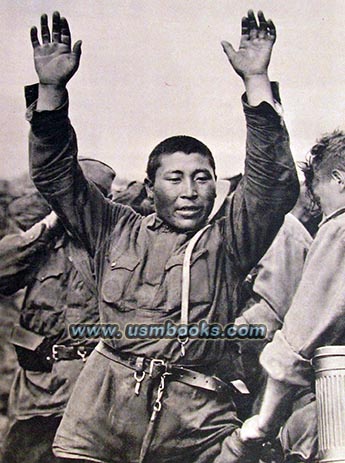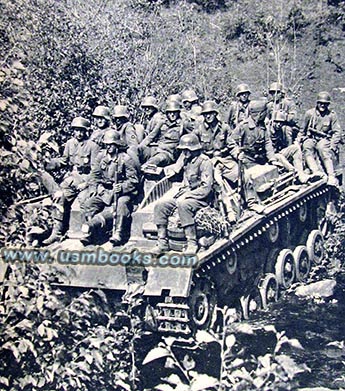 The clear, close-up war photos show marching soldiers, tanks, Flak, troop interaction with the local population, Landsers on bicycles, horseback and skis, Wehrmacht troops crossing rivers, surrendering Soviet soldiers and POWs, wounded German soldiers, the graves of fallen German soldiers, a statue of Lenin in Nowgorod, Wehrmacht Propaganda Kompanie (war correspondent) film and reconnaissance crews, the Reichskriegsflagge over Kiev, soldiers writing home and eating, Nazi officers, Ritterkreuzträger Feldwebel Otto Eske, battle damage, winter camo, Wehrmacht dogs, etc.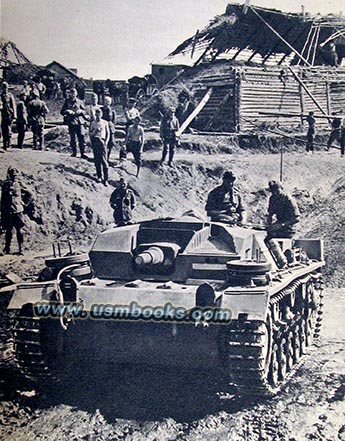 The photos were taken in places like Kiev, Smolensk, Nowogrodek, Crimea, Jalta, Charkow, on the outskirts of Leningrad - in summer and under horrible winter circumstances. The detail in the photos is great: field gear (binoculars, pouches, belts, straps, goggles, bayonets, mess kits, shovels, saws, pickaxes), machine guns, grenade launchers and ammunition, mortar crew firing a mortar, folding Esbit soldier stove, etc.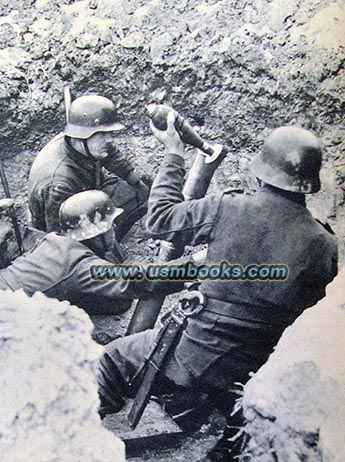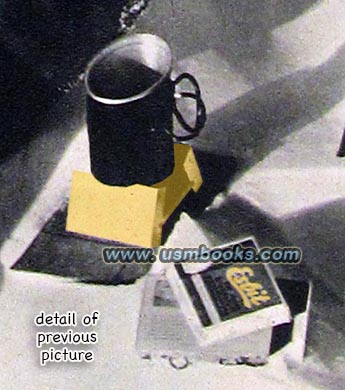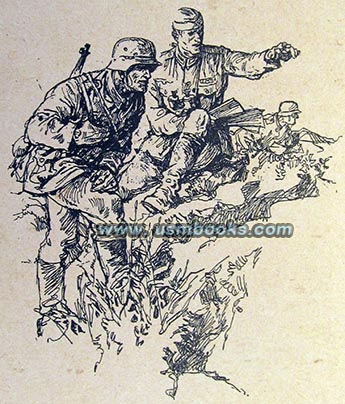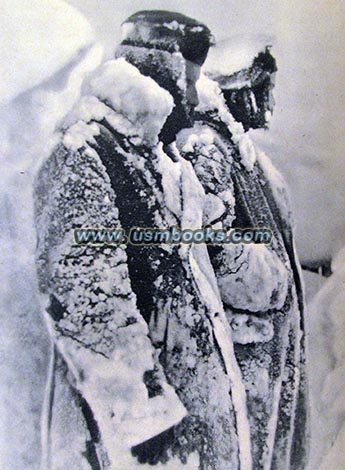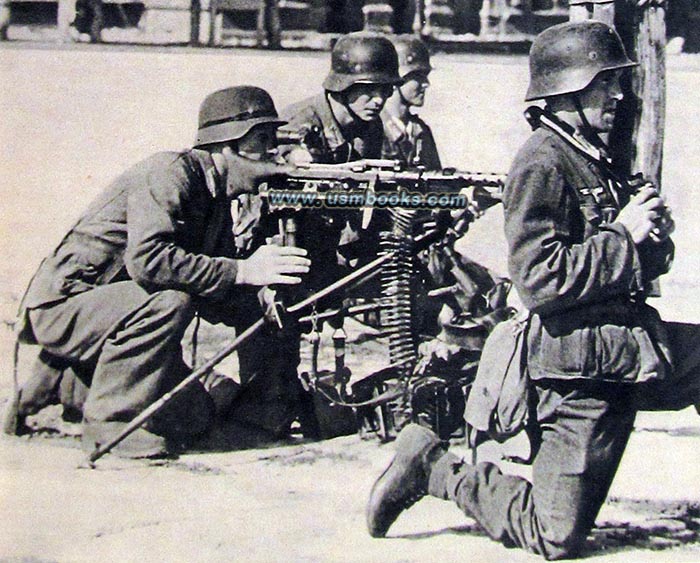 Above, note that the members of this Stosstrupp do not
have an eagle and swastika on their helmet.
Infanterie im Osten is a rare Third Reich book. This hard cover example has a linen spine and an emboss of the Infanterie-Sturmabzeichen on the front cover. The book is complete and in very nice, little used condition. No odor whatsoever.
This rare 1943 book Infanterie im Osten is offered for sale
for $295.00 delivered by Media Mail in the continental USA.


USM book # 847
• IF you prefer faster and safer Priority Mail shipping with USPS Tracking add $9.95.
• IF you wish to purchase highly recommended, but optional insurance, add $5.85.
• We will be happy to ship abroad at additional cost. Please inquire.
SUPERB 1943 NAZI PHOTO BOOK 'INFANTRY IN THE EAST'
INFANTERIE IM OSTEN
RARE HARDCOVER 1943
NAZI BOOK WITH CLOSE-UP FULL-PAGE PHOTOS OF THE WEHRMACHT IN ACTION ON THE EAST FRONT