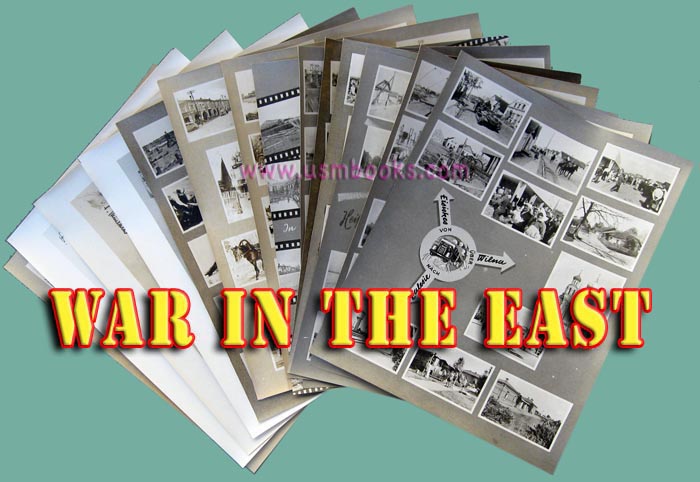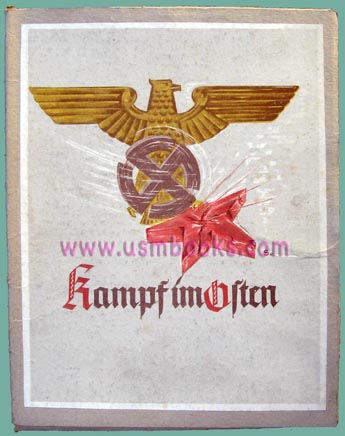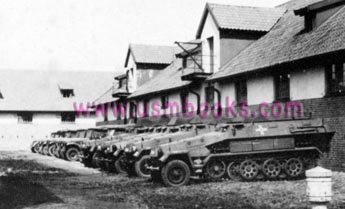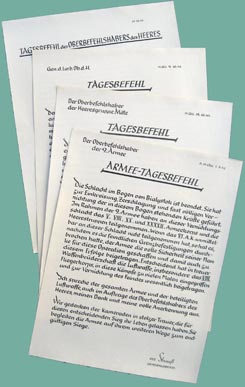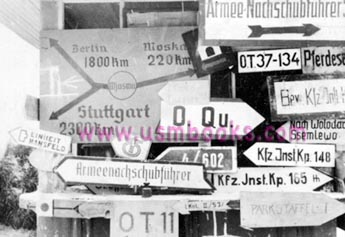 This is a very rare Third Reich photographic folio measuring 9 x 11-1/2 inches on the cover of which is a Nazi eagle with a spinning swastika slicing through a red star above the words KAMPF IM OSTEN (Battle in the East).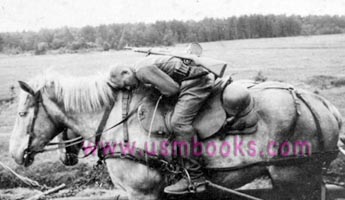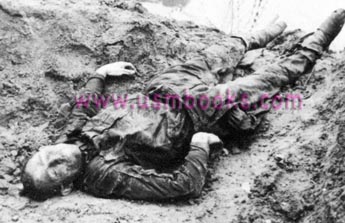 The contents of this original Nazi folio consists of four Tagesbefehl over the signatures of Generalfeldmarschall von Brauschitsch, Generalfeldmarschall von Bock, Generaloberst Strauss,and General der Flieger Bogatsch, as well as a Hitler quotation and twelve sheets of photographic paper. Nine of the sheets of photographic paper each have about a dozen actual photographs from the campaign in the summer and fall of 1941.

While it was very hard fought, the battles near Wjasma and Brjansk were also extremely successful for the Wehrmacht. They destroyed eight Russian armies consisting of 73 Infantry and Cavalry Divisions, 13 Panzer Divisions and Brigades, etc. The Germans captured over 673,000 Russian prisoners, destroyed almost 1300 Russian tanks, almost 5000 field guns and uncountable tons of military equipment.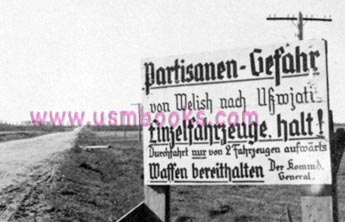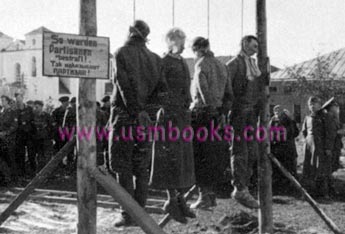 The photographs are remarkable in their clarity and content. We have cropped out and enlarged several so that a general idea of what they cover may be gotten. There is every kind of captured and destroyed Russian equipment, German soldiers involved in very difficult campaigns in the worst possible terrain and weather, the cities and towns of a very backward country, signs warning German soldiers of the activities of Russian partisans and dead Russian partisans recently hung by German forces.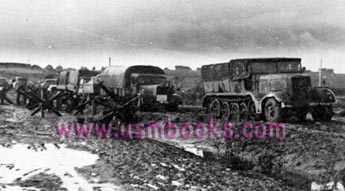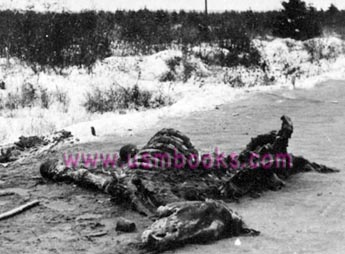 This is the sort of material that was treasured by the German survivors of the campaigns in the Soviet Union, most of which was quickly destroyed when the war ended with German defeat in 1945. Very rare and in very good original condition.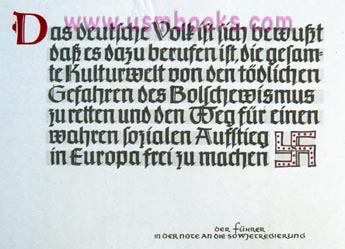 This rare Nazi photo folio KAMPF IM OSTEN is offered for sale for
$245.00 delivered to any address in the continental USA.


USM book # 262
• IF you prefer faster and safer Priority Mail shipping with USPS Tracking add $7.25.
• IF you wish to purchase highly recommended, but optional insurance, add 4.75.
• We will be happy to ship abroad at additional cost. Please inquire.
NAZI ARMY GROUP CENTER PHOTO FOLIO
PHOTOGRAPHIC NAZI
EAST FRONT FOLIO
9th ARMY,
ARMY GROUP CENTER


The images and the entire text used on this and all other USMBOOKS web pages are the copyrighted property of USM Inc. Those images and the text may be used by others ONLY AFTER completion of a formal international licensing agreement and payment of a licensing fee! It is therefore, illegal for anyone to take any of the material found on USMBOOKS.com and use it for their own purposes without our written permission, irrespective of any excuse they may feel they have for doing so.