This rare Wehrmacht 5th Infantry Division on the East Front book is
for sale for $225.00 delivered by Media Mail in the continental USA.


USM book #550
• IF you prefer Priority Mail shipping with USPS delivery confirmation add $8.95.
• IF you wish to purchase highly recommended, but optional insurance, add $4.95.
• We will be happy to ship abroad at additional cost. Please inquire.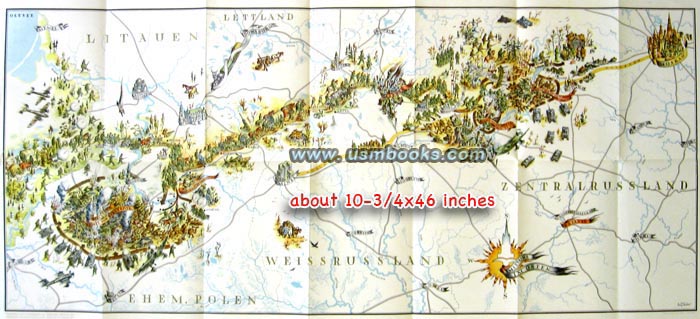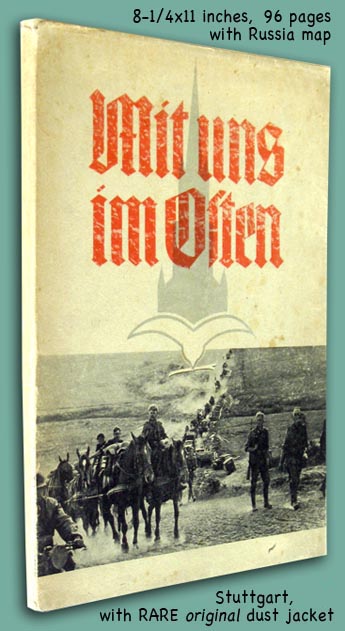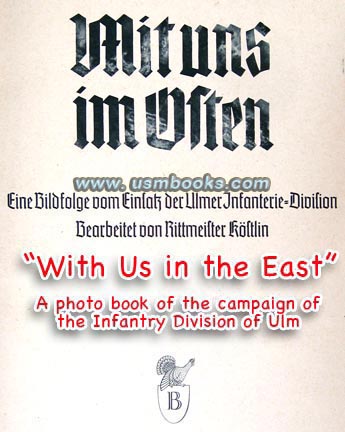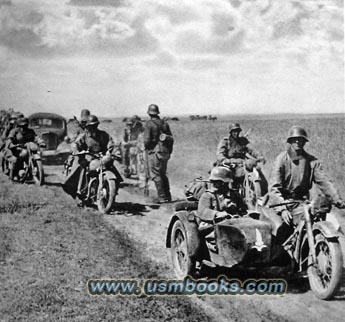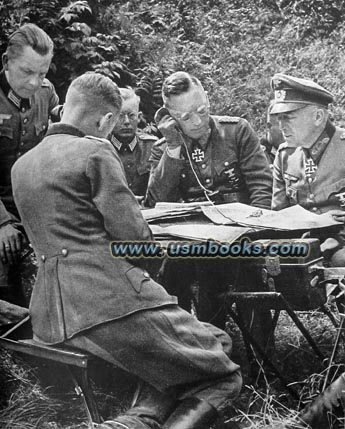 Mit uns im Osten (With Us in the East) is a rare 8-1/4 x 11 inch, 96 page soft cover photo book produced in Stuttgart in 1942. It chronicles the service of the Wehrmacht Ulmer Infanterie-Division (German 5th Infantry Division) on the East Front.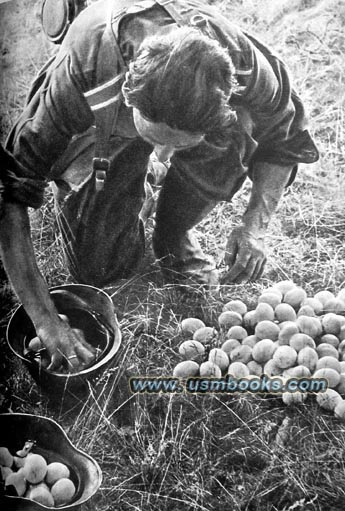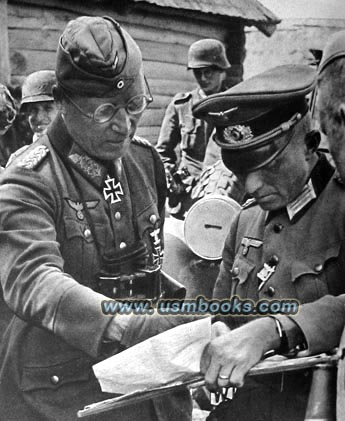 The cover of this rare Third Reich photo book has the insignia of the Division (Ulm Cathedral above the wings of a seagull) above the title. The introduction by Rittmeister Wolfgang Köstlin reveals the purpose of this book: the pictures should be a permanent reminder not only for the men of the Division, but also their families so nobody would ever forget their sacrifices and the important history the Division was a part of.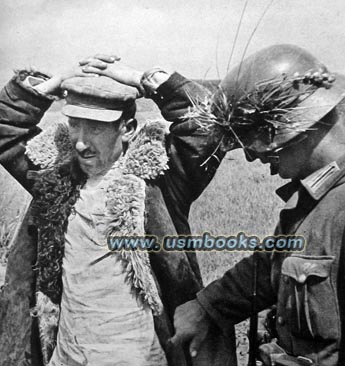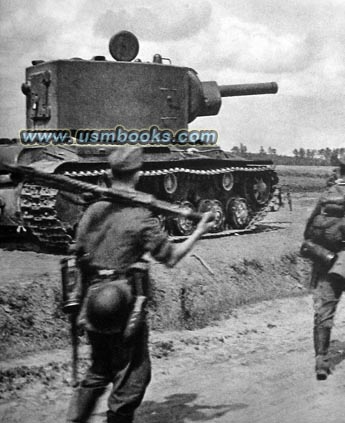 After a foreword by Division Commandant Karl Allmendinger photos chronicle the troops on the go, during battle, people and country of Russia encountered by the men of the 5th Infantry Division: division commanders, regimental commanders, combat engineers and Landers, heavy artillery, field gear, Russian POWs, Hitler awarding the Knight's Cross of the Iron Cross with Oak Leaves to Rittmeister Horst Niemack as well as other medal ceremonies, General Richard Ruoff (wearing his Knights Cross), motorcycles, tanks, horses, dead and wounded soldiers, the capture Soviet villages and civilians, etc., etc.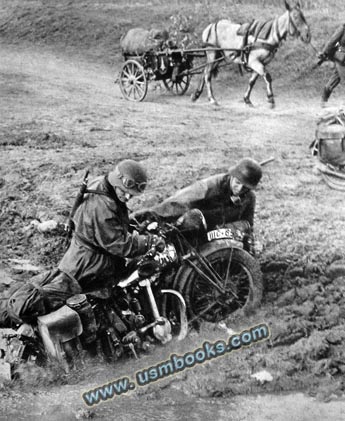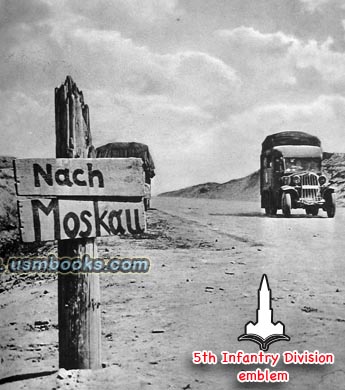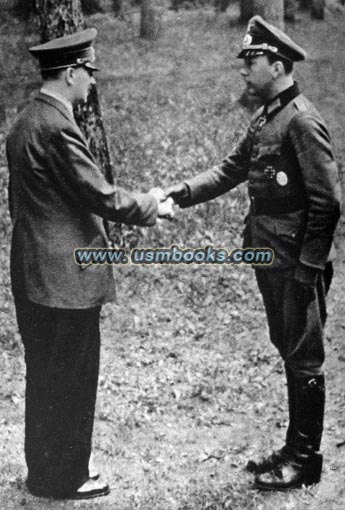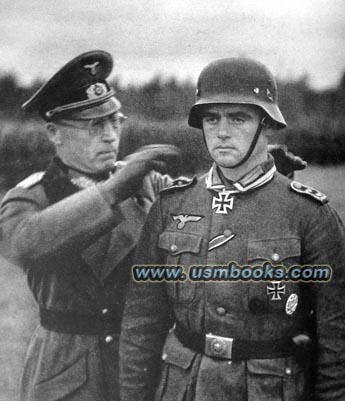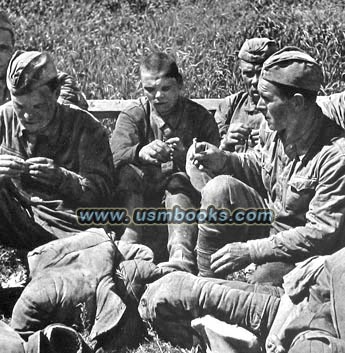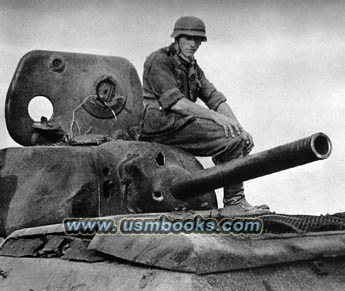 This high-quality rotogravure book was produced in a limited edition and is in very good condition.
IMPORTANT: this is a First Edition of Mit uns im Osten dated 1942 with its very rare original dust jacket. The large original 10-3/4 x 46 inch full-color fold-out map shown right and below is still in the back of the book. There is scotch tape along one of the folds but in only one section.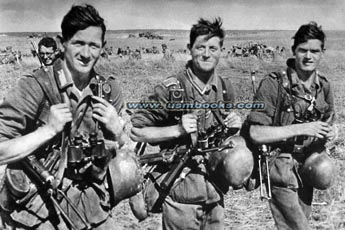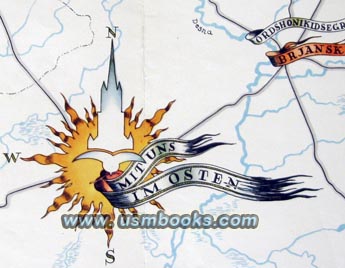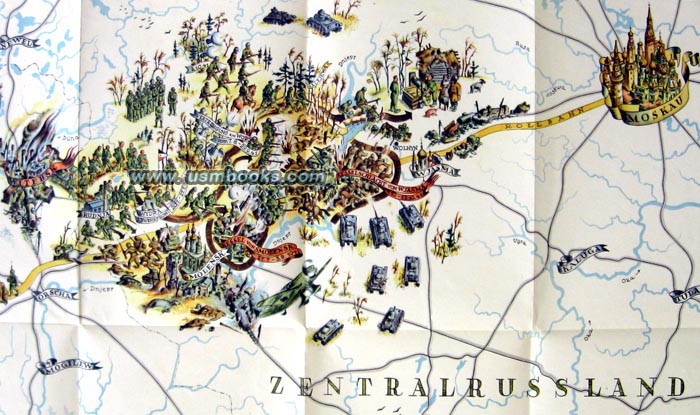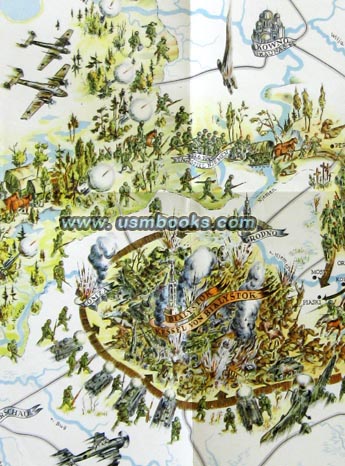 RARE 1942 NAZI PHOTO BOOK ABOUT THE ULM INFANTRY DIVISION
ON THE EAST FRONT WITH RARE FULL-COLOR MAP
MIT UNS IM OSTEN -
A RARE 1942 NAZI PHOTO BOOK ABOUT THE
ULMER-INFANTERIE DIVISION
ON THE EAST FRONT WITH LARGE FULL-COLOR MAP + VERY RARE DUST JACKET


The images and the entire text used on this and all other USMBOOKS web pages are the copyrighted property of USM Inc. Those images and the text may be used by others ONLY AFTER completion of a formal international licensing agreement and payment of a licensing fee! It is therefore, illegal for anyone to take any of the material found on USMBOOKS.com and use it for their own purposes without our written permission, irrespective of any excuse they may feel they have for doing so.