This
First Edition 1940 Adolf
Hitler / Greater Germany photo book is offered
for sale for $185.00 delivered by Media Mail in the continental USA.


USM book #318
• IF you prefer Priority Mail shipping with USPS Tracking add $6.95.
• IF you wish to purchase optional insurance, add $3.75.
• We will be happy to ship abroad at additional cost. Please inquire.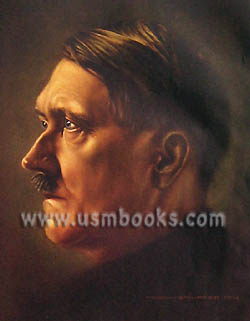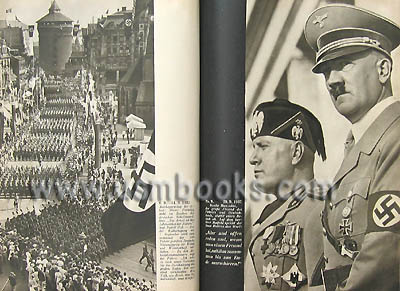 Adolf Hitler named his version of Germany Großdeutschland at least in part in emulation of the name Great Britain, and because he envisaged a much larger country than the one he had become Chancellor of in 1933. The simple name "Germany" simply was not sufficient.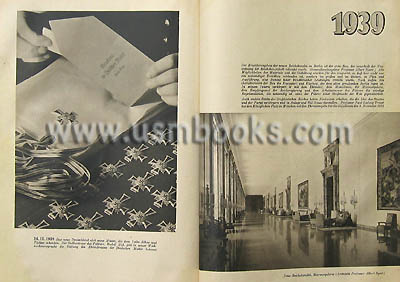 The splendid Heinrich Hoffmann-type photo book we offer here,
Das Reich Adolf Hitlers
was the Christmas Book of the
Hitler Jugend
(HJ or Hitler Youth) in 1940, published at the request of
Reichsleiter
and Leader of the Hitler Youth
Baldur von Schirach
by the Central Publishing House of the NSDAP, Franz Eher Nachfolger in München (Munich), Germany and this example is a
FIRST EDITION
.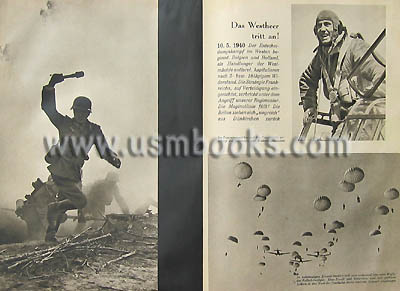 Following an unusual full-page, full-color 1936 portrait of German Chancellor Adolf Hitler by Horn-Stalpfer, the book presents an outstanding photographic recap of each year of Nazi Party administration in Germany from 1933 through 1940.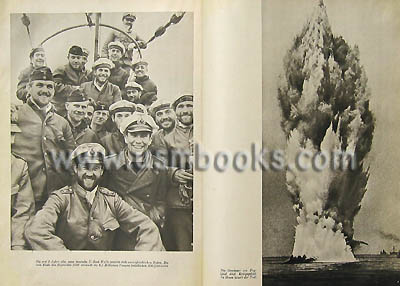 The photographs of the early years of National Socialist power show parades, uniforms, personalities and huge Nazi eagles and swastikas popping up throughout the country. Progress on the construction of the Reichsautobahn, Honor Temples in Munich, housing developments, Ordensburgen, and other major projects is heavily emphasized in big full- and half page photos. So is the 1936 Olympics, the German Pavilion at the 1937 World's Fair in Paris, the new House of German Art, Reichs Party Day, the visit of Mussolini, Anschluß with Austria and the Westwall defenses.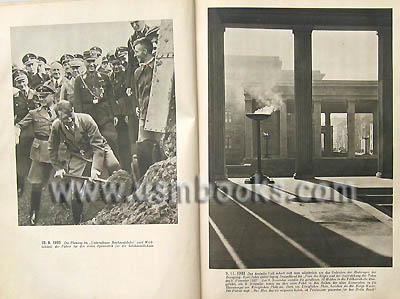 There are photos of the New Reichschancellery in Berlin in 1939 as well as Adolf Hitler's 50th birthday parade, but then the photo content changes largely to military in character:
aircraft and bomb factories, U-Boot or submarine crews, tanks, airplanes, marching troops, Fallschirmjäger or paratroopers, the surrender of France after only a few days of resistance, etc., etc.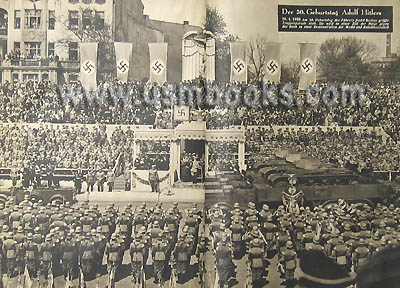 Das Reich Adolf Hitlers - Ein Bildbuch vom Werden Grossdeutschlands is one of the best Third Reich photo books, done in the style of famous Heinrich Hoffmann photo books. This 1940 FIRST EDITION example is in nice used condition, complete with the frequently missing color portrait of Adolf Hitler. The dust jacket is a professsional laser photo copy of an original in our archive.
NAZI PHOTO BOOK GROßDEUTSCHLAND - 1940 1st EDITION
DAS REICH ADOLF HITLERS -
EIN BILDBUCH VOM WERDEN
GROßDEUTSCHLAND
(Adolf Hitler's Reich -
A Photo Book of the
Development of
Greater Germany)


The images and the entire text used on this and all other USMBOOKS web pages are the copyrighted property of USM Inc. Those images and the text may be used by others ONLY AFTER completion of a formal international licensing agreement and payment of a licensing fee! It is therefore, illegal for anyone to take any of the material found on USMBOOKS.com and use it for their own purposes without our written permission, irrespective of any excuse they may feel they have for doing so.