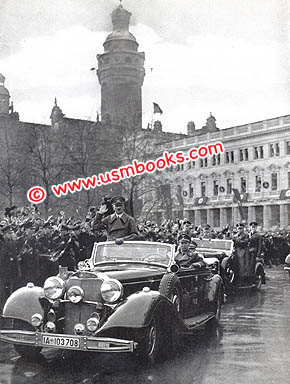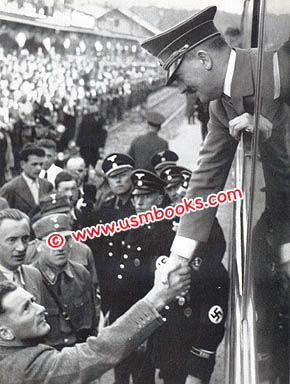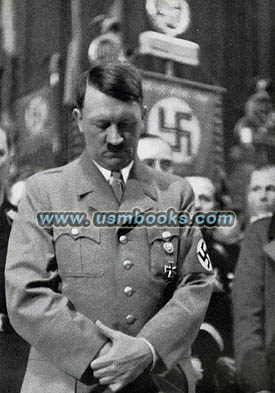 Following an introduction by Hermann Esser (editor of the Nazi newspaper Völkischer Beobachter), the book contains captioned photos of Adolf Hitler and many of the leading personalities of the Third Reich era including Reichsführer-SS Heinrich Himmler, Reichsminister Hermann Göring, Reichsminister Josef Goebbels, Deputy Führer Rudolf Hess, Gauleiter Josef Bürckel, Reichsstatthalter Dr. Seyss-Inquart, SA General and Autobahn Engineer Fritz Todt.
Hitler is also shown visiting workers at the General Motors Opel car factory in Rüsselsheim, in Königsberg, in Stuttgart, in Hamburg, in München (Munich), in Salzburg, aboard his personal train, with Hitler Youth (Hitlerjugend or HJ) boys and Bund der deutschen Mädel (BdM) girls, with pretty teenage girls, and touching children. There are many photos of his huge Grosser Mercedes-Benz armored parade cars, photos of Hitler shoveling dirt for the Reichsautobahn and visiting German Wien (Vienna) which had become the second largest city of Greater Germany after the Anschluss.
This 1938 First Edition of Hitler baut Grossdeutschland is for sale for
$165.00 delivered by Media Mail in the continental USA.


USM book # 218a
• IF you prefer Priority Mail shipping with USPS delivery confirmation add $6.50.
• IF you wish to purchase highly recommended, but optional insurance, add $3.50.
• We will be happy to ship abroad at additional cost. Please inquire.
This original 1938 First Edition Nazi photo book HITLER BAUT GROßDEUTSCHLAND is in very nice used condition. The dust jacket is a professional laser photo copy from an original in our archive.

NAZI GREATER GERMANY PHOTO BOOK BY HEINRICH HOFFMANN
ORIGINAL THIRD REICH
HOFFMANN PHOTO BOOK

HITLER BAUT GROSSDEUTSCHLAND
HITLER, CONSTRUCTS
GREATER GERMANY


The images and the entire text used on this and all other USMBOOKS web pages are the copyrighted property of USM Inc. Those images and the text may be used by others ONLY AFTER completion of a formal international licensing agreement and payment of a licensing fee! It is therefore, illegal for anyone to take any of the material found on USMBOOKS.com and use it for their own purposes without our written permission, irrespective of any excuse they may feel they have for doing so.
To see other original Third Reich Heinrich Hoffmann photo books
for sale on USMBOOKS.com, click HERE.
NO modern reproductions!
Another rare Heinrich Hoffmann photo book produced during the Third Reich of German Chancellor Adolf Hitler, this 64 page, 7-1/2 x 10-1/2 inch softcover volume is titled HITLER BAUT GROßDEUTSCHLAND (Hitler Constructs Greater Germany). With more than 70 spectacular full-page and half-page photos, this First Edition Zeitgeschichte-Verlag book follows Hitler on his travels throughout Greater Germany at the time of the plebiscite in Austria in the spring of 1938, when the populace approved reunification with Germany by a 97% to a 3% margin.

The photos shown on this webpage are taken from this book which is advertised on the dust jacket as a treasure which should be saved so generations to come will remember the great achievements [of 1938]!