This 1941 photo book on the Nazi Wehrmacht conquest of France
is for sale for $195.00 delivered by Media Mail in the USA.


USM book # 404
•IF you prefer faster and safer Priority Mail shipping with USPS Tracking add $8.95.
• IF you wish to purchase optional insurance, add $3.45.
• We will be happy to ship abroad at additional cost. Please inquire.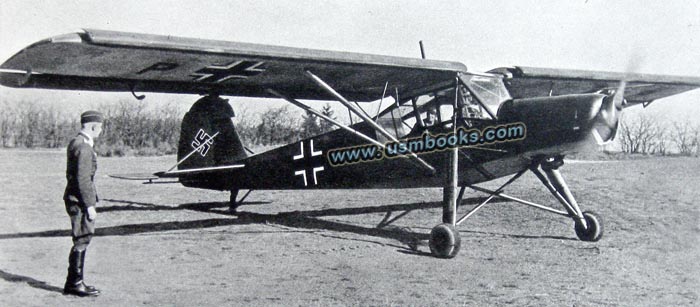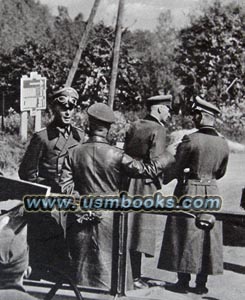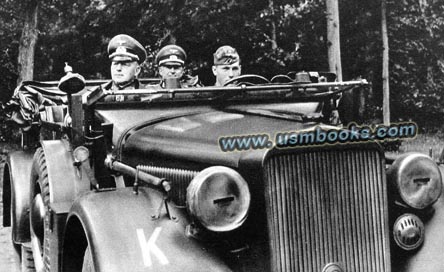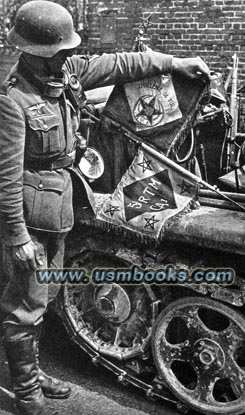 Mit dem K durch Frankreich Erinnerungsbilder der Gruppe von Kleist (With Kampfgruppe Kleist through France - Memorial Photo Book ) is a 244 page, 7-1/4 x 10-1/4 inch hard cover book published by Verlag E. S. Mittler & Sohn Berlin in 1941.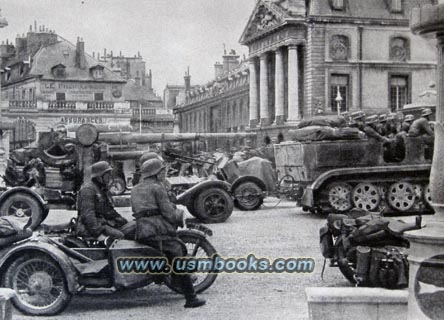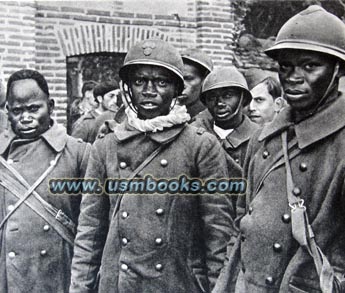 Following a foreword by Generaloberst von Kleist, there are well over 200 amazing full-page photographs of the Nazi Wehrmacht conquest of France ending with the occupation of Paris. There are photos of a great deal of equipment from both sides, French and black French colonial POWs, British POWs, the damage of battle and even the chain dogs of the Wehrmacht (Nazi Field Police, so-called because of the chains on their gorgets). German soldiers are pictured with captured flags and captured French equipment of every description.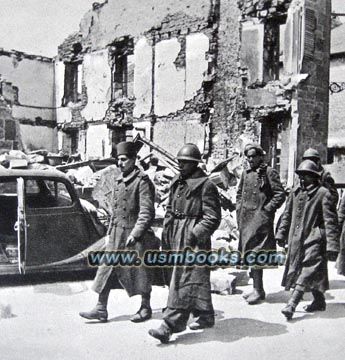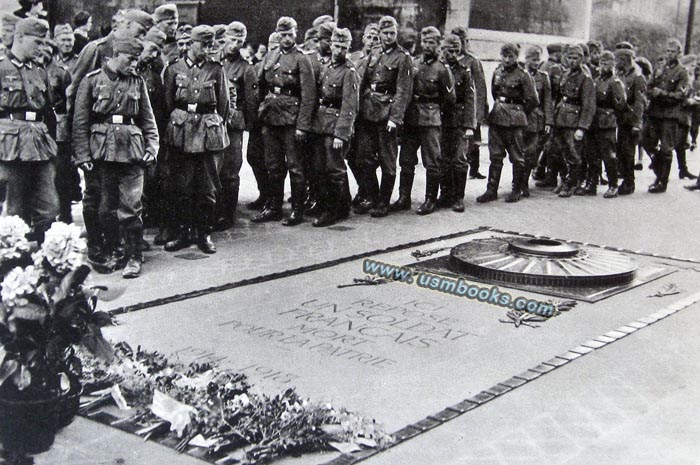 There is a picture of a Fieseler Storch airplane ready to take off, a halftrack pulling a field gun, motorcycle troops on the move, and the General von Kleist (recipient of the Ritterkreuz des Eisernen Kreuzes mit Eichenlaub und Schwertern or the Knight's Cross of the Iron Cross with Oak Leaves and Swords), himself in his staff car. There are many photos of inept French colonial troops who were both unable and unwilling to defend the country from the German invasion.

Probably the best photo book on the subject. Nice used condition. For sale on some of the 'big name' Nazi book seller websites for well over $350.00
BEST NAZI PHOTO BOOK INVASION OF FRANCE
A NICE EXAMPLE OF
THE EXCELLENT
NAZI COMBAT BOOK
WITH
KAMPFGRUPPE KLEIST
THROUGH FRANCE
1941


The images and the entire text used on this and all other USMBOOKS web pages are the copyrighted property of USM Inc. Those images and the text may be used by others ONLY AFTER completion of a formal international licensing agreement and payment of a licensing fee! It is therefore, illegal for anyone to take any of the material found on USMBOOKS.com and use it for their own purposes without our written permission, irrespective of any excuse they may feel they have for doing so.