The images and the entire text used on this and all other USMBOOKS web pages are the copyrighted property of USM Inc. Those images and the text may be used by others ONLY AFTER completion of a formal international licensing agreement and payment of a licensing fee! It is therefore, illegal for anyone to take any of the material found on USMBOOKS.com and use it for their own purposes without our written permission, irrespective of any excuse they may feel they have for doing so.
One of the rarest in the series of Professor Heinrich Hoffmann photo books produced during the Third Reich of German Chancellor Adolf Hitler, this 98 page, 7-1/2 x 10-1/4 inch softcover volume from 1937 is titled Mussolini erlebt Deutschland (Mussolini Experiences Germany).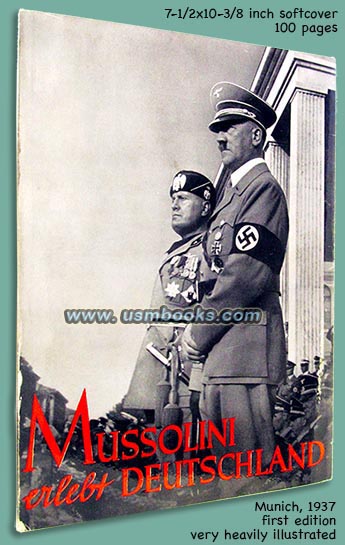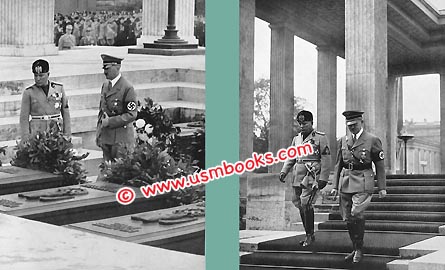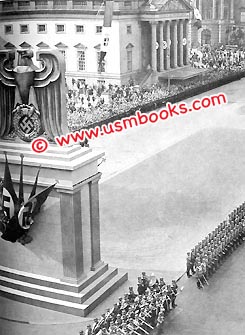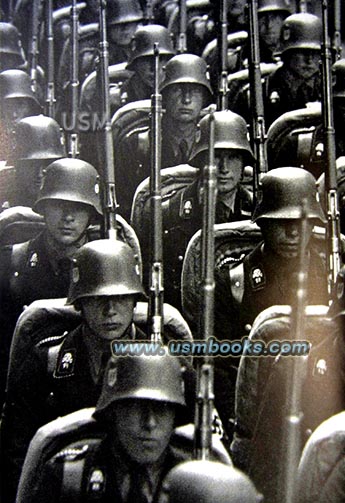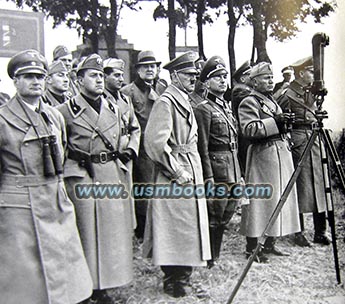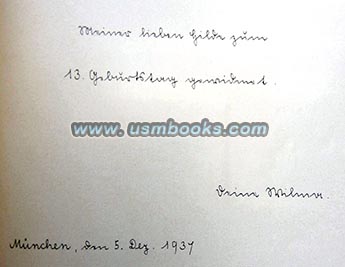 Il Duce's visit to Hermann and Emmy Göring's estate Carinhall on the Schorfheide north of Berlin, was a highlight of the trip and is nicely depicted in a series of photos also featuring Mrs. Göring Italian Foreign Minister and Mussolini's son-in-law Count Ciano.
This original Third Reich example of Mussolini erlebt Deutschland is in very good used condition with a tight spine. The dust jacket is an original 79 year old example that was laminated by a previous owner to preserve it. There is a 13th birthday dedication on the front flyleaf dated 5 December 1937 (shown right).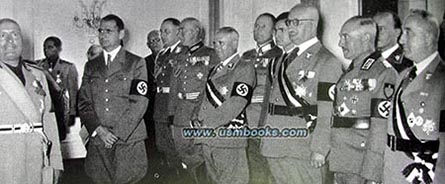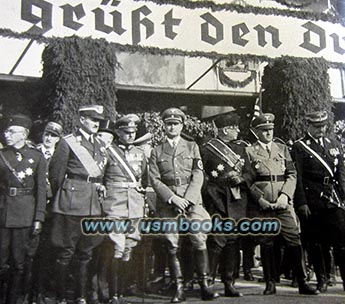 Follow a foreword by Reichs Press Chief Dr. Otto Dietrich, this book covers a very comprehensive visit by Italian dictator, Il Duce Benito Mussolini, to the country of Germany as a guest of Hitler. There are big, clear pictures of every aspect of the trip from the moment he arrived accompanied by a large entourage. In München (Munich), he was given an emperor's welcome with the city covered in Festschmuck (festive Nazi street decor) featuring enormous eagles and swastikas, huge letters "M", Italian flags, etc.
Mussolini stayed in fine style at the Prinz Carl Palace and visited Nazi shrines such as the Honor Temples, the Feldherrnhalle, the Führerhaus or Führerbau, the House of German Art, etc. He met with the likes of Rudolf Hess, Konstantin von Neurath, Baldur von Schirach, Hermann Göring, Dr. Robert Ley, Admiral Raeder, etc., watched military maneuvers of the Wehrmacht and Luftwaffe (photo below) before leaving for Berlin.
There he met more German officials, visited the Reichschancellery and was guest of honor at an enormous military parade along Unter den Linden and through the Brandenburg Gate.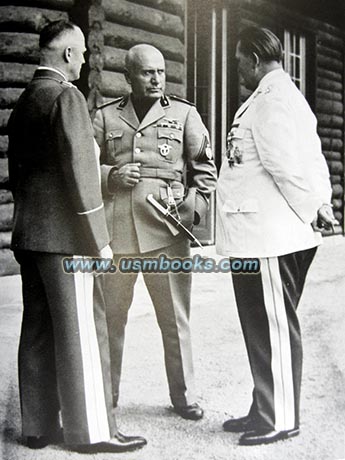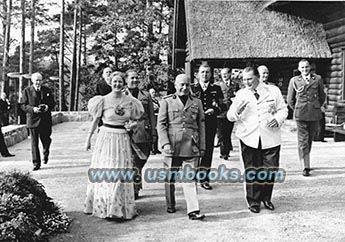 NOT
A
MODERN REPRO-
DUCTION
MUSSOLINI ERLEBT DEUTSCHLAND is
**SOLD**
.


USM book #114
• IF you prefer faster and safer Priority Mail shipping with USPS Tracking add $6.50.
• IF you wish to purchase highly recommended, but optional insurance, add $4.75.
• We will be happy to ship abroad at additional cost. Please inquire.
RARE THIRD REICH PHOTO BOOK BY HEINRICH HOFFMANN
MUSSOLINI VISITS NAZI GERMANY
RARE 1937 HEINRICH
HOFFMANN PHOTO BOOK
MUSSOLINI ERLEBT
DEUTSCHLAND

MUSSOLINI EXPERIENCES GERMANY