The images and text used on this and all other USM web pages are the copyrighted property
of USM Inc. Those images and the text may be used by others ONLY AFTER completion
of a formal international licensing agreement and payment of a licensing fee!
NAZI MILITARY MAGAZINES - DIE WEHRMACHT -

1938 & 1939
The 10-1/2 x 14-1/2 inch heavily photographic magazine Die Wehrmacht (The Armed Forces) is without question the most reliable authority on matters related to the Armed Forces of the Third Reich Germany of Adolf Hitler. After the Nazis demanded and won the allegiance of the Junkers and the military, the conversion of the Armed Forces by the NSDAP began in earnest. New helmets, uniforms, weapons and heavy equipment began to flow to the armed services in a never-ending stream. Committed professionals displaced old-timers in the military and the people of Germany didn't need to be told to take pride in their army. Anything and everything that pertained to or impacted the military in Nazi Germany was reported and shown on the pages of Die Wehrmacht. It was published by the Oberkommando der Wehrmacht (OKW or Armed Forces High Command) and was the official government position on all matters military.
Some Special Editions of Die Wehrmacht on this USMBOOKS webpage are individually priced, but most issues are priced at only $17.50 each + $5.00 delivery in the continental USA by Media Mail (foreign buyers inquire about postage costs). If you buy five or more issues of $17.50 Die Wehrmacht magazines,

the price is only $14.00 each and we pay for postage

, a savings of 20%. This discount does not apply to individually priced issues of Die Wehrmacht shown on other webpages.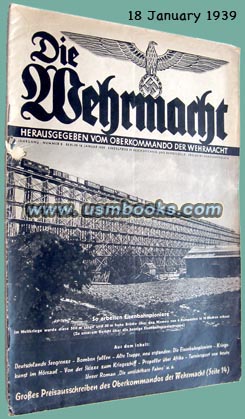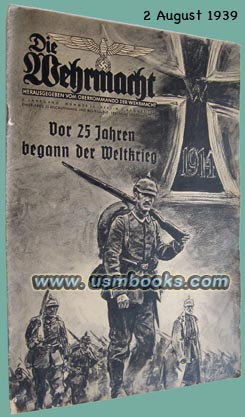 CONTENTS:
**SOLD**
Reichsparteitag
Cover by Theo Matejko; Wehrmacht Artillery Exercises; French Maneuvers in the Alps; Mussolini's March on Rome; Palestine; Generaloberst Freiherr von Fritsch; Hitler Visits the Troops During Wehrmacht Exercises; Admiral Horty Visits Germany ass well as advertising for the new
Theo Matejko book
. 32 pages, in very good condition.
CONTENTS:
**SOLD**
Germany's Sea Coast; the Nazi Kriegsmarine Ship
Scharnhorst
; Nazi Railway
Pioniere
Troops; the War Academy in Hörsaal; Building a War Ship; Flying over Africa; advertising, puzzles, jokes, cartoons.
This magazine has 32 pages, very good condition.
CONTENTS:
**SOLD**
the 25th Anniversary of the Beginning of World War I (Army, Navy, Air Force); Grand Admiral Raeder with his Submarines; advertising, puzzles, jokes, cartoons.
This magazine has 32 pages and is in very good condition.
CONTENTS:
**SOLD**
Introduction by Admiral Raeder; Rebuilding the Kriegsmarine;
Theo Matejko
Kriegmarine Illustrations, Nazi Navy Destroyers and Submarines; Hitler Aboard the Geisenau; A Career in the Navy; Seaplanes; Kriegsmarine Minesweepers; the Kriegsmarine Ship Meteor, etc.
Advertising for Daimler Benz, MAN, Siemens, Opel - all Navy related, as well as Coca Cola, Ford V8, Eickhorn, Mauser as well as puzzles, jokes, cartoons.
Special color cover, 56 pages and in splendid condition.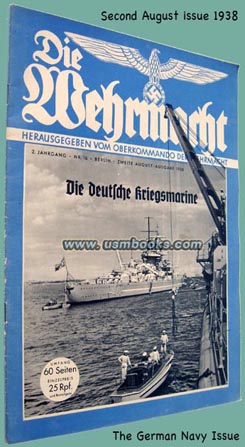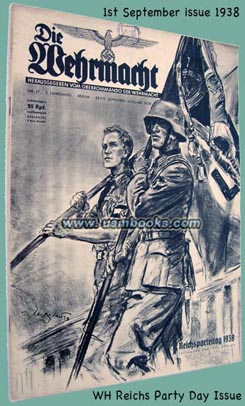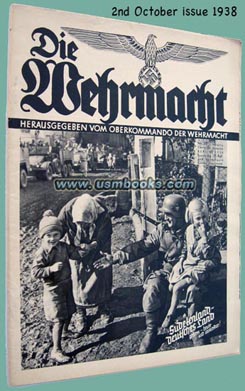 CONTENTS:
**SOLD**
Liberation of Sudetenland; Theo Matejko Illustrations of Ethnic Germans in Czechoslovakia; OKW Entry into the Sudetenland 1 - 10 October 1938; Industry in the Sudetenland; Photos of Adolf Hitler, Hermann Göring, Heinrich Himmler, Keitel visiting Sudetenland; Luftwaffe, Panzer and Army Troops with the Local Population, etc.
Advertising for Hitler Busts by Lauchhammer, IG Farben, Coca Cola, Siemens, Leica, Walther, Nivea, Bayer, Mauser, Leuna and others.
48 pages and in splendid condition.
SPECIAL SUDETENLAND ISSUE 48 PAGES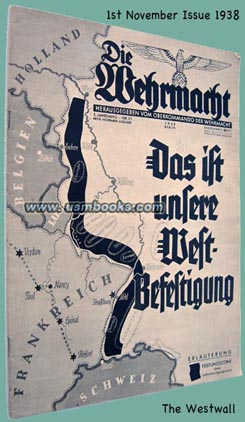 CONTENTS:
**SOLD**
German Fortifications in the West; Building of the Concrete Dragon's Teeth and Bunkers (
Westwall
or Siegfried Line); 7 November 1918, the Last Shot of WW1; Ritter von Epp; Mittelland Canal Connects Berlin with the Industrial Ruhrgebiet; Japanese Victory at Hankau and advertising for the 1939
Wehrmacht-Kalender
with Order Form.
Special Issue 40 pages, very good condition.
This USM Books website is Copyright © 2012 by USM, Inc., and the text and images on it are fully protected by international copyright law. It is therefore, illegal for anyone to take any of the material found here and use it for their own purposes without our written permission, irrespective of any excuse they may feel they have for doing so.