The images and the entire text used on this and all other USMBOOKS web pages are the copyrighted property of USM Inc. Those images and the text may be used by others ONLY AFTER completion of a formal international licensing agreement and payment of a licensing fee! It is therefore, illegal for anyone to take any of the material found on USMBOOKS.com and use it for their own purposes without our written permission, irrespective of any excuse they may feel they have for doing so.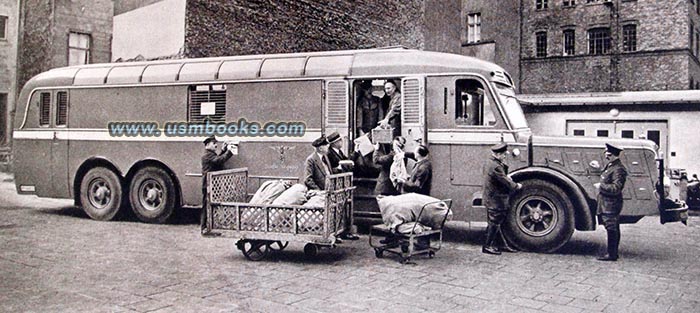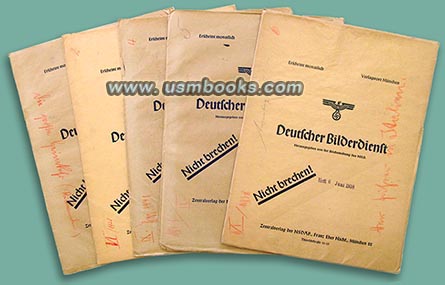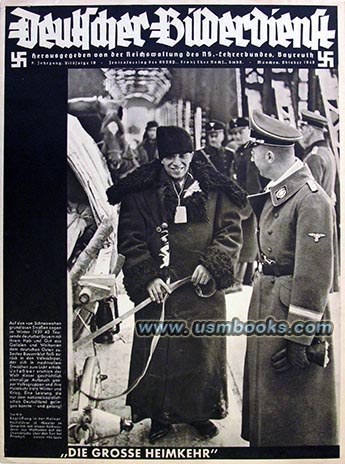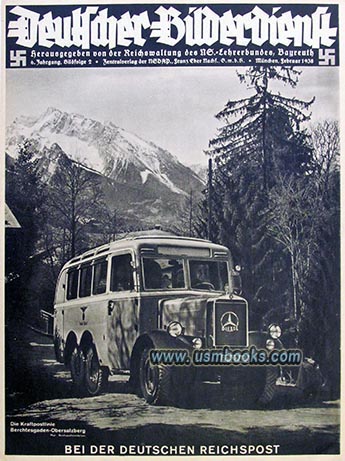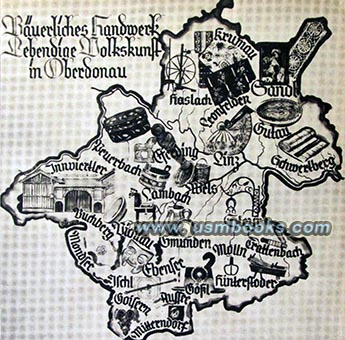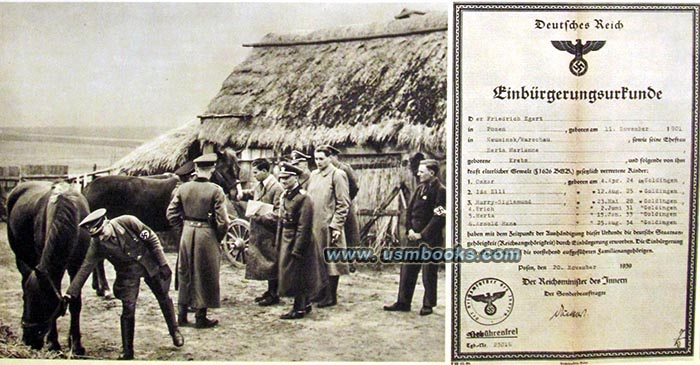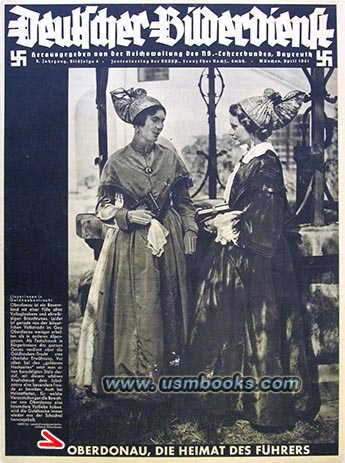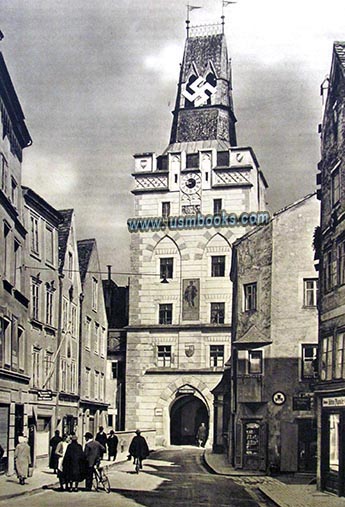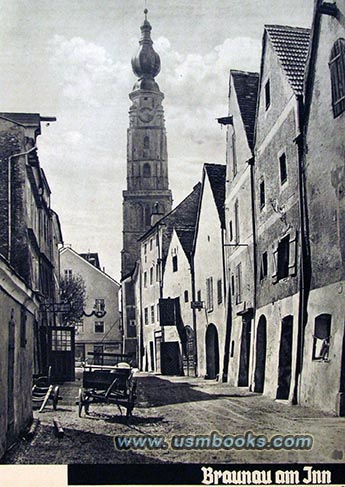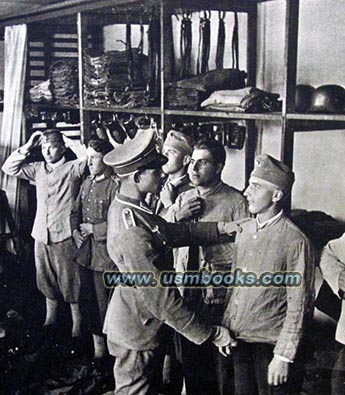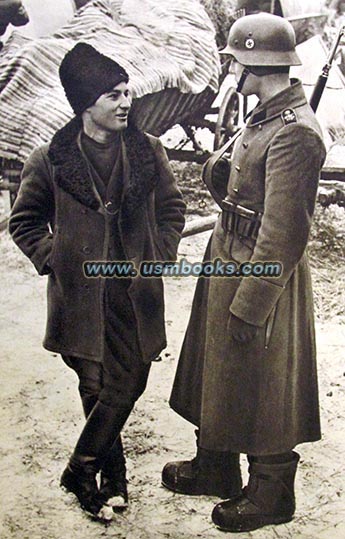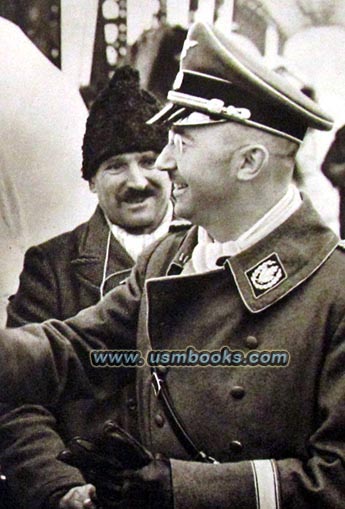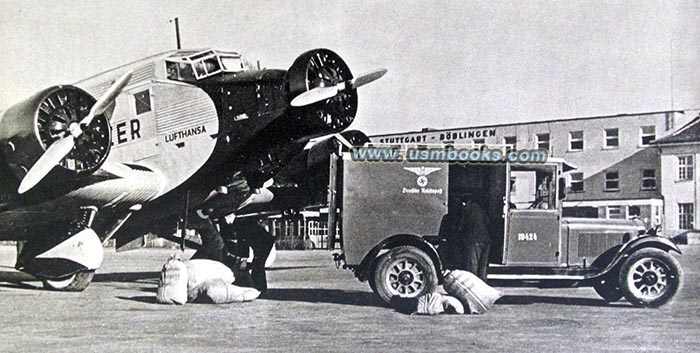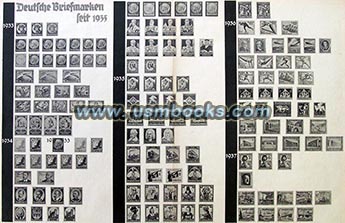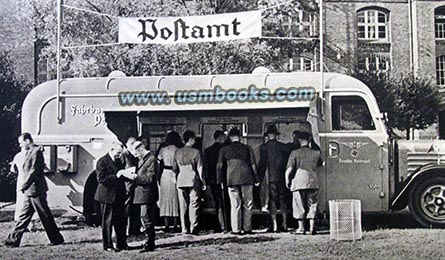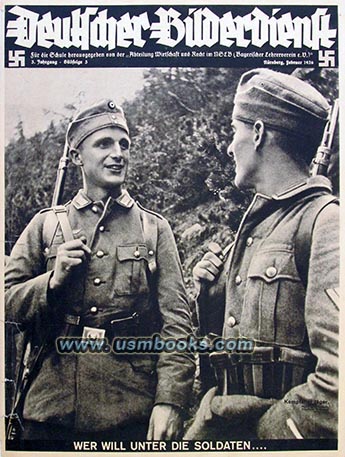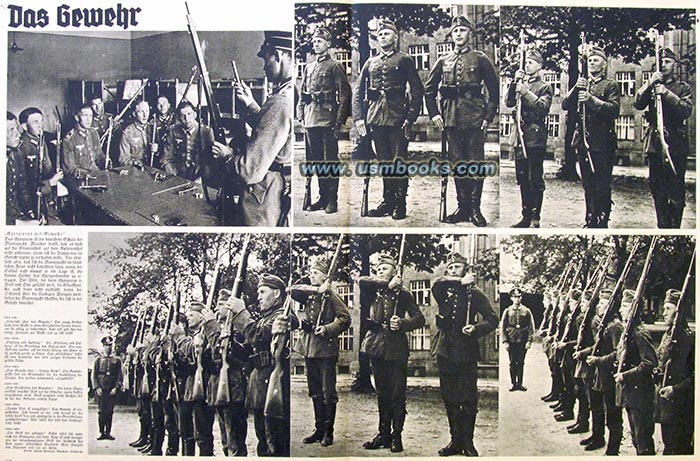 The very large format 12 x 15-1/2 inch all-photo, twice-monthly magazine Deutscher Bilderdienst was published in Nürnberg for the National Socialist Lehrerbund (a teacher's union roughly equivalent of the National Education Association (NEA) in the United States) for use in classrooms throughout Nazi Germany during the Third Reich. Each issue of about 16 pages was composed mostly of full-page and half-page photos with a couple of double-page spreads.
Each issue also had a theme such as Our Soldiers, the Postal System and its Busses, Oberdonau - the Homeland of the Führer and the Repatriation of Ethnic Germans from Russia.
The lot of four issues of Deutscher Bilderdienst offered on this USMBOOKS web page are February 1936 (without an envelope), 2 February 1938, 10 October 1940 and 4 April 1941 in their original envelopes, plus empty Deutscher Bilderdienst shipping envelopes dated June 1938 and May 1941.

The magazines were never bound so that the teachers who received them could post them on bulletin boards or in other logical places.
The total of 64 pages in this Deutscher Bilderdienst lot contains hundreds of exceptionally poignant professional photographs of Third Reich subjects that don't appear in any other sources we are familiar with: the Adolf-Hitler-Kaserne, Reichsführer-SS Heinrich Himmler as well as other SS and Police welcoming Volksdeutschen or ethnic Germans back to Nazi Germany, Hitler's birthplace - Braunau and the German Gau Oberdonau, soldier and recruit life and rifle training in the German Army, enormous Deutsche Reichspost busses used for sorting mail, for post offices and for passengers, all the new Nazi German stamps from 1933 through 1937, etc., etc.
Extraordinary graphic material with unique images. Rare and in nice used condition. Never folded!
This lot of rare original Nazi Teacher Union Deutscher Bilderdienst
photo magazines is for sale for $195.00 PLUS postage (see below).

• For Priority Mail with USPS Tracking add $13.45
OR
$9.95 for Media Mail.
• IF you wish to purchase highly recommended, but optional insurance, add $3.50.
• We will be happy to ship abroad at additional cost. Please inquire.
VERY RARE NAZI TEACHER UNION PROPAGANDA PHOTO MAGAZINES
DEUTSCHER BILDERDIENST - LOT OF FOUR
DEUTSCHER
BILDERDIENST
NAZI TEACHER
UNION PROPAGANDA
PHOTO MAGAZINES
-
LOT OF 4 WITH
RARE ORIGINAL
MAILING ENVELOPES