This rare Nazi Naturalization Certificate issued by the office of Heinrich
Himmler is **SOLD**

• IF you prefer Priority Mail shipping with USPS delivery confirmation add $6.50.
• IF you wish to purchase highly recommended, but optional insurance, add $3.45.
• We will be happy to ship abroad at additional cost. Please inquire.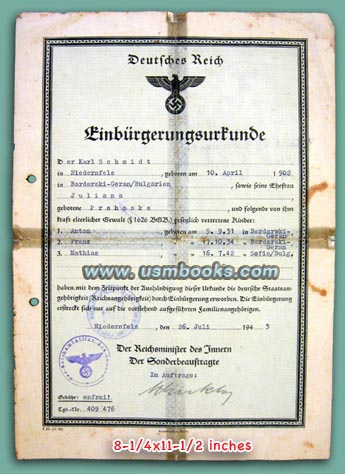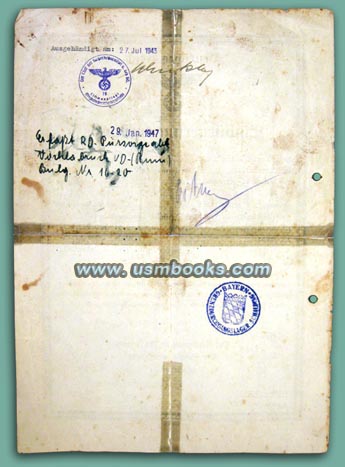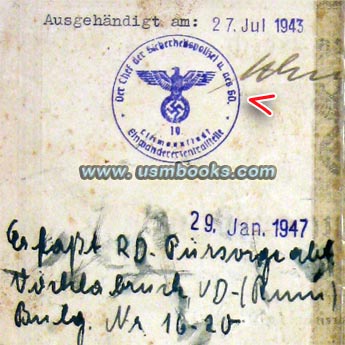 Most examples of the Deutsches Reich Einbürgerungsurkunde or German National Naturalization Certificate were issued by the office of the Reichsstatthalter (the highest Nazi government civil authority) of the area where the Naturalization took place. This one however, is VERY RARE as it was issued (and at no cost!) by the office of Der Reichsminister des Innern, Heinrich Himmler.

It was issued in Niedernfels (in Bavaria) on 26 July 1943 to a family of five from Bardarski-Geran in Bulgaria: Karl Schmidt (b. 1902), his wife Juliana (née Prohaska) and their children Anton (b. 1931), Franz (b. 1934) and Mathias (b. 1942).
This original 8-¼ x 11-1/2 inch Einbürgerungsurkunde has a 33 mm diameter eagle and swastika rubber stamp of the Interior Ministry and the signature of a special representative of Interior Minister Heinrich Himmler at the bottom.

Additional historical information on the back shows that the Schmidt family received this certificate on 27 July 1942 at the Immigration Office of the Sicherheitspolizei and the Sicherheitsdienst at Litzmannstadt in the Generalgouvernement (German occupied Poland). Below that is an additional handwritten note with the date stamped date 29 January 1947. An additional purple rubber stamp is from the Grenzdurchganglager or transit camp at Schalding in Bavaria.

A very rare original official Third Reich document is used condition, exactly as shown. Was folded at one time.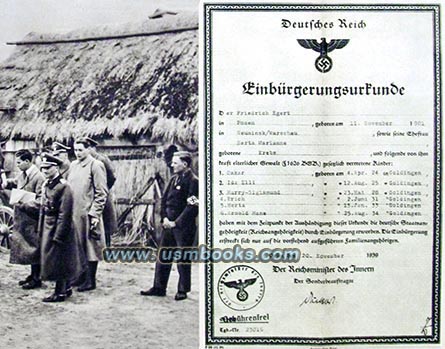 Right, an example of a Deutsches Reich Einbürgerungsurkunde as shown in Deutscher Bilderdienst, a Nazi propaganda photo magazines published by the Nazi Teacher Union.
RARE NAZI GERMAN SICHERHEITSDIENST ISSUED
CITIZENSHIP NATURALIZATION CERTIFICATE
1943 NAZI GERMAN SD
CITIZENSHIP
NATURALIZATION
CERTIFICATE ISSUED
BY REICHSFÜHRER-SS
HEINRICH HIMMLER'S
INTERIOR MINISTRY
TO A FAMILY OF FIVE
FROM BULGARIA


The images and the entire text used on this and all other USMBOOKS web pages are the copyrighted property of USM Inc. Those images and the text may be used by others ONLY AFTER completion of a formal international licensing agreement and payment of a licensing fee! It is therefore, illegal for anyone to take any of the material found on USMBOOKS.com and use it for their own purposes without our written permission, irrespective of any excuse they may feel they have for doing so.