The images and text used on this and all other USM web pages are the copyrighted property
of USM Inc. Those images and the text may be used by others ONLY AFTER completion
of a formal international licensing agreement and payment of a licensing fee!
This original Third Reich SS Song Book is **SOLD**.

• IF you prefer Priority Mail shipping with USPS delivery confirmation add $5.75.
• IF you wish to purchase optional insurance, add $5.95.
• We will be happy to ship abroad at additional cost. Please inquire.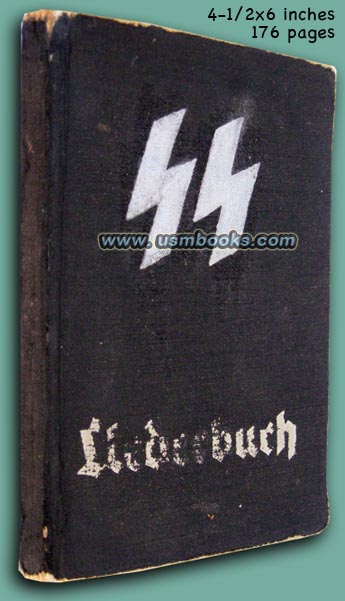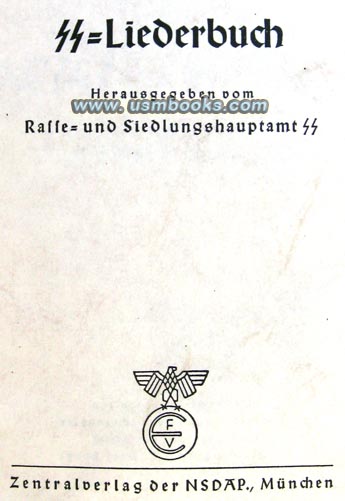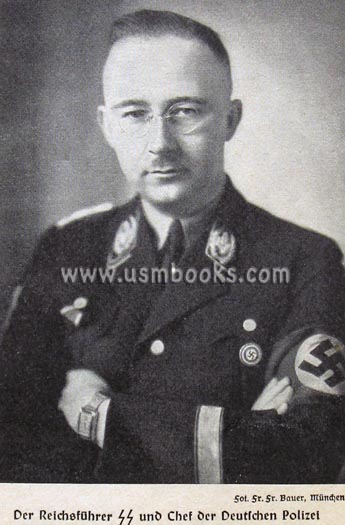 This is a nice used example of the rare undated 4-1/4 x 6 inch 176 page, heavily illustrated cloth bound softcover SS Liederbuch or SS Song Book. It was published by the SS Rasse- und Siedlungshauptamt (SS Main Office for Race and Settlement) and printed by the Central Publishing House of the NSDAP in Munich.

The song book starts with a full-page portrait of Führer Adolf Hitler, followed by a full-page portrait of Reichsführer-SS und Chef der deutschen Polizei Heinrich Himmler and then a full-page Heinrich Hoffmann photo of SS-Standartenführer Grimminger holding the Nazi Blood Flag, flanked by two SS men at the Nazi Feldherrnhalle memorial in Munich.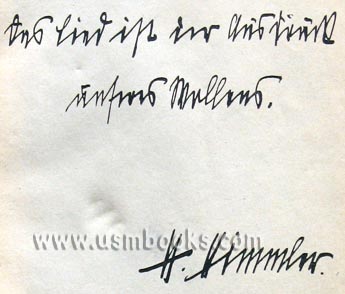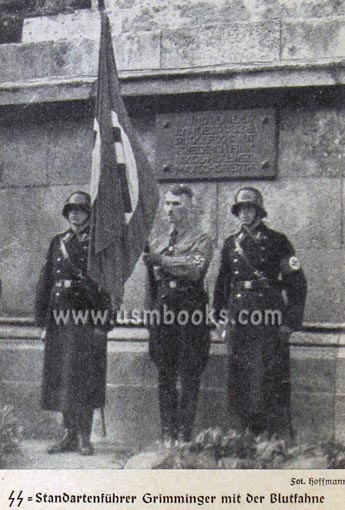 Page 11 contains the first song, the Nazi 'anthem' Die Fahne hoch! by Horst Wessel, followed by Deutschland, Deutschland über alles and the Lied der SS (the SS Song).

Pages 14 - 172 are filled with the lyrics and musical notes to well-known Nazi songs, marches, old war songs, cavalry songs, and songs from World War I interspersed with beautiful, heroic and patriotic drawings by Gustaf Dreier. The last four pages contain a comprehensive index.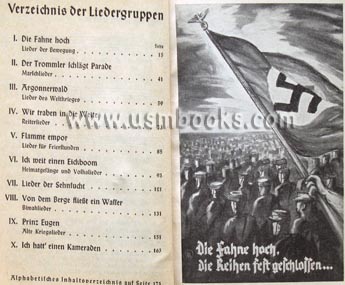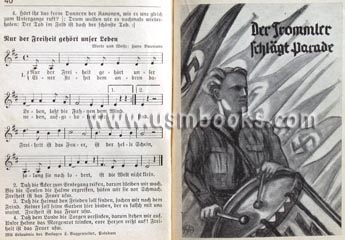 A previous owner touched up the SS runes on the cover, but not the word Liederbuch as you can see on the cover photo. He also stamped his name on the page with the Himmler facsimile signature. Otherwise the book is in nice used condition.
SS LIEDERBUCH - SS SONGBOOK
SS SONGS PUBLISHED BY THE RASSE- UND SIEDLUNGSHAUPTAMT SS
This USM Books website is Copyright © 2013 by USM, Inc., and the text and images on it are fully protected by international copyright law. It is therefore, illegal for anyone to take any of the material found here and use it for their own purposes without our written permission, irrespective of any excuse they may feel they have for doing so.