ADLER LIEDERHEFT SONGBOOK OF THE LUFTWAFFE 1940
This is a nice used example of the 4-1/4 x 6-1/4 inch, 32 page well-illustrated pocket song book published for Der Adler magazine by Christian Friedrich Vieweg of Berlin-Lichterfelde in 1940. Adler Liederheft contains words and music for 25 Luftwaffe songs from Ein Lied erschall' dem Fliegergeist, Jagdfliegerlied, Flieger Empor!, Fliegen Ja Siegen, Flak Lied, Fliegerlied, Lied der Fallschirmschützen, etc., etc.

Complete and in good used condition.
$85.00 delivered by 1st Class Mail in the USA. Foreign buyers, please inquire about additional postage costs.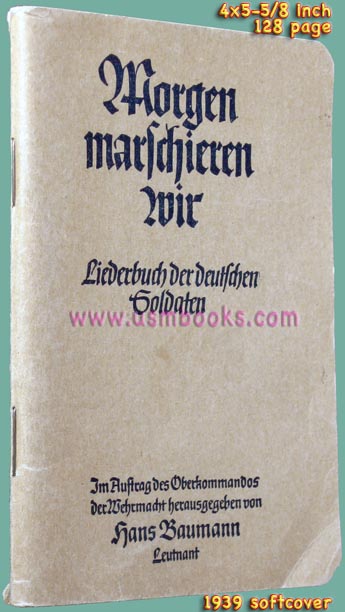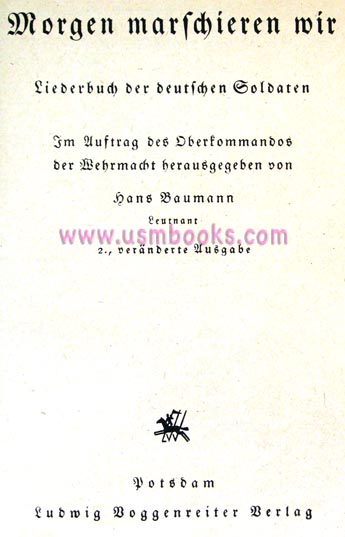 MORGEN MARSCHIEREN WIR
This illustrated 128 page Nazi soldier song book, Morgen marschieren wir (Tomorrow we March) was commissioned by the Oberkommando der Wehrmacht (OKW) and published by Leutnant Hans Baumann. This example is the 2nd updated edition with an introduction by Leutnant Baumann dated 1939.
The contents consists of Hitler quotes, pen and ink drawings of medieval swords and song lyrics for Nazi soldier marching and barracks songs such as Jetzt müssen wir marschieren, Weit laßt die Fahne wehn, Wohlauf Kameraden, Im ganzen Land marschieren nun Soldaten, Morgen marschieren wir, Graue Kolonnen, Eine Kompanie Soldaten, Morgen marschieren wir in Feindesland, Wenn die Soldaten, Auf auf Kameraden, Es leben Soldaten, Ich bin Soldat, and many others.

Title page has a small purple Nazi Luftgau Feldpost number 38924 rubber stamp. Good used condition except for the back cover and last 4 pages that have a hole in them.
Offered for sale for $19.50 delivered to any address in the USA. Foreign buyers, please inquire about additional postage costs.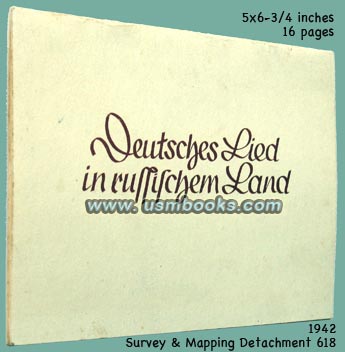 DEUTSCHES LIED IN RUSSISCHEM LAND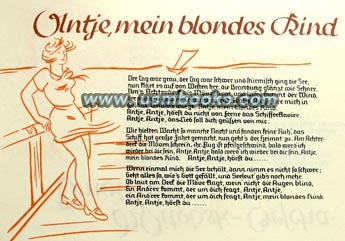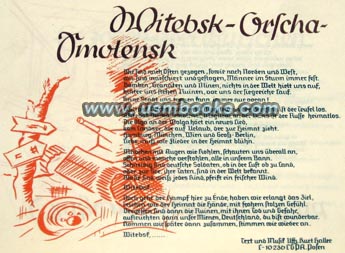 This is a very rare 5 x 6-3/4 inch, 16 page soft cover songbook which was compiled and printed for Wehrmacht soldiers by Vermessung und Kartographische Mot. Abteilung 618 (Survey and Mapping Motorized Detachment 618) in Russia at Christmas time in 1942.
Deutsches Lied in Russischem Land (German Songs in Russia) contains the lyrics to sixteen German songs, beautifully illustrated, one to a page. They include Edelweiss, Erika, Musketier sind lustige Brüder, Es geht alles vorüber, Wenn das Schifferklavier, Hast du geliebt am schönen Rhein, Argonnerwald, and others.
Rare and in very good condition. Offered for sale for $40.00 delivered by 1st Class Mail in the USA.
Foreign buyers, please inquire about additional postage costs.
LIEDERBUCH DER NSDAP


The images and the entire text used on this and all other USMBOOKS web pages are the copyrighted property of USM Inc. Those images and the text may be used by others ONLY AFTER completion of a formal international licensing agreement and payment of a licensing fee! It is therefore, illegal for anyone to take any of the material found on USMBOOKS.com and use it for their own purposes without our written permission, irrespective of any excuse they may feel they have for doing so.
Liederbuch der Nationalsozialistischen Deutschen Arbeiterpartei (Songbook of the Nazi Party) is a 3-7/8 x 5-1/8 inch, 128 page soft cover song book printed in 1939 by the Central Publishing House of the NSDAP, Franz Eher Nachfolger of Munich. It was compiled by several Nazi Party branches and published by the Culture Section of the Reichspropagandaleitung.

After a Hitler slogan about the proud population of Germany, the book starts with lyrics and musical notes to Deutschland, Deutschland über Alles and the Nazi 'anthem' Das Horst Wessel Lied. Page 8 to 123 is filled with other Nazi 'classics' such as Deutsch ist die Saar, Deutschland heiliges Deutschland, Die Zeit ist reif, Es leben die Soldaten, Führer wir rufen dich an, Heilige Heimat, Ich hatt einen Kameraden, Ein junges Volk steht auf, Soldaten trage Gewehren, Wir tragen das Vaterland, Wir zogen in das Feld, and many other well-known German songs.

In the back there is an alphabetical index. Complete, and in heavily used condition. SOLD
Shown left is the Liederbuch der Kriegsmarine or Song Book of the Navy, volume 3. It has 64 illustrated pages and a detailed song index. This 4 x 6 inch soft cover book was published by the Oberkommando der Kriegsmarine in 1940.

After a beautiful swastika illustration and the slogan "You Must Believe in Germany" the book contains lyrics and notes to Nazi Navy songs that "promote togetherness and camaraderie" among Matrosen.

Very good, used condition, offered for sale for $25.00 delivered to any address in the USA.
Foreign buyers, please inquire about additional postage costs.
LIEDERBUCH DER KRIEGSMARINE
1939 CATHOLIC SOLDIER FIELD SONG + PRAYER BOOK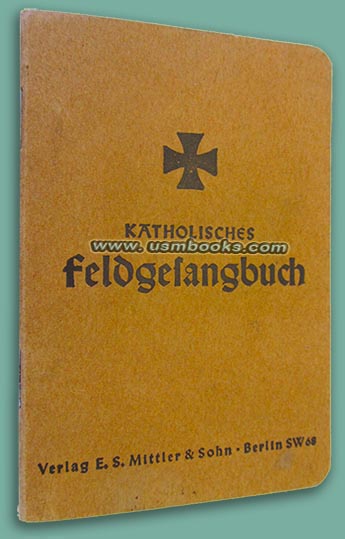 This is an original pocket size religious soldier prayer and songbook called Katholisches Feldgesangbuch (Catholic Field Song Book). It contains 48 prayers and religious songs and was published by Verlag E.S. Mittler & Sohn in Berlin in 1939. On the reverse side of the title page it says it was published with permission of the Katholische Feldbischof der Wehrmacht, the Catholic Field Bishop of the Nazi Armed Forces.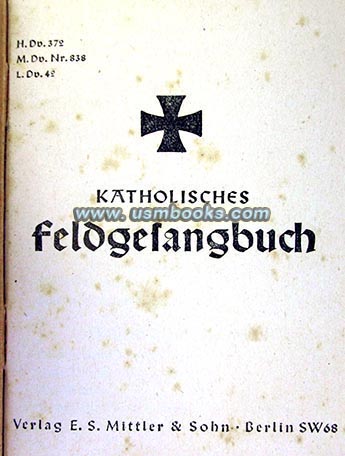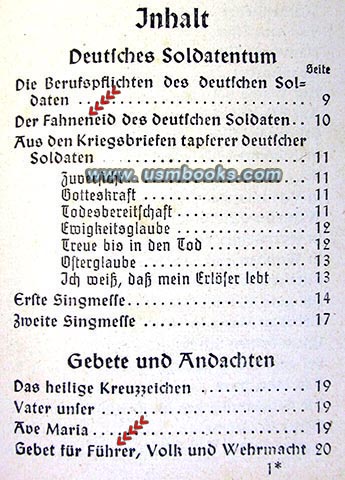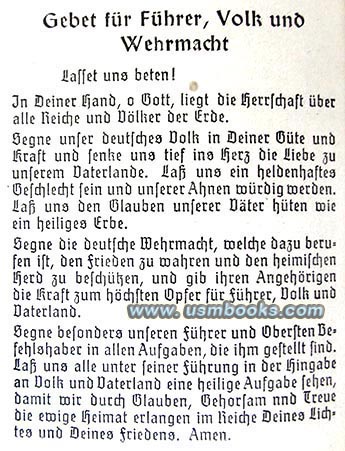 The 2-7/8 x 4-1/8 inch, 96 page Katholisches Feldgesangbuch starts with the duties of German soldiers followed by Der Fahneneid des deutschen Soldaten, the oath to Hitler. The list of religious songs and prayers also includes the Gebet fuer Fuehrer, Volk und Wehrmacht (Prayer for Hitler, the German Nation and Armed Forces)!

This original 77 year old Third Reich Catholic Field Song Book is in very good, little used condition.

$30.00 delivered by 1st Class Mail in the USA.Foreign buyers, please inquire about additional postage costs.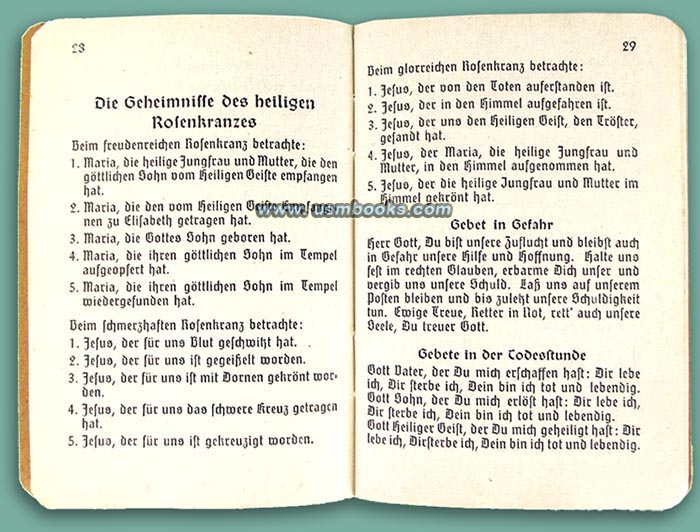 ORIGINAL NAZI SOLDIER SONG BOOKS - page 1
A SELECTION OF ORIGINAL THIRD REICH
SOLDIER SONGBOOKS - page 1