The images and text used on this and all other USM web pages are the copyrighted property
of USM Inc. Those images and the text may be used by others ONLY AFTER completion
of a formal international licensing agreement and payment of a licensing fee!
This Third Reich BdM song book is offered for sale for $45.00
delivered by Media Mail in the continental USA .
We will be happy to ship abroad at additional cost. Please inquire.
USM book # 229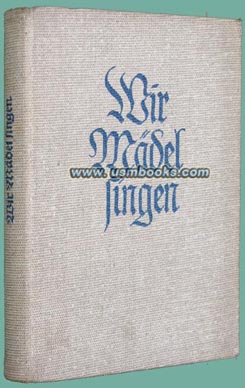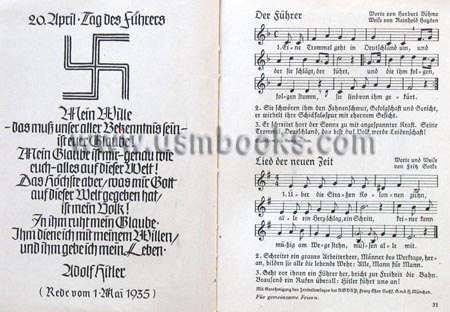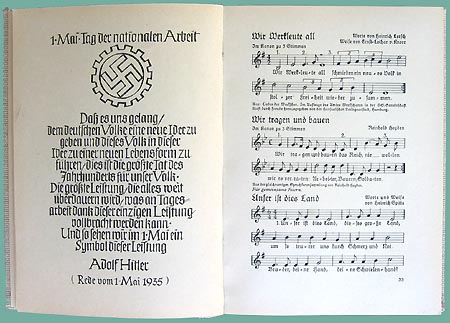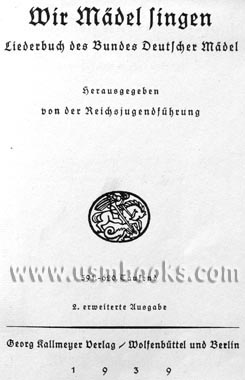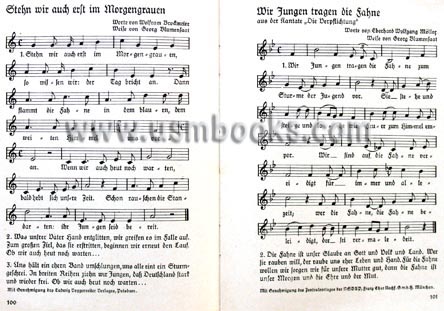 Wir Mädel Singen, Liederbuch des Bundes Deutscher Mädel (We Girls are Singing - Songbook of the BdM) is a 5-1/4 x 7-3/8 inches, 226 page hard cover illustrated Nazi song book published by the Reichsjugendführung in 1939. It is a second, expanded edition printed by Georg Kallmeyer Verlag of Wolfenbüttel and Berlin.
This illustrated Nazi songbook is definitely for Mädel und Jungmädel, girls and young women. The subjects of the songs are focussed on children and home life although there are also songs about the Führer and obligatory labor service.
This book contains a very comprehensive index and in the back there is advertising for other Georg Kallmeyer Verlag Hitler Youth songbooks.

Very good condition with name of original owner on the title page and a dedication dated October 1939 on the first flyleaf. Complete.
Click HERE to see other Third Reich song books for sale on usmbooks.com.
1939 LIEDERBUCH DES BUNDES DEUTSCHER MAEDEL
ONE OF THE BEST AND MOST COMPLETE
GERMAN THIRD REICH SONG BOOKS
This USM Books website is Copyright © 2011 by USM, Inc., and the text and images on it are fully protected by international copyright law. It is therefore, illegal for anyone to take any of the material found here and use it for their own purposes without our written permission, irrespective of any excuse they may feel they have for doing so.