DAS LIED DER FRONT - SONGS OF THE FRONT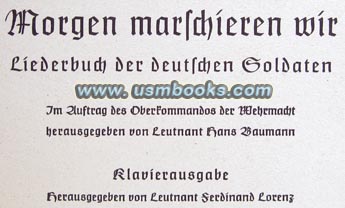 MORGEN MARSCHIEREN WIR
We offer TWO examples of the illustrated 9-1/2 x 12-1/2 inch, 88 page Nazi soldier song book, Morgen marschieren wir (Tomorrow we March). It was commissioned by the Oberkommando der Wehrmacht (OKW) and published by Leutnant Hans Baumann. These fully indexed examples are the 1941 Klavier (piano) edition with an introduction by Leutnant Baumann.
Contains song lyrics for Nazi soldier marching and barracks songs such as Jetzt müssen wir marschieren, Weit laßt die Fahne wehn, Wohlauf Kameraden, Im ganzen Land marschieren nun Soldaten, Morgen marschieren wir, Graue Kolonnen, Eine Kompanie Soldaten, Es fuhr ein Zug Soldaten, Morgen marschieren wir in Feindesland, Wenn die Soldaten, Die Trommeln und die Pferden, Glück auf!, Es leben Soldaten, and many others.
The example above is complete and in very good hardly-used condition and offered for sale for $30.00 delivered in the USA.
The example shown right is complete and in good used condition and offered for sale for $22.50 delivered in the USA.
Foreign buyers, please inquire about additional postage costs.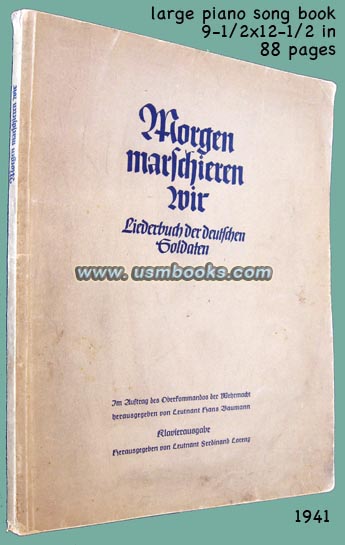 CHORLIEDERBUCH FÜR
DIE WEHRMACHT
Chorliederbuch für die Wehrmacht (Choir Song Book for the Wehrmacht) is a Nazi songbook published by Professor Fritz Stein (Leader of the War Choir during WWI and in 1940 Director of the Berlin Music Academy) in cooperation with Major Professor Ernst-Lothar von Knorr (Head Music Instructor of the OKH). These two men wrote the Foreword of this Third Reich song book in which they explain that when large groups of people are in one place, in this case soldiers during the war, the urge to sing together (in harmony) is natural.
The book is divided into eight section of Soldier Songs, Fatherland and Homeland songs, Love Songs, Nature Songs, Marching, etc. Songs included are Die Wacht am Rhein, Die Königskinder, Der Soldat, Der Preussenkönig, Abschied, An das Vaterland, Flamme empor, Abdenlied, Gebet vor der Schlacht, Grab und Mond, Heilig vaterland, Kamerad komm!, Heimliche Liebe, Marschieren, Reiterlied, Schwertlied, Sonnenwendlied, Tod und Schlaf, Zum Wein, and many more.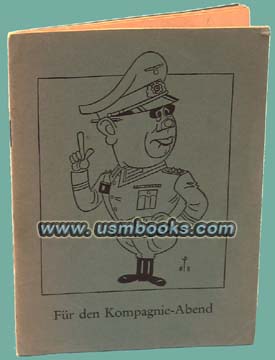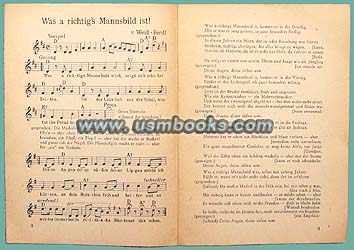 FÜR DEN
KOMPAGNIE-ABEND
Few Americans have ever heard of Weiß Ferdl (Little White Ferdinand) but everyone in München (Munich) during World War II knew precisely who he was. The little white-haired Bavarian hillbilly was the Red Skelton of Germany and appeared live on stage as well as in movies and on the radio. Everything he said or sang was funny to most people. This 4-3/4 x 6-5/8 inch, 40 page booklet is Weiß Ferdl's compilation of funny Bavarian music, recitations and stories that are adequate to provide entertainment for the troops for an entire evening.
Given this little book a group of well-meaning amateurs, could provide sidesplitting comedy for the whole Kompanie.

Contains words and music. Published by Verlag Münchner Humor, Adolf-Hitler-Allee 6, München-Solln probably in 1942 or 1943. Very nice condition.

Offered for sale for $22.50 delivered by 1st Class Mail in the USA. Foreign buyers, please inquire about additional postage.


The images and the entire text used on this and all other USMBOOKS web pages are the copyrighted property of USM Inc. Those images and the text may be used by others ONLY AFTER completion of a formal international licensing agreement and payment of a licensing fee! It is therefore, illegal for anyone to take any of the material found on USMBOOKS.com and use it for their own purposes without our written permission, irrespective of any excuse they may feel they have for doing so.
EARLY NAZI SONGBOOK - STURM- UND KAMPFLIEDER
Sturm- und Kampflieder für Front und Heimat was published by Propaganda-Verlag Paul Hochmut in Berlin. The Nazi songbook was dedicated to "Our Soldiers" by the NSDAP Kreisleitung of Neustadt-Mellrichstadt and is an expanded July 1940 version of an earlier 1931 edition with additional "valuable soldier songs".

The softcover Nazi song book is divided in three sections: Songs of the Nation, Battle Songs of the Movement and Soldier- and National Songs and contains the text to Horst Wessel Lied (Die Fahne Hoch), Deutschlandlied, Denn wir fahren gegen Engelland, Unsere Fahne flattert uns voran, Adolf Hitler - unserem Führer, Adolf-Hühnlein-Marsch, Fahnenlied, Siehst Du im Osten das Morgenrot, Saarlied, Argonnerwald, Fliegerlied, Glück auf!, Edelweiß, Graue Kolonnen, Kameraden auf See, Das Lied der Westwall, SA marschiert, Kamerad kommt mit, Flamme empor, Wenn alle untreu werden, Wir sind vom NSKK, Auf Soldaten, Bomben auf Engelland and many, many more.
This 128 page, 4-1/8 x 6 inch softcover 75+ years old Third Reich soldier songbook is fully indexed in the back. It is complete and in very nice little-used condition.

Offered for sale for $65.00 delivered to any address in the USA. Foreign buyers, please inquire about additional postage costs.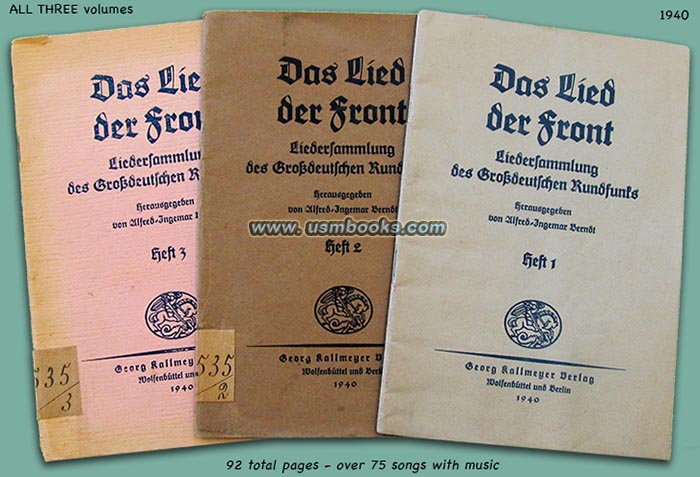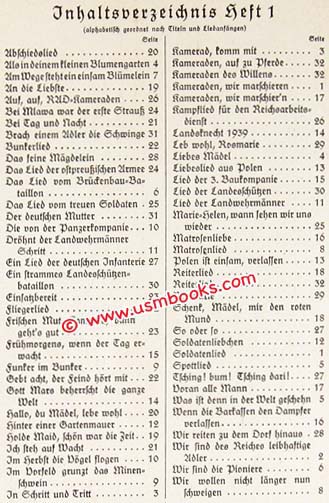 This is a nice 3-volume set of das Lied der Front (Songs of the Front), a collection of popular songs that were being played on the Großdeutsche Rundfunks or the stations of Greater German Radio. The three 5-1/8 x 7-1/2 inch songbooks were published by Alfred-Ingemar Berndt and printed by Georg Kallmeyer Verlag in Berlin in 1940. Volume 1 has 32 pages, Volume 2 has 34 pages and Heft 3 has 28 pages.

These are books composed largely of words and music for soldier songs about combat, bunkers, air battles, rebuilding destroyed bridges, tank columns, flak batteries and artillery, with some very touching songs about women thrown in. They are songs virtually every German Wehrmacht Landser and Waffen-SS man knew and wanted to hear over and over again.

Volume 1 (of which we show the index on the left) is in very fine condition. Volumes 2 and 3 have stamps of the library of the original Third Reich owner, the Insitute for Contemporary History in Munich, as well as the subsequent owner, the library of the Military Government Office, Directors Building. All three are complete. No odor.

Offered for sale for $65.00 delivered to any address in the USA. Foreign buyers, please inquire about additional postage costs.
With a very comprehensive alphabetical Table of Content.

Offered for sale for $42.50 delivered to any address in the USA. Foreign buyers, please inquire about additional postage costs.
ORIGINAL NAZI SOLDIER SONG BOOKS - page 2
A SELECTION OF ORIGINAL THIRD REICH
SOLDIER SONGBOOKS - page 2