The images and the entire text used on this and all other USMBOOKS web pages are the copyrighted property of USM Inc. Those images and the text may be used by others ONLY AFTER completion of a formal international licensing agreement and payment of a licensing fee! It is therefore, illegal for anyone to take any of the material found on USMBOOKS.com and use it for their own purposes without our written permission, irrespective of any excuse they may feel they have for doing so.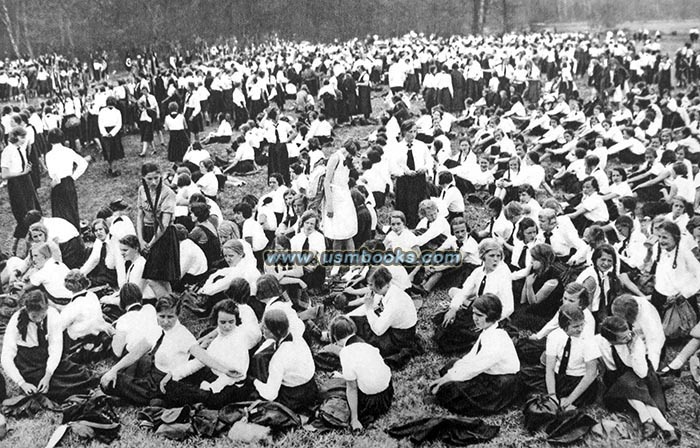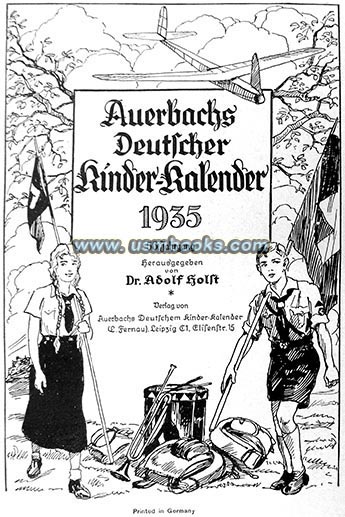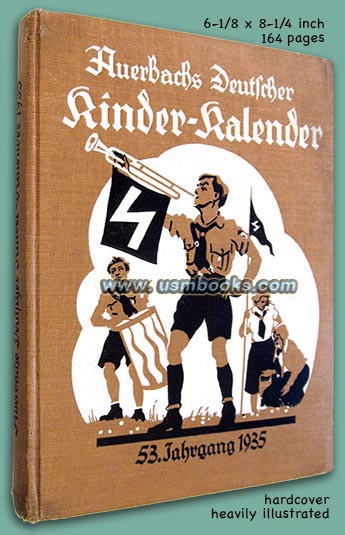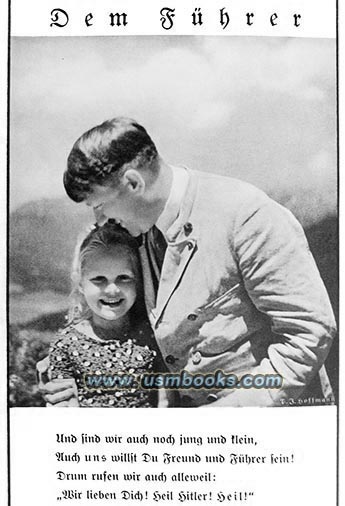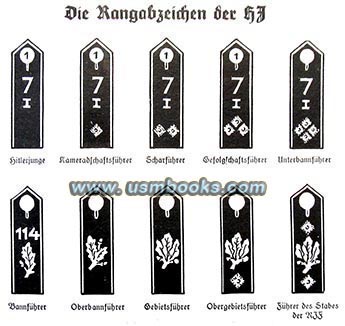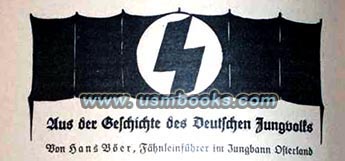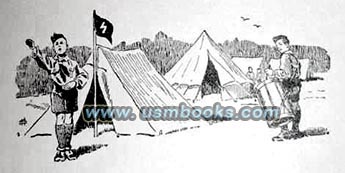 Since the early 1900s, the Auerbach publishing house came out with a book for German boys and girls every year. For sale on this USMBOOKS web page is Auerbachs deutscher Kinder-Kalender 1935 by Dr. Adolf Holst. The striking cover illustration shows a HJ-Fanfarenbläser and a Hitler Youth Trommler, as well as two BdM girls with a Sigrune flag.
There is a page with a photo of Adolf Hitler with his arm around a pretty blond girl above a patriotic poem about wanting to be a [young] friend of the Führer. There are also photos of Hitler Youth boys camping, Hitler Youth rank insignia, etc. There are two pages of advertising for other educational Third Reich books well-suited to Hitler Youth boys and BdM girls in the back of the book.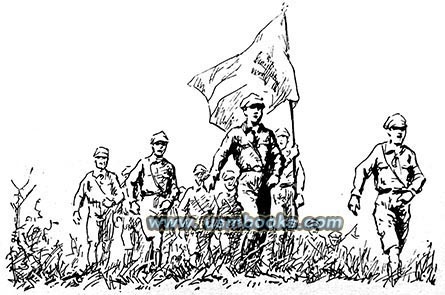 The pages in this 6-1/8 x 8-1/4 inch hard cover Nazi Hitler Youth book Auerbachs deutscher Kinder-Kalender 1935 have yellowed with age but the book is complete and in nice used condition.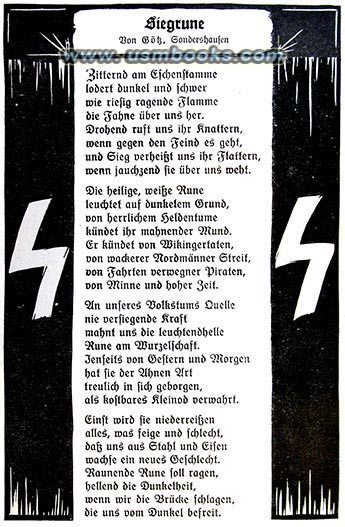 The 164 pages in this hardcover book contain illustrated calendars, illustrated short stories, illustrated Hitler Youth poems, songs with musical notes, etc. The illustrations of HJ boys and BdM girls are by Fritz Baumgarten, Fritz Boldt; Ludwig Richter, Alfred Liebing, G. Kirchbach, Hans Stubenrauch, P. Krombach, Ruth Wessel, F. Müller-Münster, Helga Höckmann and M. Wulff.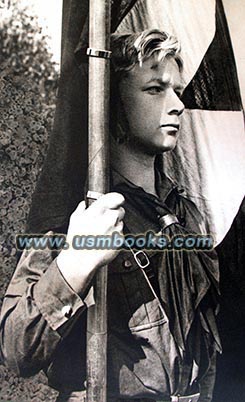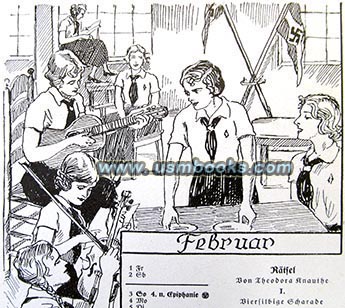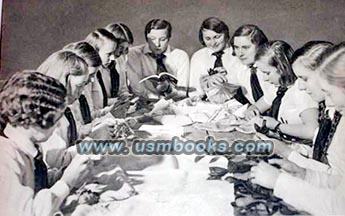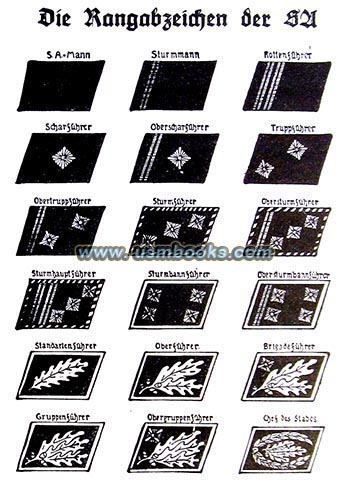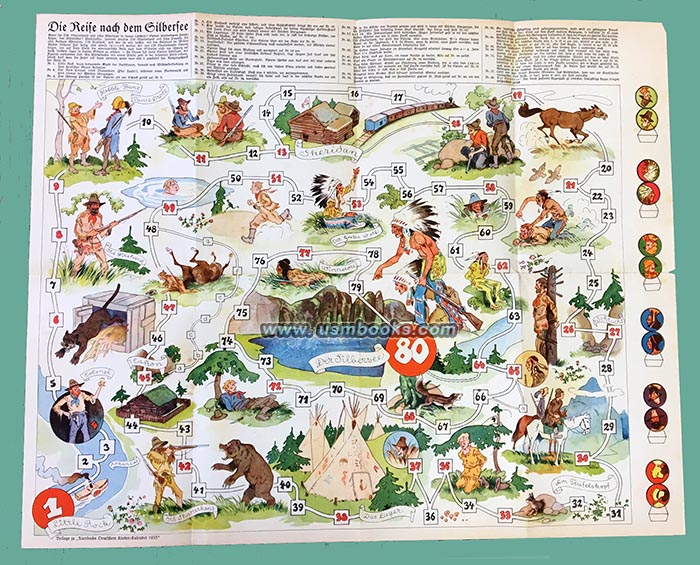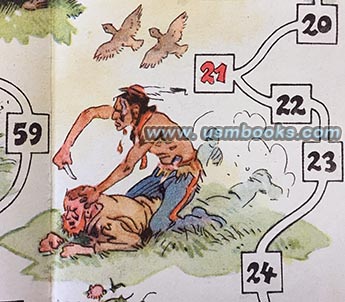 Folded inside the back cover is the original 14-½ x 19 inch - politically incorrect - color board game that is usually missing from books like this. The subject is "The Trip to Silver Lake" and featured are Old Shatterhand and the 'red skin' Winnetou, fictional characters in Western novels by German writer Karl May.
Have a look at the 1939 and 1940 Hitler Youth annual yearbooks,
as well as other HJ publications for sale on USMBOOKS.com.
This superb Hitler Youth / BdM book is **SOLD**.


USM book #822
• IF you prefer faster and safer Priority Mail shipping with USPS Tracking add $6.95.
• IF you wish to purchase highly recommended, but optional insurance, add $3.50.
• We will be happy to ship abroad at additional cost. Please inquire.
HEAVILY ILLUSTRATED HITLER YOUTH BOOK 1935
THE 1935 EDITION OF
AUERBACHS DEUTSCHER KINDER-KALENDER,
A VERY INFORMATIVE,
HEAVILY ILLUSTRATED
BOOK FOR HITLER
YOUTH BOYS AND GIRLS