The images and the entire text used on this and all other USMBOOKS web pages are the copyrighted property of USM Inc. Those images and the text may be used by others ONLY AFTER completion of a formal international licensing agreement and payment of a licensing fee! It is therefore, illegal for anyone to take any of the material found on USMBOOKS.com and use it for their own purposes without our written permission, irrespective of any excuse they may feel they have for doing so.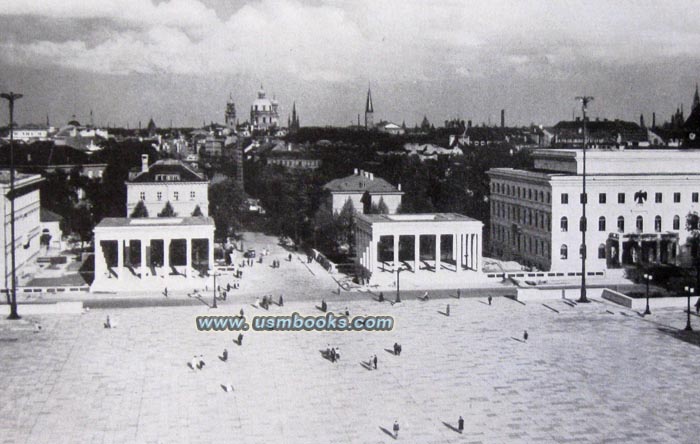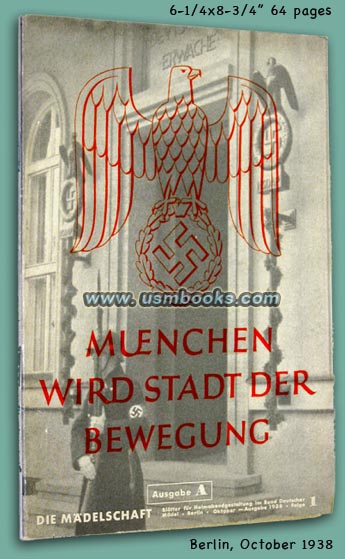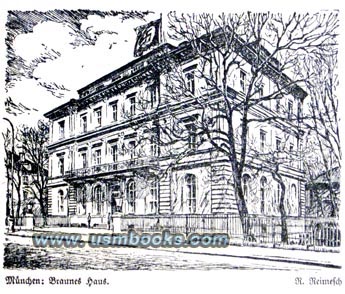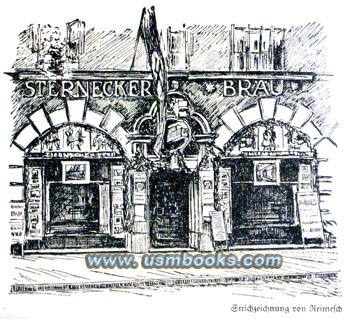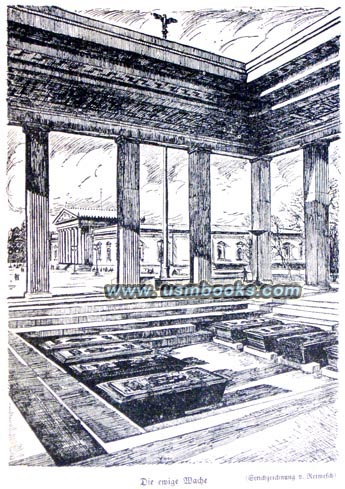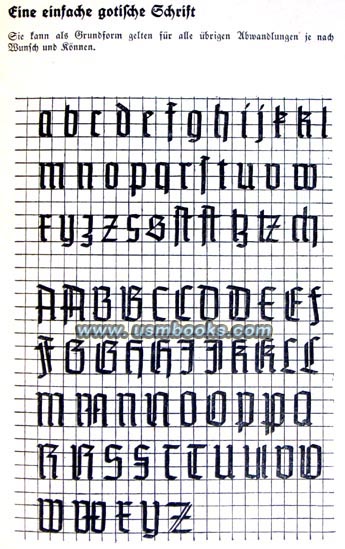 This rare original 6-¼ x 8-¾ inch, 64-page softcover Nazi book München wird Stadt der Bewegung (Munich Becomes the City of the [Nazi] Movement) was Ausgabe A (Edition A) published by Die Mädelschaft (a subsidiary of the Reichsjugendführung der NSDAP) in October 1938 as an educational publication for members of the Bund deutscher Mädel (BdM or League of German Girls).
The first 30 pages or so cover the connection of the NSDAP with Munich - the early days at the Sterneckerbräu, the beer brewery and beer hall in Munich which housed the first office of the NSDAP, the first mass rallies of the Nazi Party, the founding the the SA, Hitler speeches in Munich (one of them about the need for Germany to recognize the Judengefahr or dangerous Jews) and even the Dietrich Eckart poem Deutschland erwache!
There are beautiful line drawing illustrations of the Braunes Haus, the Sterneckerbräu, the Honor Temples housing the coffins of the Nazi martyrs who died for Germany in November 1923, the famous Hofbräuhaus, and a tipped-in photo of the Nazi Party buildings on the Königsplatz in downtown München.

The last 30 pages have teaching material for BdM Führerinnen or BdM Leaders: books, crafts, different fonts (we show the example for the simple Gothic font for reference left because it IS NOT an old English typeface like the ones so often used by fakers of Third Reich material these days), wooden toys, how to make a doll cradle and stroller from a box, sewing patterns for WHW projects, etc.

These BdM educational publications were never meant to survive into the 21st century, but this rare October 1938 example about the Hauptstadt der Bewegung did and is in very good, little used condition. Note the superimposed eagle and swastika over a picture of an SS guard in front of the Braunes Haus in Munich (the location of the new German anti-Nazi museum).
This 1938 issue of Die Mädelschaft about 'Nazi Munich' is
**SOLD**


USM book #706
• IF you prefer Priority Mail shipping with USPS Tracking add $6.50.
• IF you wish to purchase highly recommended, but optional insurance, add $2.95.
• We will be happy to ship abroad at additional cost. Please inquire.
1938 BdM PUBLICATION ABOUT THE CAPITAL OF THE NAZI MOVEMENT MUNICH
A RARE BdM EDUCATIONAL PUBLICATION ABOUT NAZI MUNICH - OCTOBER 1938