The images and text used on this and all other USM web pages are the copyrighted property
of USM Inc. Those images and the text may be used by others ONLY AFTER completion
of a formal international licensing agreement and payment of a licensing fee!
---
OTTO SKORZENY SIGNED LETTER
A PERSONAL LETTER FROM
OTTO SKORZENY TO AN
OLD MILITARY COMRADE
This rare Otto Skorzeny signed letter is
**SOLD**.
We will be happy to ship abroad at additional cost. Please inquire.
This USM Books website is Copyright © 2007 by USM, Inc., and the text and images on it are fully protected by international copyright law. It is therefore, illegal for anyone to take any of the material found here and use it for their own purposes without our written permission, irrespective of any excuse they may feel they have for doing so.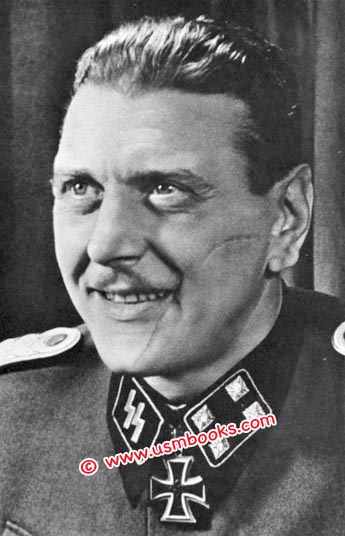 Most people are aware that Otto Skorzeny was probably the greatest commando in history. His Army and Waffen-SS exploits, his rescue of Benito Mussolini from a mountain top fortress in Italy, his rescue of Horthy from Budapest castle, his Operation Greif deceptions during the Battle of the Bulge, etc. leave no doubt that when generations to come speak of incredible military exploits the name Skorzeny will be at the top of any list.
Skorzeny's greatest escape was being acquitted of the charges in his war crimes trial at Dachau in 1947. Still not released from custody, Skorzeny stowed in the trunk of a car and escaped captivity for good at the end of July 1948. Ending up in Madrid, Spain outside the reach of those who would have imprisoned him again Skorzeny, a trained engineer, opened an office overlooking the city's Gran Via. Successful from the first, Skorzeny grew wealthy through international trade with old comrades back in the beaten Reich.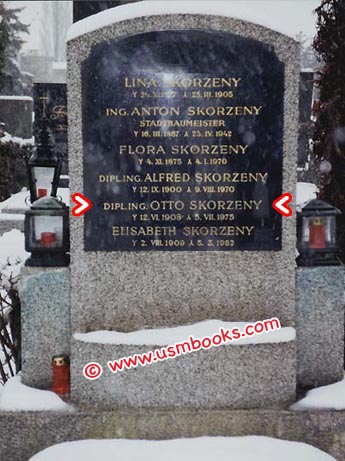 The well-educated son of an upper-class Viennese family, Skorzeny was never allowed to return to Austria (legally) after his service in the Waffen-SS during World War II, but many assume he often returned illegally. He lived to the age of 67 in Spain and when he died of cancer in July 1975, his cremated remains were returned to Vienna to be buried with the rest of his family (a common practice in Europe).
The letter (DIN A 4 size, 8-1/4 x 11-5/8 inches) we offer here was written and signed by Otto Skorzeny on his professional stationary on 22 March 1968, to an old comrade from his combat days in Russia - "in sight of the towers of Moscow" as Skorzeny put it. The letter is in response to one from Mathias Mielbacher in the small town of Braunau am Inn, birth place of Nazi Führer Adolf Hitler. Mielbacher in his letter to Skorzeny had offered technical machines and tools which Skorzeny could sell abroad.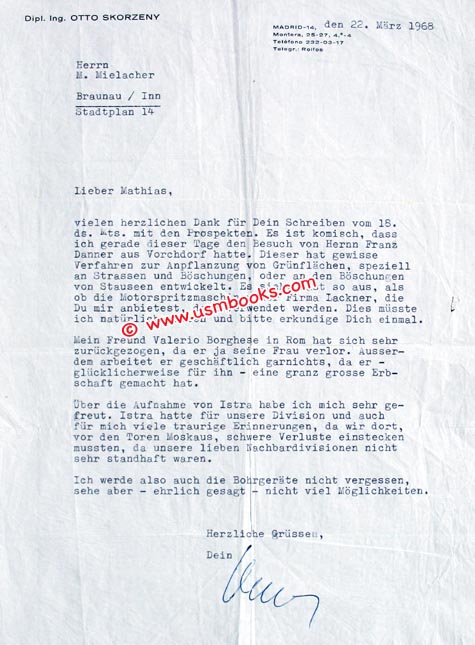 Knights Cross of the Iron Cross winner Skorzeny thanked Mielbacher for his letter of 18 March 1968 and for the commercial information. He wrote to his friend using the informal
"Du"
rather than the more formal
"Sie"
showing the closeness of his relationship with his old Nazi comrade.
Skorzeny told Mielbacher that their friend Valerio Borghese had retreated from public life after the death of his wife, that he worked little but that that was not a problem, as Borghese had received quite a large inheritance.
Skorzeny also wrote Mielbacher that he really appreciated the photos of Istra, a sad place for their Division. And sad memories for Otto Skorzeny personally "as there, in sight of the towers of Moscow, we lost so much and our dear neighbor division could not survive".
This is a rare and wonderfully historic autographed letter in many respects:

•

it was written and signed by the world's greatest commando and Knights Cross of the Iron Cross winner Otto Skorzeny, on his official personal Spanish letterhead.

•

it is addressed to an old combat comrade.

•

it is addressed to the town of Braunau am Inn.

•

it discusses World War II military service in Russia.

•

it discusses business.

•

it discusses Valerio Borghese, the famous Italian commando who led the Decima Flottiglia, under command of SS-General Karl Wolff.