The images and text used on this and all other USM web pages are the copyrighted property
of USM Inc. Those images and the text may be used by others ONLY AFTER completion
of a formal international licensing agreement and payment of a licensing fee!
This USM Books website is Copyright © 2013 by USM, Inc., The text and images on it are fully protected by international copyright law. It is therefore, illegal for anyone to take any of the material found here and use it for their own purposes without our written permission, irrespective of any excuse they may feel they have for doing so.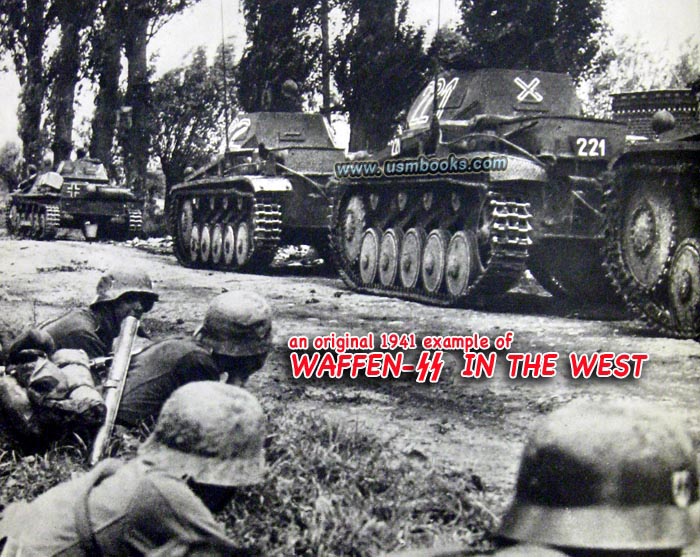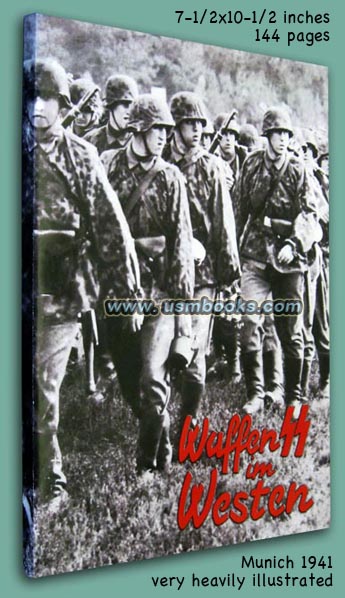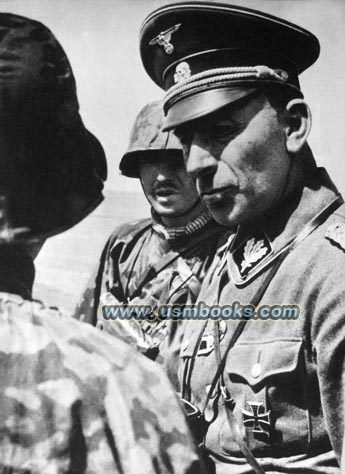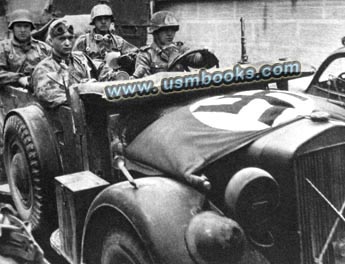 This is a nice used example of the very, very rare Third Reich book Waffen-SS im Westen (The Waffen-SS in the West). The 7-1/2 x 10-1/2 inch very, very heavily illustrated, 144 page soft cover book by SS-Kriegsberichter (war reporter) Friedrich Zschäckel as published by Zentralverlag der NSDAP, Franz Eher Nachfolger GmbH in 1941.
Following a two-page foreword by Gunter d'Alquen (Chief Editor of the SS newspaper, Das Schwarze Korps and commander of SS-Standarte Kurt Eggers) in the field, this rare Third Reich photo book consists of full-page photographs of Waffen-SS troops in action in the field in Belgium and France during combat operations there at the beginning of World War II.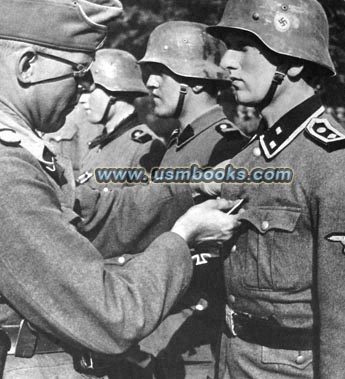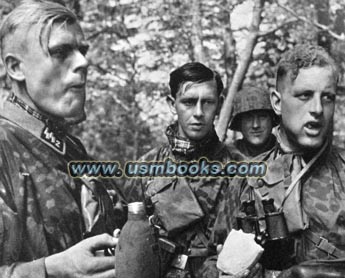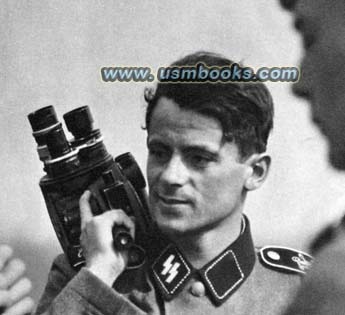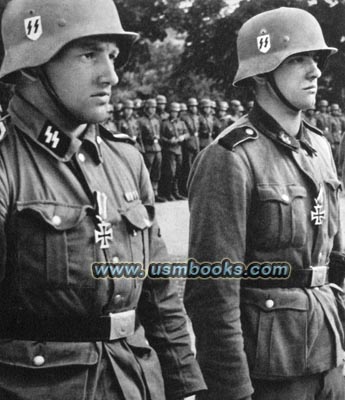 Those photographs are rarely found in any other World War II source on the subject. They include the camouflaged and non-camouflaged uniforms of the troops of the police and SS fighting in the Waffen-SS, SS motorcycle and vehicle license plates, weapons, equipment, field gear, helmets, vehicles, ambulances, boats, rifles, machine pistols, pistols, tanks and guns in splendid variety.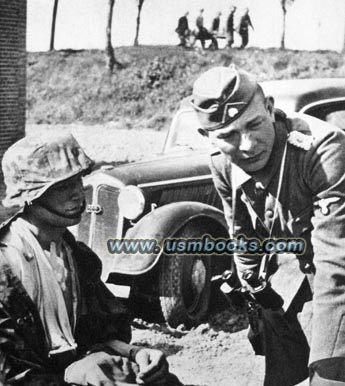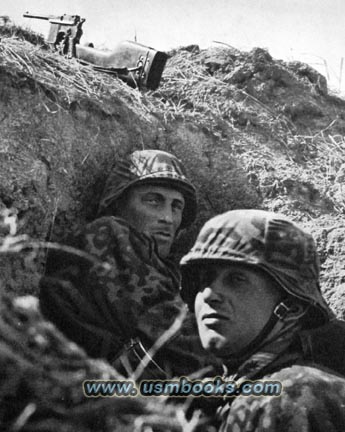 There is no text in this book - simply very to-the-point captions to amazingly detailed duotone photographs.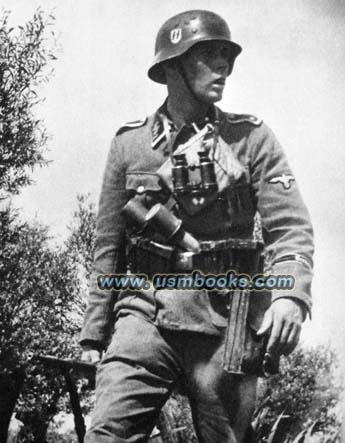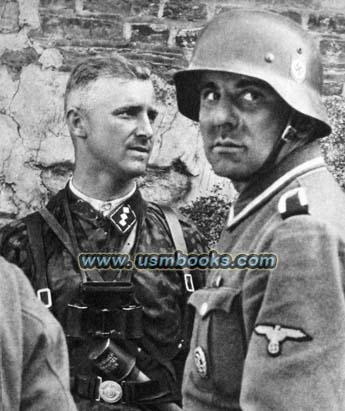 The dust jacket shown at the top of this web page is a professional laser photocopy from an original in our archive. The original dust jacket is in rough condition but is included. This example of Waffen-SS im Westen has a stamp from a previous owner on page 1, but otherwise it is in nice used condition. A superb original 1941 book, a must for any advanced collector.
This superb Third Reich Waffen-SS photo book is **SOLD**.


USM book #56
• IF you prefer Priority Mail shipping with USPS Tracking add $5.95.
• IF you wish to purchase highly recommended, but optional insurance, add $8.95.
• We will be happy to ship abroad at additional cost. Please inquire.
NAZI WAFFEN-SS IN THE WEST - RARE PHOTO BOOK
AN ORIGINAL EXAMPLE
OF THE VERY RARE
1941 PHOTO STUDY
WAFFEN-SS IM WESTEN
(THE WAFFEN-SS
IN THE WEST)