The images and text used on this and all other USM web pages are the copyrighted property
of USM Inc. Those images and the text may be used by others ONLY AFTER completion
of a formal international licensing agreement and payment of a licensing fee!
This Horcher Restaurant advertising is
offered for sale for $45.00 delivered worldwide.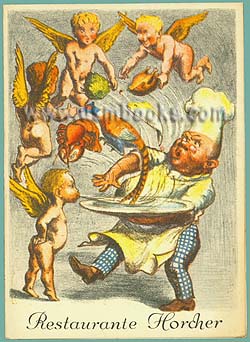 TWO ITEMS CONNECTED
TO OTTO HORCHER,
PROPRIETOR OF THE MOST
FAMOUS NAZI RESTAURANTS
IN BERLIN AND MADRID
HORCHER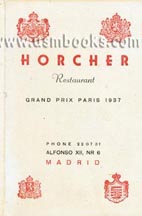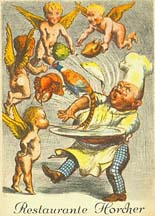 Readers of history will recognize the name Horcher. Otto Horcher, a native of Wien (Vienna), operated one of the most successful restaurants in the capital of the Großdeutschland of Adolf Hitler. It was popular with well-off Berliners, the cream of the Nazi Party and high-ranking military personnel. Horcher's restaurant also catered meals for events at Hermann Göring's country estate Carinhall. As rationing threatened the existence of all public restaurants in Berlin, the Luftwaffe took the place over and thereby precluded its closing. Otto Horcher took the opportunity in 1943 to move to Madrid, Spain where he started another gourmet restaurant. Restaurant Horcher in Madrid was known for years as one of the best dining rooms in the city and famous Nazi commando Otto Skorzeny was a daily visitor following the war.
In David Irving's book "Göring", the author says that all of Horcher's key staff were exempted from the military draft on orders from the Reichsmarschall, and the restaurant was in general exempted from the "Total War" decree of Dr. Joseph Goebbels.
AUTHENTIC OTTO HORCHER
SIGNED CHRISTMAS CARD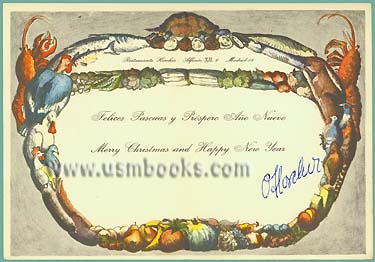 This big 7 x 10 inch (folds to 5 x 7 inch) full-color Christmas card bears the blue ink signature of Otto Horcher himself, on the inside panel!
Inside is the name and address of Restaurant Horcher in Madrid (still in business today!), plus best wishes for a Merry Christmas and Happy New Year in Spanish and English. This card was sent from Madrid to a friend in Berlin after the war, and that is where we purchased it.
The front panel shows Otto Horcher in his cook's clothing fighting with angels for his best prepared food.
This original Otto Horcher signed Christmas card is
**SOLD**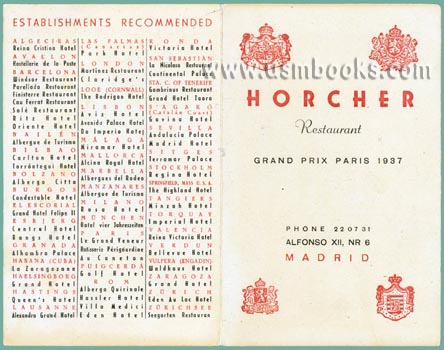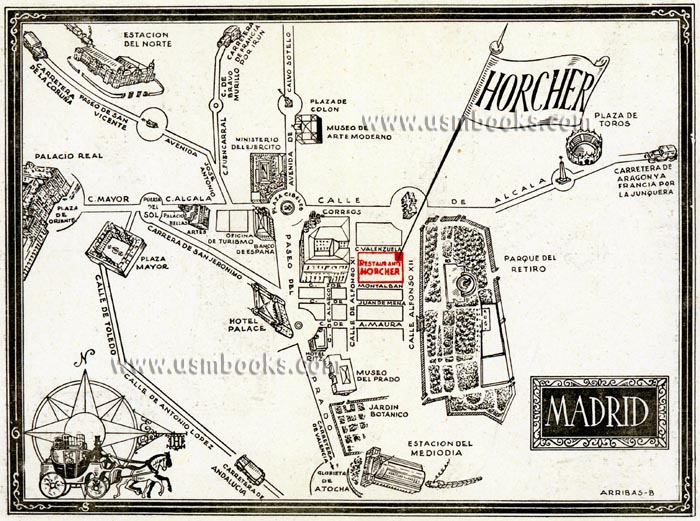 AUTHENTIC OTTO
HORCHER RESTAURANT
MADRID ADVERTISING
This 5-7/8 x 7-3/8 inch (folds to 3-1/4 x 5-7/8 inch) cardstock piece of ephemera is advertising for Otto Horcher's restaurant on Calle Alfonso XII number 6 in Madrid. Note the mention on the cover: Paris Grand Prix 1937.
The inside has a map of downtown Madrid showing the location of Restaurant Horcher and on the back are recommended places to stay.
HORCHER RESTAURANT - A NAZI FAVORITE!
This USMBOOKS web page is Copyright © 2014 by USM, Inc., and the text and images on it are fully protected by international copyright law. It is therefore, illegal for anyone to take any of the material found here and use it for their own purposes without our written permission, irrespective of any excuse they may feel they have for doing so.