This 1931 Nazi Mussolini biography is is offered for sale
for $145.00 delivered by Media Mail in the continental USA.


USM book #123
• IF you prefer Priority Mail shipping with USPS Tracking add $6.50.
• IF you wish to purchase optional insurance, add $3.95.
• We will be happy to ship abroad at additional cost. Please inquire.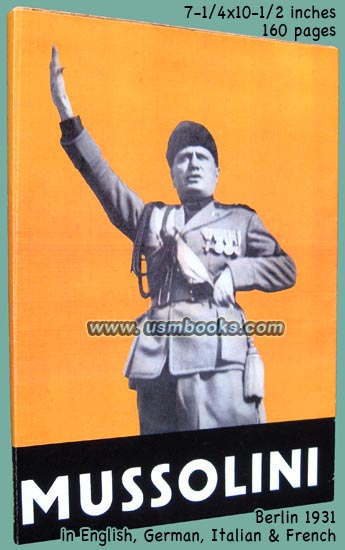 VOLUME II IN THE
BILDDOKUMENTE DER ZEIT
(PHOTO DOCUMENTS OF OUR TIME)
SERIES
MUSSOLINI
(VOLUME I WAS HITLER)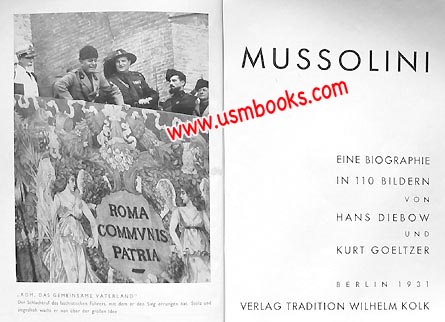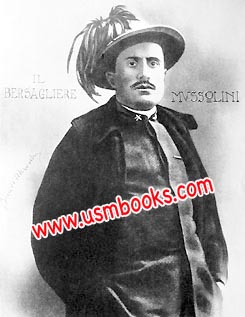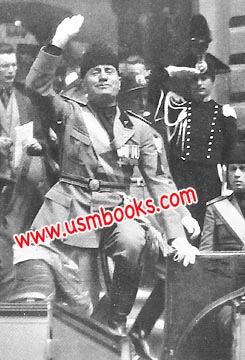 This is a nice FIRST EDITION example of the very rare 7-1/2 x 10-1/2 inch, 160 page very heavily illustrated soft cover book MUSSOLINI as published by Verlag Tradition Wilhelm Kolk in Berlin, Germany in 1931.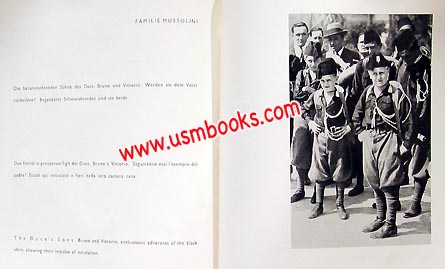 Kolk's Bilddokumente der Zeit (Photo Documents of Our Time) series was a thinly veiled early Nazi publishing effort. The first volume in the series was HITLER, volume 2 was MUSSOLINI and the volumes advertised to follow were to be LUDENDORFF, DER STAHLHELM, HINDENBURG, etc. Both HITLER and MUSSOLINI were photographed in a style similar to the books published later by Hitler's photographer, Heinrich Hoffmann of München. In this book the photos are mostly on right hand pages facing four language captions (English, German, French, Italian) explaining them.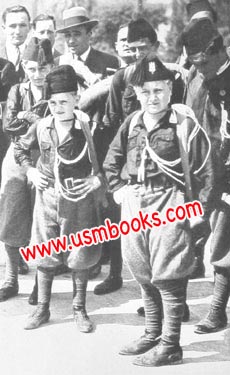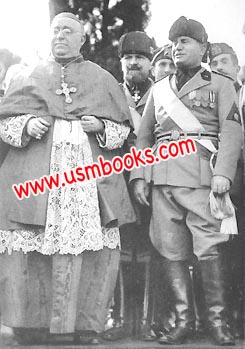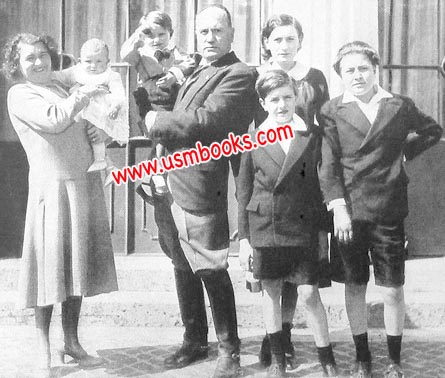 Like the HITLER book before it, MUSSOLINI was an accurate but very complimentary biography of the Italian dictator and his family written in English, German, Italian and French in the hope of introducing Il Duce in a positive way to the widest possible audience.
In obscure photos and an excellent multi-lingual text the book traces Mussolini's life, military and political career from his birth in Predappio near Florence through his wounding as a corporal in the Italian Army in World War I, and his career as a natural orator.
There are photos of the Fascist Black Shirts, the March on Rome, Mussolini with orphans and widows, playing his violin and with a lion cub.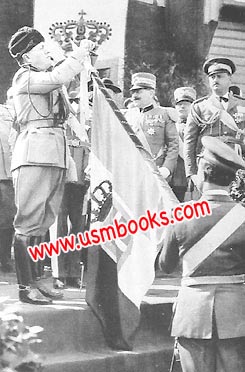 He is shown on horseback, with Cardinal Sincero, driving a tractor, burning bonds, in a Parliament of Black Shirts, with his air force and air minister Balbo, his family, his wife, his sons, attending his daughter's 1930 wedding to Count Ciano, fencing and in virtually every other circumstance imaginable.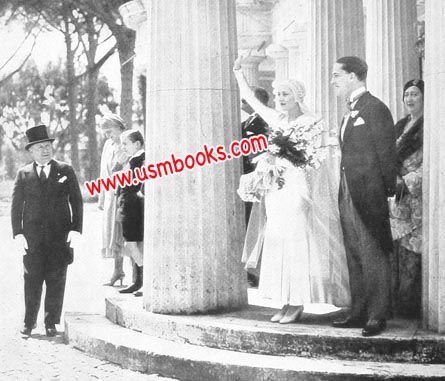 This rare book, MUSSOLINI, is from the first edition of 10,000 copies. It is in fine used condition with the bookplate of a previous (French) owner on the front fly leaf. The dust jacket is a professional laser photocopy of an original in our archive.
EARLY NAZI BOOK ON BENITO MUSSOLINI


The images and the entire text used on this and all other USMBOOKS web pages are the copyrighted property of USM Inc. Those images and the text may be used by others ONLY AFTER completion of a formal international licensing agreement and payment of a licensing fee! It is therefore, illegal for anyone to take any of the material found on USMBOOKS.com and use it for their own purposes without our written permission, irrespective of any excuse they may feel they have for doing so.