This Nazi 1936 Olympic Games cigarette book VOLUME I is **SOLD**.

We will be happy to insure or ship abroad at additional cost. Please inquire.
USM books #308a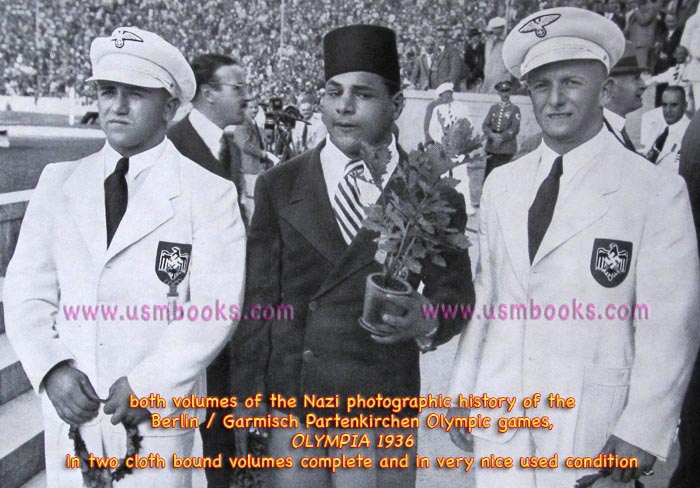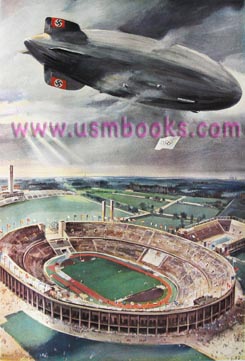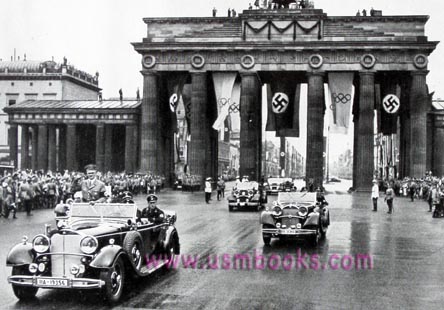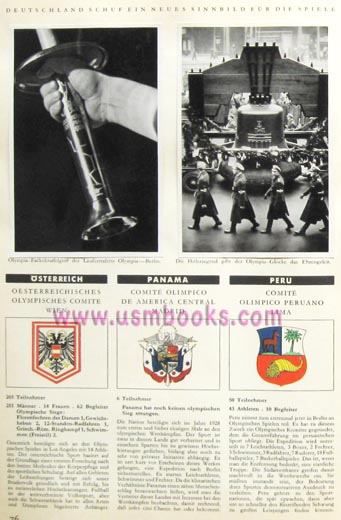 This is a very good original set of the rare Third Reich German books DIE OLYMPISCHEN SPIELE 1936 IN BERLIN UND GARMISCH-PARTENKIRCHEN (The Olympic Games 1936 in Berlin and Garmisch-Partenkirchen - the title OLYMPIA 1936 appears on the covers) as published in 1936 by Cigaretten-Bilderdienst in Altona-Bahrenfeld, Germany. Cigaretten / Bilderdienst was a German tobacco company which published blank books and sets of photos for those books which they marketed as a promotion for the cigarettes and tobacco they produced. These are the two best-known books, volumes 13 and 14 in their series of books, and these two are devoted to the history of the 1936 Olympic Games in Berlin and Garmisch-Partenkirchen.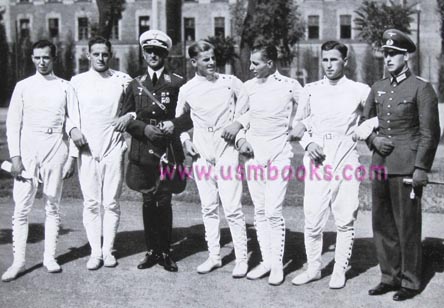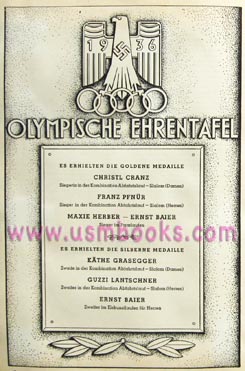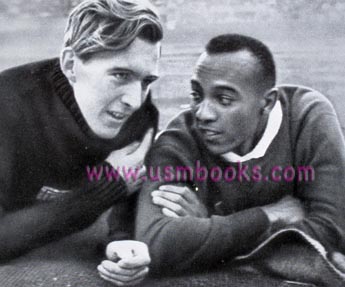 The 9-1/2 x 12-1/4 inch blue hardcover books contain a total of 296 pages and are illustrated with dozens and dozens of glossy pictures pasted in spaces that were left in the text. These Nazi books have an excellent historical text and photo captions that cover the history of the Olympics as well as the 1936 Olympic Winter Games in Garmisch-Partenkirchen and the 1936 Olympic Summer Games in Berlin in amazing detail.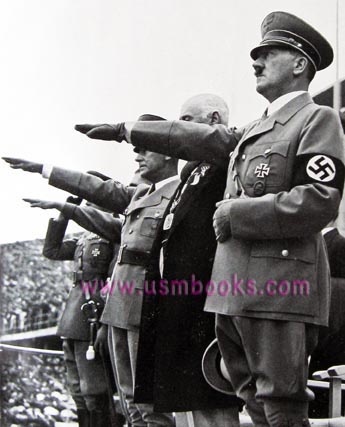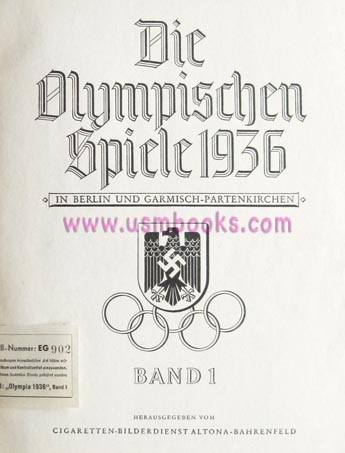 Perhaps most amazing of all in light of the propaganda seen every day on the History Channel, BBC documentaries, British TV and movie productions, etc., etc., is the more than fair treatment given to American athlete Jesse Owens, and for that matter all the black and white American athletes who participated in these games. In a quick examination of the similar historical book published in the United States as a remembrance of the 1932 Olympic Games in Los Angeles, one finds almost no reference to the German teams or their individual athletes. In these 1936 German books, you will find many photos (virtually every one highly complimentary) of American athletes as individuals, as teams, with their new-found German friends, etc., etc. The friendship of American Jesse Owens and German athlete Luz Long is given premier space in these books.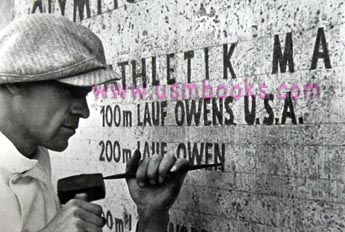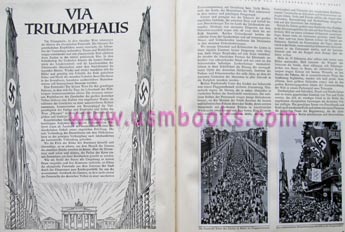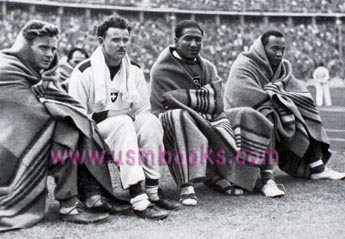 All the sports are covered from mens and ladies track and field through swimming and other water sports, boxing, wrestling, weight lifting, soccer, hockey, gymnastics, bike racing, shooting, riding, skiing, ski jumping, ice hockey, skating, sledding, etc. The history of the modern Olympics are covered from the first one in Athens in 1896 through each of the host cities. There are pictures of the competitor's flags, 1936 Olympic posters, the Olympic Village, and Nazi Olympic officials.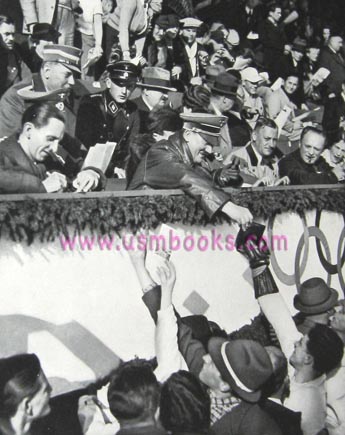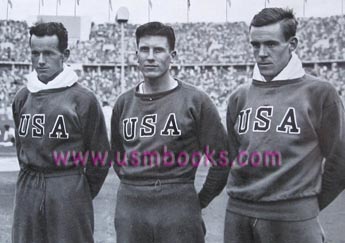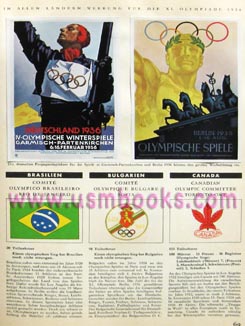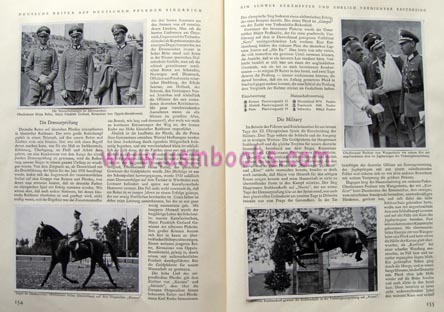 In the back of the first volume there is a huge, colorful 12 x 33 inch map of Berlin showing the Olympic grounds between Charlottenburg and Spandau as well as the Olympic Village west of the city.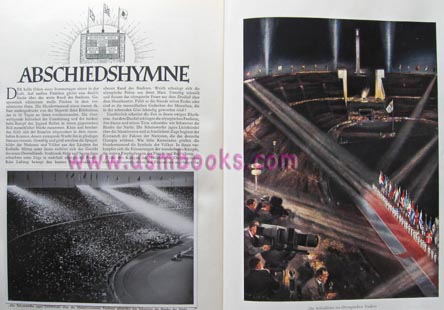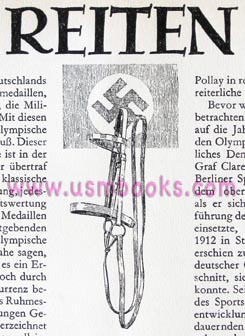 The sets of black and white and full-color photos that Cigaretten-Bilderdienst provided to be pasted into these books are not actual photographs, but very high-quality halftone prints with white borders varnished in such a way that they look very much like actual black and white glossy photographs.
IMPORTANT:
We have an additional example of VOLUME I (Winter Olympics in Garmisch-Partenkirchen in 1936 and a preview of the Berlin Summer Olympics) available.
VOLUME I & II
OF THE NAZI 1936 OLYMPIC GAMES PHOTO BOOKS
DIE OLYMPISCHEN SPIELE 1936 IN BERLIN UND GARMISCH-PARTENKIRCHEN (THE OLYMPIC GAMES 1936 IN BERLIN AND GARMISCH-PARTENKIRCHEN)
WITH ORIGINAL DUST JACKETS
The two-volume set of DIE OLYMPISCHEN SPIELE 1936 IN BERLIN UND GARMISCH-PARTENKIRCHEN offered for sale here is complete and in excellent, near-new condition. The two books come with the rare ORIGINAL DUST JACKETS which show only minimal wear.
This Nazi 1936 Olympic Games cigarette book set with original dust jackets
is **SOLD**.
We will be happy to insure or ship abroad at additional cost. Please inquire.
USM books #308
It is complete and in very nice condition with the large colorful fold-out map of the Berlin Olympic facilities in the back. The book comes with its original dust jacket (shown above) AND original Third Reich sturdy cardboard mailing sleeve.
THE VERY BEST 1936 NAZI OLYMPICS PHOTO HISTORY BOOK SET


The images and the entire text used on this and all other USMBOOKS web pages are the copyrighted property of USM Inc. Those images and the text may be used by others ONLY AFTER completion of a formal international licensing agreement and payment of a licensing fee! It is therefore, illegal for anyone to take any of the material found on USMBOOKS.com and use it for their own purposes without our written permission, irrespective of any excuse they may feel they have for doing so.