The images and text used on this and all other USM web pages are the copyrighted property
of USM Inc. Those images and the text may be used by others ONLY AFTER completion
of a formal international licensing agreement and payment of a licensing fee!

This very early 9-3/4 x 13-1/2 inch, 16 page heavily illustrated Nazi magazine Der Notschrei (Shout for Help) was published on 15 January 1933 in Vienna, the largest western German-speaking city in eastern Europe, and a battleground in the fight between communists, socialists and Nazis for political control. The Nazis in Vienna were still years away from reunification with their counterparts in Germany but were extremely active in spreading the word of the German revolution taking place a few miles away and in the battle for control of the streets of Austria. Prior to 1938 the Nazi Party was an illegal formation for a good bit of the time so any National Socialist literature from the 1920s or early 1930s has to be considered very rare.
This original 15 January 1933 issue of Der Notschrei is **SOLD**.
•IF you prefer Priority Mail shipping with USPS delivery confirmation add $5.75.
• IF you wish to purchase optional insurance, add $2.25.
• We will be happy to ship abroad at additional cost. Please inquire.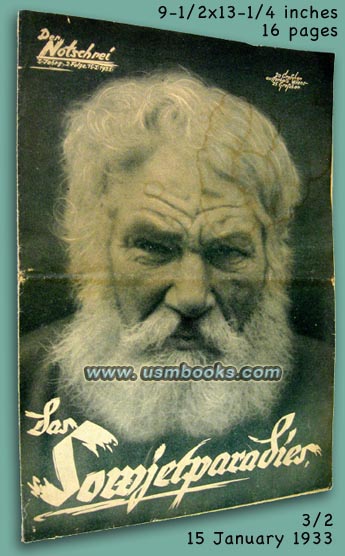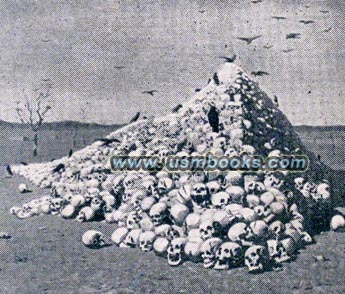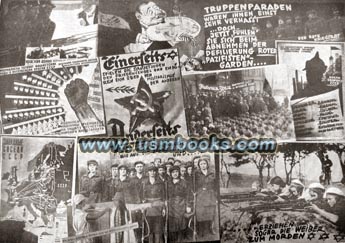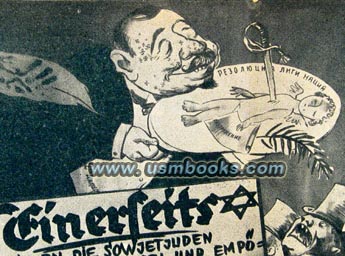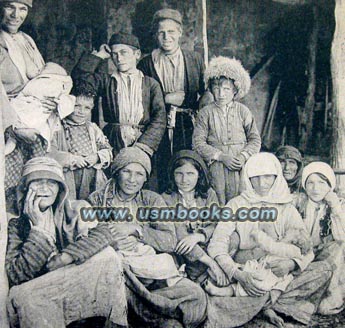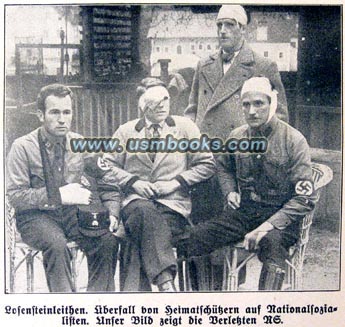 This special "Soviet Paradise" edition is filled with the Nazi view of the Soviet Union, anti-Communist stories and very negative pictures of Soviet society. The negative effects of Bolshevism and Judaism on society, Communist murders, women doing men's work, anti-Jewish statements and pictures, hunger of the general population, etc. The last six pages of this magazine have pictures showing happy, healthy farmers in Austria and Germany showing their good work ethic, ethnic Germans in Carpathia, and news for Nazi Party members and photos of Nazi gatherings. All in sharp contrast with the deplorable situation shown in Communist Russia on the first 10 pages of this 80 year old magazine.
Pictures of the opening of Radio City Music Hall in New York on 27 December 1932 made the back cover! Good used original condition, was once folded.
RARE NAZI ANTI-SEMITIC MAGAZINE 1933
DER NOTSCHREI
(SHOUT FOR HELP)
NAZI MAGAZINE
15 JANUARY 1933
This USM Books website is Copyright © 2013 by USM, Inc., and the text and images on it are fully protected by international copyright law. It is therefore, illegal for anyone to take any of the material found here and use it for their own purposes without our written permission, irrespective of any excuse they may feel they have for doing so.