The images and text used on this and all other USM web pages are the copyrighted property
of USM Inc. Those images and the text may be used by others ONLY AFTER completion
of a formal international licensing agreement and payment of a licensing fee!
This 1942 Nazi Race and Character book is **SOLD**.
We will be happy to ship abroad at additional cost. Please inquire.
USM book # 280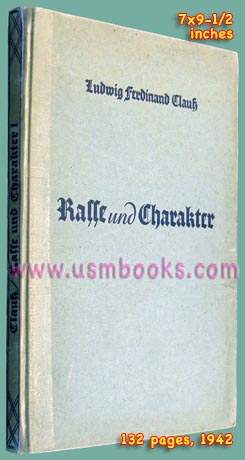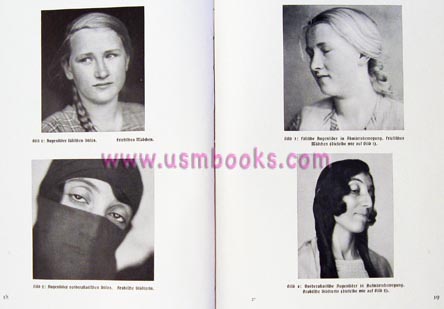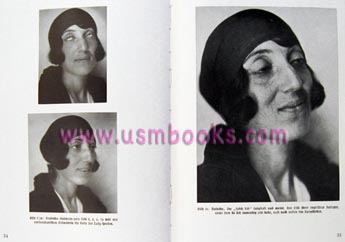 This is a very good original example of the 7 x 9-1/2 inch, 132 page hard cover book Rasse und Charakter (Race and Character) by Ludwig Ferdinand Clauß, 3rd edition, as published by Verlag Moritz Diesterweg of Frankfurt am Main in 1942.

This is one of the principal, fundamental books of the Third Reich era regarding their official concept of the relationship of race and character as determined by their own Nazi racial research experts.
Heavily illustrated with 55 carefully selected photographs of racially pure Aryans and non-Aryan men and women. An interesting photograph in the middle of the text contrasts a Silver Poplar tree with a Northsea Oak and uses the comparison to illustrate the relationship between human races and their characters.

The spine of this rare book has been scotch taped, but in every other way it is in very good condition.
BASIC NAZI ILLUSTRARED BOOK RACE AND CHARACTER 1942
THE CLASSIC 1942 NAZI BOOK
RASSE UND CHARAKTER
(RACE AND CHARACTER)
This USM Books website is Copyright © 2013 by USM, Inc., and the text and images on it are fully protected by international copyright law. It is therefore, illegal for anyone to take any of the material found here and use it for their own purposes without our written permission, irrespective of any excuse they may feel they have for doing so.