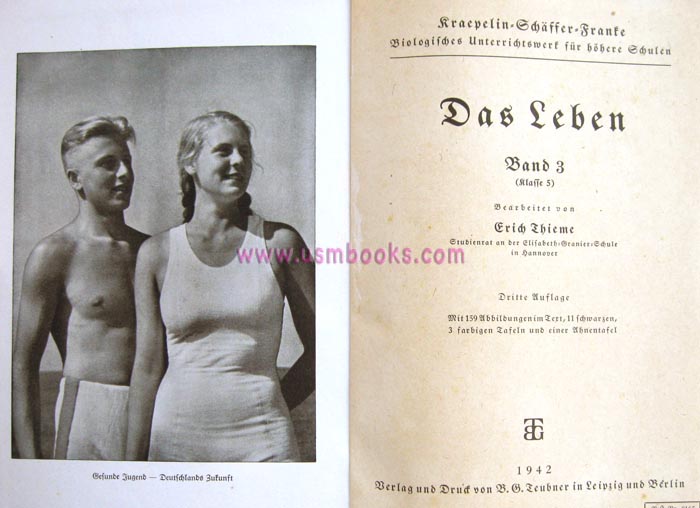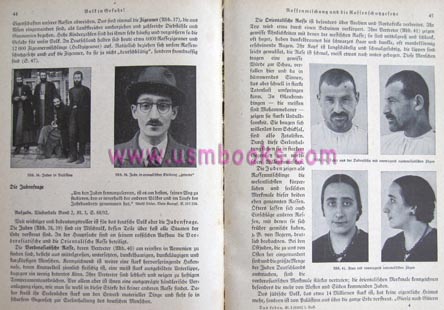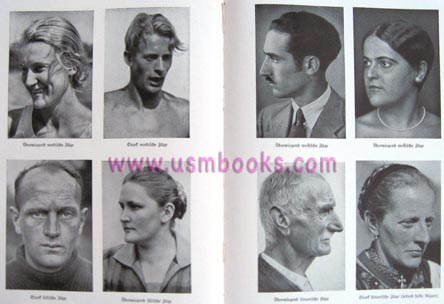 This is a book of enormous contrasts, and genetic and political theory that couldn't be less politically correct in the 21st century. It is the third volume (and the only volume which deals with racial purity and genetics - the others deal with health questions) of a set of Third Reich instruction books called Das Leben (Life).
The 6-1/2 x 9 inch, 148 page very heavily illustrated book was the work of Erich Thieme and published in 1943 by B.S. Teubner of Leipzig and Berlin.

Das Leben pulls no punches with chapters having titles like Ancestry, People and Race, Population in Danger, etc.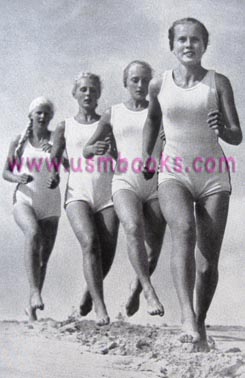 The text and illustrations take the reader back to the earliest days of the races and attempt to explain how the racial characters of black rabbits and white rabbits are passed on to succeeding generations. It explains how sheep are selectively bred to produce wool and explains a good deal about some twins are alike and some twins are not.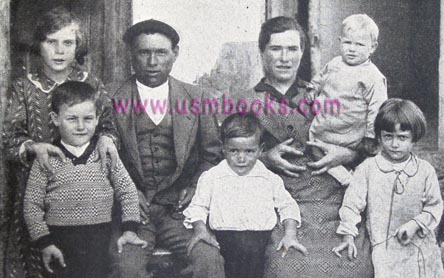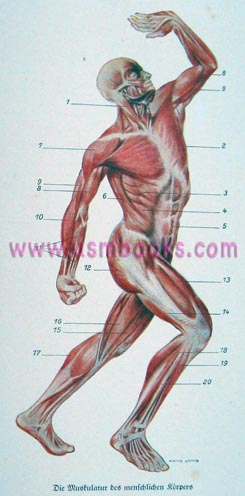 It examines some of the earliest skeletal remains on the planet and focusses on how those remains explain the distribution of populations on earth in the mid 20th century.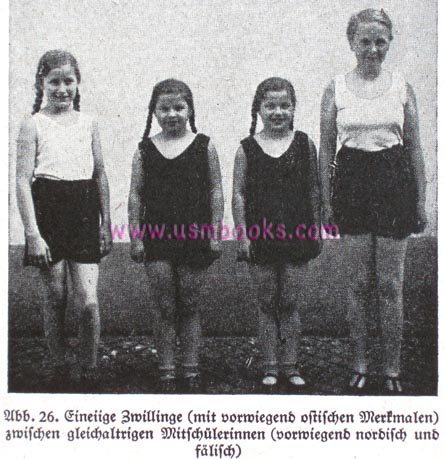 This book also pauses to dwell on the Judenfrage or the Jewish Question, where Jews came from and what can be expected of them, eastern or oriental Jews and other Jews. Das Leben explains the 1935 Law for the Protection of German Blood and why Jews were excluded from being German.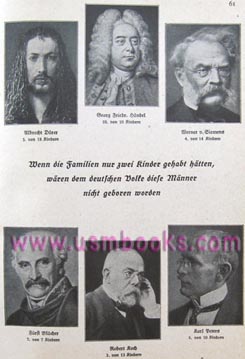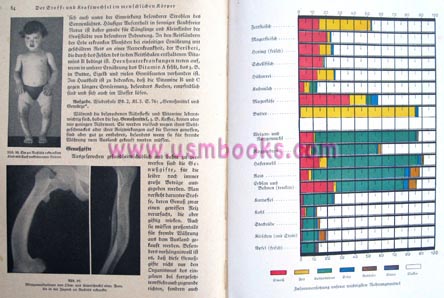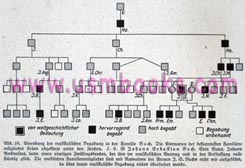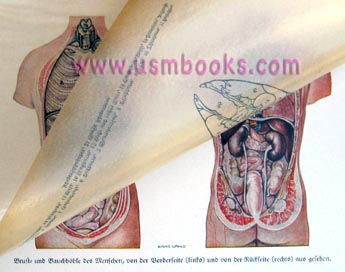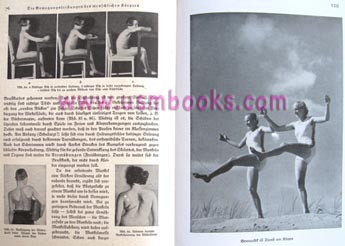 Another chapter explains that the smartest children in families are not necessarily those born first but those born as the second, third or even 11th child, as Franz Schubert was. Other chapters make sure that the reader understands that beautiful strong bodies and minds are not anywhere near as much an accident as they are the intentional result of selectively breeding people with the best genetic characteristics and by excluding those from the breeding process who don't posses the desirable characteristics.
There are also sections that deal with the internal organs and workings of the human body.
This is a book for those with a specific interest in the Nazi concept of racial purity and selectivity. it covers the subject concisely better than any book we know. Good used condition, with a tight binding, no odor. Cover shows significant wear, content does not.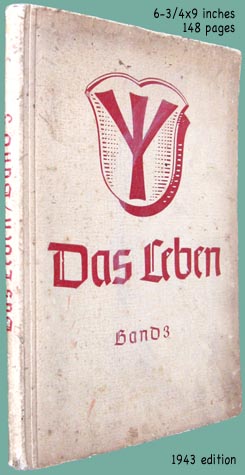 This politically-incorrect Nazi book on genetic and political theory is
for sale for $125.00 delivered by Media Mail in the continental USA.


USM book #324
• IF you prefer Priority Mail shipping with USPS Tracking add $6.65.
• IF you wish to purchase highly recommended, but optional insurance, add $3.45.
• We will be happy to ship abroad at additional cost. Please inquire.
RARE NAZI RACIAL BOOK DAS LEBEN
RARE NAZI RACIAL, GENETICS
AND NATIONAL HEALTH BOOK
DAS LEBEN (LIFE)


The images and the entire text used on this and all other USMBOOKS web pages are the copyrighted property of USM Inc. Those images and the text may be used by others ONLY AFTER completion of a formal international licensing agreement and payment of a licensing fee! It is therefore, illegal for anyone to take any of the material found on USMBOOKS.com and use it for their own purposes without our written permission, irrespective of any excuse they may feel they have for doing so.