This rare 1940 Nazi Police technical weapon manual is **SOLD**.


USM book # 250
• IF you prefer faster and safer Priority Mail shipping with USPS Tracking add $7.25.
• IF you wish to purchase optional insurance, add $7.05 to your payment.
• We will be happy to ship abroad at additional cost. Please inquire.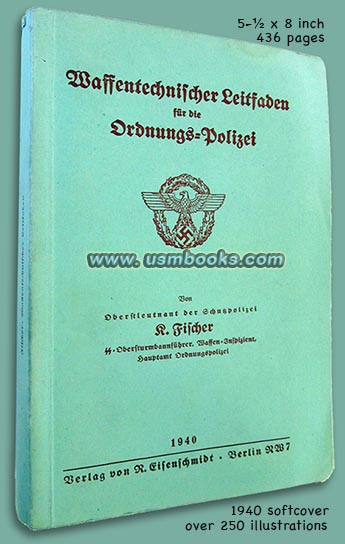 JANUARY 1940 EDITION
NAZI POLICE TECHNICAL WEAPON MANUAL -
WAFFEN- UND SCHIESSTECHNISCHER LEITFADEN FÜR DIE
ORDNUNGSPOLIZEI
(TECHNICAL WEAPON
MANUAL FOR THE
ORDER POLICE)
This is a very nice example of the January 1940 softcover edition of the Nazi police weapon manual Waffen- und Schiesstechnischer Leitfaden für die Ordnungspolizei (Technical Weapon and Shooting Manual for the Order Police) as written by Oberstleutnant der Schutzpolizei and SS-Obersturmbannführer Karl Fischer and published in cooperation with the Reichsführer-SS and Chief of the German Police in the Reichs Ministry of the Interior (der Reichsführer der SS und Chef der deutschen Polizei im Reichsministerium des Innern) Heinrich Himmler by R. Eisenschmidt Verlag in Berlin in January 1940.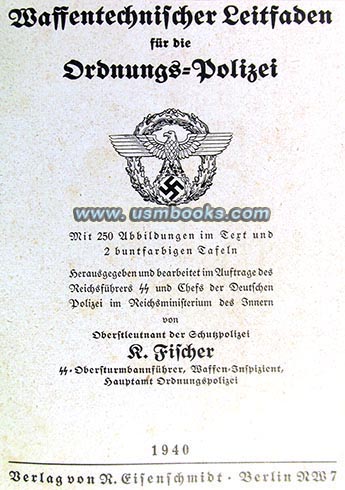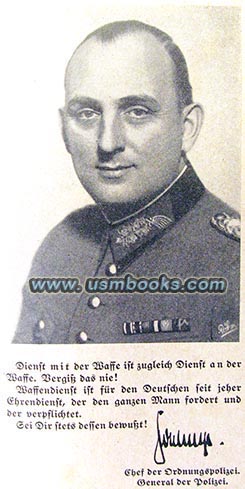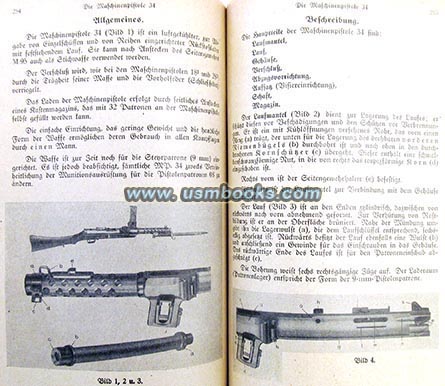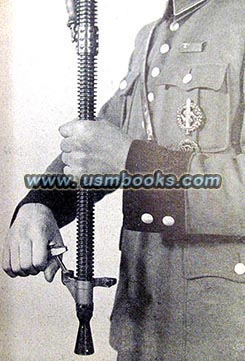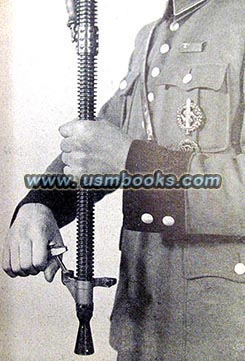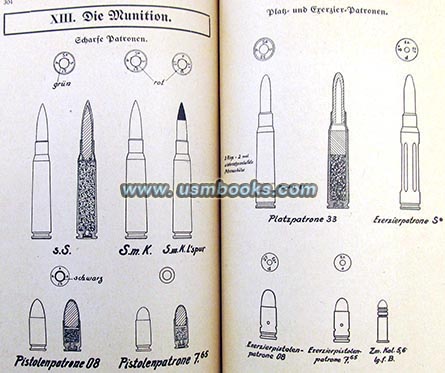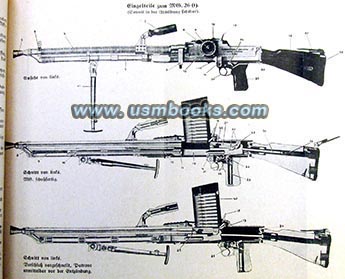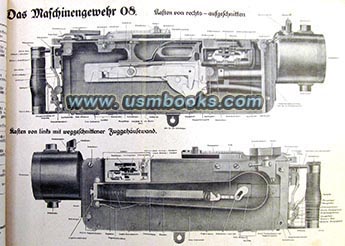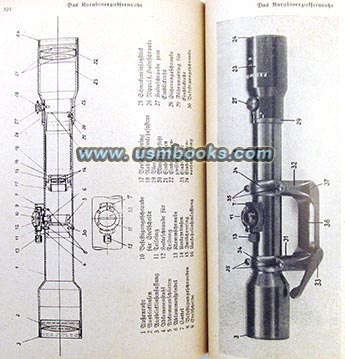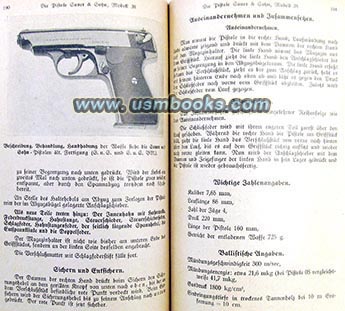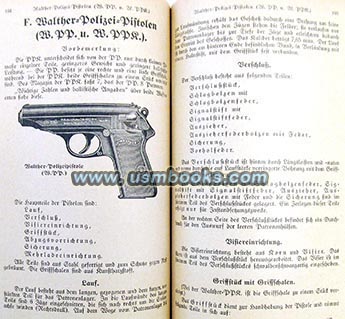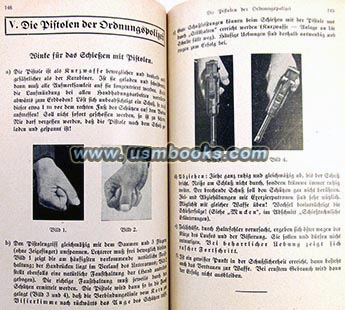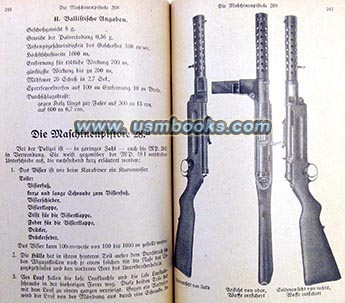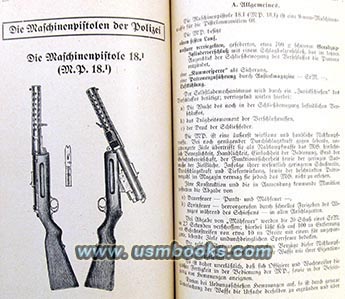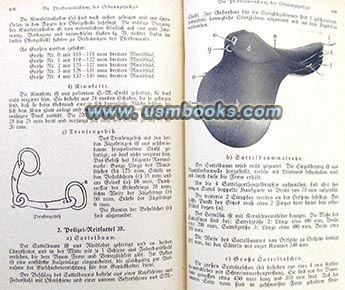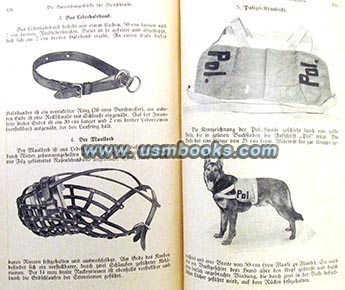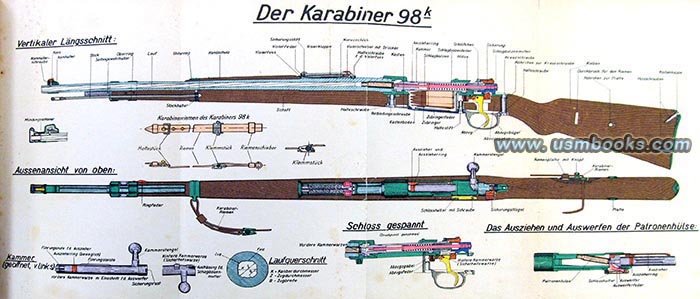 The 5-½ x 8 inch, 436 page, very, very heavily illustrated soft cover book is not only the police weapon manual, but also an instruction manual for all sorts of equipment used by the German police during the Third Reich of Adolf Hitler.
Things such as dog handling equipment, saddles and other horse equipment, the gas mask, spotlight, bicycle, field kitchen, ammunition, field compass, hand grenade, telescope sight, PAK gun, sword, bayonet, flare gun, line thrower, binocular, etc.
Weapons covered in depth in full-color and black & white drawings and photographs include Karabiner 98k, Maschinengewehr (machine gun or MG) 08, MG 08/15, MG26, MG30, MG34, bore cleaning equipment, Pistole 08, Pistole M.12, Pistole Sauer & Sohn, Sauer M.38, Walther PP and PPK, Mauser pistol M, Dreyse pistol, Steyr pistol M.34, Maschinenpistole (sub machine gun) MP.18I, MP.28II, MP.34, flare guns, etc., etc.
This rare original Third Reich book contains over 250 pictures and two large full-color fold-out plates and four large black & white fold-out plates. It is the last word on Nazi police equipment as of January 1940. It is an essential early-war Nazi police book! This 77 year old example is in very good little-used condition, no odor.
VERY RARE NAZI POLICE TECHNICAL WEAPON MANUAL DECEMBER 1940


The images and the entire text used on this and all other USMBOOKS web pages are the copyrighted property of USM Inc. Those images and the text may be used by others ONLY AFTER completion of a formal international licensing agreement and payment of a licensing fee! It is therefore, illegal for anyone to take any of the material found on USMBOOKS.com and use it for their own purposes without our written permission, irrespective of any excuse they may feel they have for doing so.