The images and the entire text used on this and all other USMBOOKS web pages are the copyrighted
property of USM Inc. Those images and the text may be used by others ONLY AFTER
completion of a formal international licensing agreement and payment of a licensing fee!
This USMBOOKS web page is Copyright © 2014 by USM, Inc., The text and images on it are fully protected by international copyright law. It is therefore, illegal for anyone to take any of the material found here and use it for their own purposes without our written permission, irrespective of any excuse they may feel they have for doing so.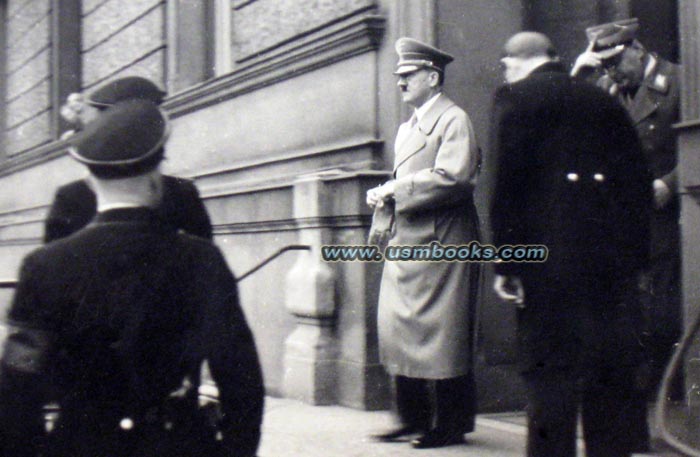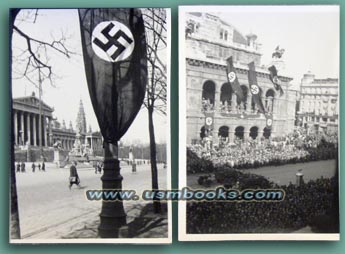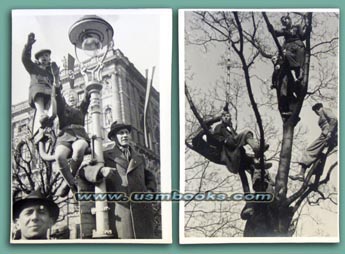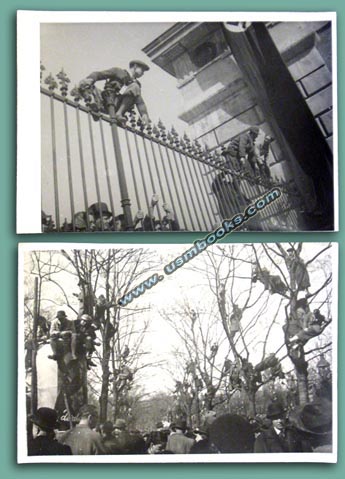 This is a stack of 22 candid snapshots taken mid-March 1938, apparently by a private citizen of Vienna during the historic visit of Adolf Hitler to Vienna. Hitler came to Vienna to celebrate the Anschluss or reunification of Austria with Nazi Germany. These photographs have never been published as far as we can tell and many of them have handwritten notes and dates on the back. It is extremely rare that one finds private candid photos of Hitler in his official capacity as Chancellor and Führer.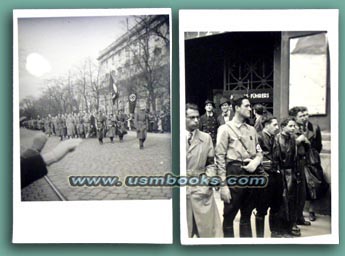 The photographs show Wien (which had instantly become the second largest city of Nazi Germany) between 12 and 15 March 1938 decorated for the triumphal visit of Der Führer to Vienna. Huge crowds in the center of the city around the Heldenplatz, excited people in trees, on gates and street lights trying to get a better view of the festivities, parades, Nazi airplanes flying over the city, etc.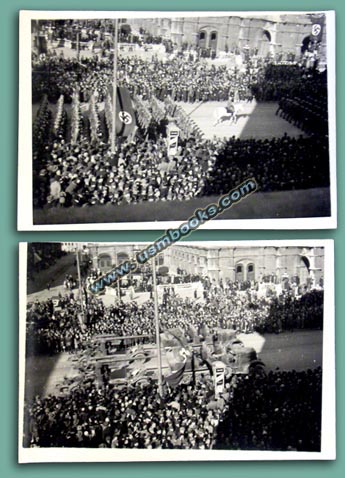 One photo shows Adolf Hitler putting on gloves while exiting a building and one shows him standing in his enormous open Mercedes-Benz car on the Ring with the Hofburg in the background.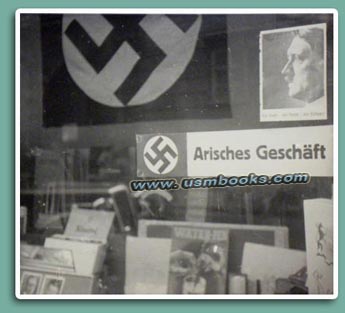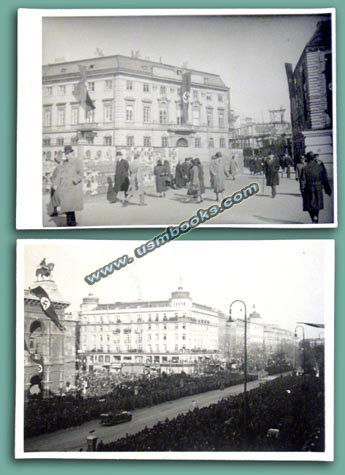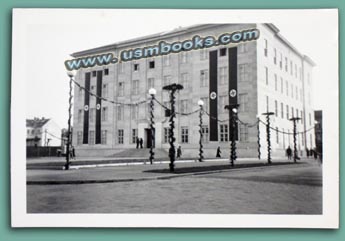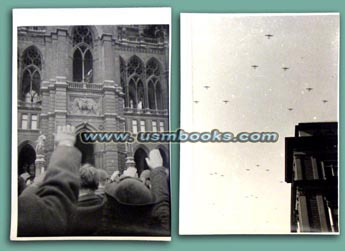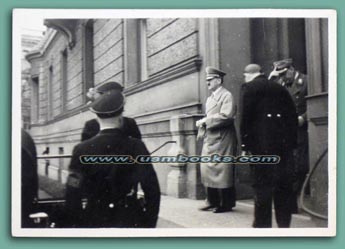 There is a photo of a shop window displaying a photo of Hitler and a sign showing it is an Aryan business (Arisches Geschäft) and one with the date 12 March 1938 written on the back showing a crowd of people with their arms raised in the Hitler salute awaiting Dr. Goebbels on a balcony (directly below). Two photos shows the world-famous Vienna opera decorated with huge Nazi swastika banners and surrounded by enormous crowds of people awaiting the drive-by of Adolf Hitler.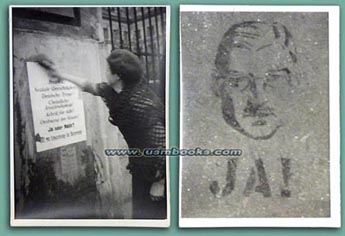 The original photos measure 2-½ x 3-¾ inches. Ten of them have the date 15.III.38 written on the back and a note indicating the location or event on the photo. Three photos were taken and are marked 12 March 1938, one is dated 13 March 1938 on the back and seven are without dates, but clearly were taken during the same celebrations.
Very rare, original Third Reich photo material that has never been in the hands of a dealer or collector before!
This lot of 22 March 1938 Nazi snapshots is **SOLD**.

• IF you prefer Priority Mail shipping with USPS Tracking add $5.75.
• IF you wish to purchase highly recommended, but optional insurance, add $5.45.
• We will be happy to ship abroad at additional cost. Please inquire.
22 CANDID SNAPSHOTS OF HITLER'S VISIT TO VIENNA MID-APRIL 1938
ORIGINAL MARCH 1938 CANDID PHOTOGRAPHS
OF THIRD REICH
WIEN - ANSCHLUSS