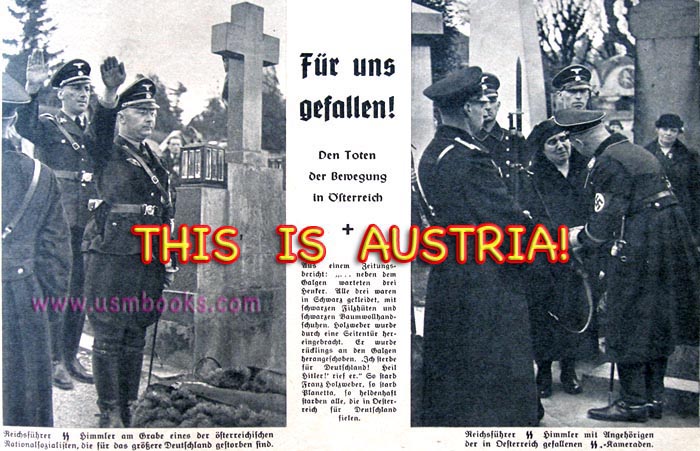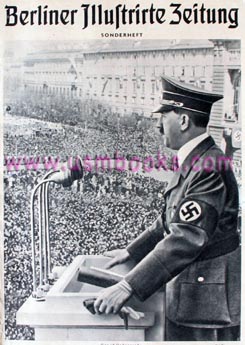 This is a very important publication for anyone with more than a passing interest in the subject of the Anschluß or the reunification of Germany and Austria in the spring of 1938. The 10-1/4 x 14-1/2 inch, 122 page Sonderheft or Special Edition of Berliner Illustrirte Zeitung was published specifically to commemorate the Anschluß and to familiarize Germans with the newest part of their country, Grossdeutschland.

The cover picture depicts two Austrians in native costume with the city of Salzburg in the background. Inside the front cover is a portrait of Reichsstatthalter Dr. Arthur Seyss-Inquart and a message over his signature about the annexation of Austria.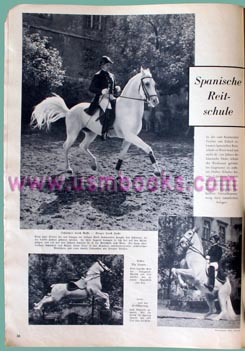 The following pages are heavily illustrated with maps, charts and photographs about the hard work and sacrifices of Austrian Nazis in making their wish for a united Germany a reality. There are also articles on the city of Vienna (then Germany's second largest city) and the amazing sights to behold there. There are features on the incorporation of the Austrian army into the German Wehrmacht, the Spanish Riding School, the dissolution of the German-Austrian border, Austrian art, Austrian tourism, Austrian royalty, great Austrian inventions, Austrian actors and actresses, the Alps, Schubert, Haydn, Mozart, Beethoven, Austrian food, Austrian athletes, German industry, Viennese humor, famous people born in Austria (including the
Führer himself
), etc., etc.
The magazine includes a substantial amount of advertising for particularly high-end German products like Zeiss binoculars, BEVO, Henkell champagne, Exakta, Olympia typewriters, the Hotel Sacher, Uralt Lavendel, etc.
A rare and important Third Reich publication concerning major events in Nazi Germany just prior to the outbreak of World War II. In most respects this is a very nice, complete example of this special magazine. However, the front cover has been scotch taped along the spine and page 1 was once detached and has been re-attached using scotch tape.
This 1938 Special Edition of Berliner Illustrirte Zeitung is **SOLD**.

• IF you prefer Priority Mail shipping with USPS Tracking add $6.75.
• IF you wish to purchase highly recommended, but optional insurance, add $2.95.
• We will be happy to ship abroad at additional cost. Please inquire.
SPECIAL NAZI BERLIN MAGAZINE - THAT IS AUSTRIA - 1938
DAS IST OESTERREICH!
(THAT IS AUSTRIA)
A SPECIAL EDITION OF THE
BERLINER ILLUSTRIRTE ZEITUNG


The images and the entire text used on this and all other USMBOOKS web pages are the copyrighted property of USM Inc. Those images and the text may be used by others ONLY AFTER completion of a formal international licensing agreement and payment of a licensing fee! It is therefore, illegal for anyone to take any of the material found on USMBOOKS.com and use it for their own purposes without our written permission, irrespective of any excuse they may feel they have for doing so.