The images and text used on this and all other USM web pages are the copyrighted property
of USM Inc. Those images and the text may be used by others ONLY AFTER completion
of a formal international licensing agreement and payment of a licensing fee!
This original 1938 plebiscite poster is **SOLD**.

We will be happy to ship abroad at additional cost. Please inquire.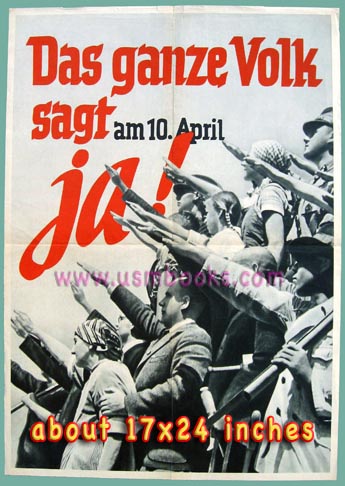 This is a fine original Third Reich example of a very rare and well-known Nazi poster encouraging the population of Austria to vote YES for Adolf Hitler in the plebiscite (voting) held in April of 1938 following the German annexation and reunification (Anschluss) with Austria. Austrians took the poster's advice and 97% of the population voted for reunification and inclusion in Hitler's Greater German Reich or Grossdeutschland. Wien or Vienna became the second largest city in Greater Germany
This is the large size of the colorful Das ganze Volk sagt am 10. April ja! (The entire population says YES on 10 April) poster measuring about 17 x 24 inches. It was folded and put away at the time in Vienna, and was only recently purchased there after almost 70 years of careful storage. The colors are bright and the poster is not dirty, or damaged in any way other than a couple of small pin holes along the folds.

An extremely important and historical poster in very good used condition.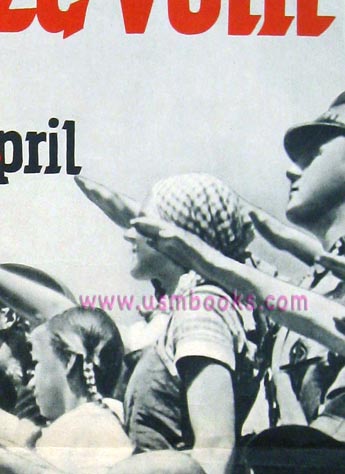 NAZI ANSCHLUSS POSTER 1938
A LARGE ORIGINAL
NAZI POSTER
FROM THE PLEBISCITE
IN AUSTRIA FOLLOWING
THE ANSCHLUSS
This USM Books website is Copyright © 2010 by USM, Inc., and the text and images on it are fully protected by international copyright law. It is therefore, illegal for anyone to take any of the material found here and use it for their own purposes without our written permission, irrespective of any excuse they may feel they have for doing so.