The images and the entire text used on this and all other USMBOOKS web pages are the copyrighted property of USM Inc. Those images and the text may be used by others ONLY AFTER completion of a formal international licensing agreement and payment of a licensing fee! It is therefore, illegal for anyone to take any of the material found on USMBOOKS.com and use it for their own purposes without our written permission, irrespective of any excuse they may feel they have for doing so.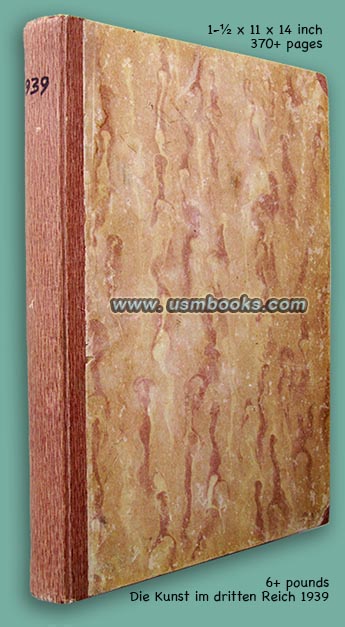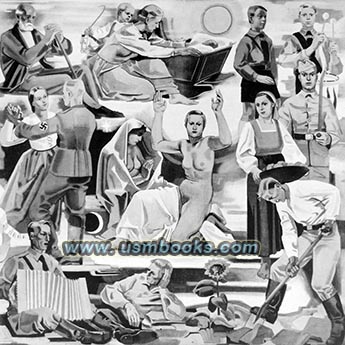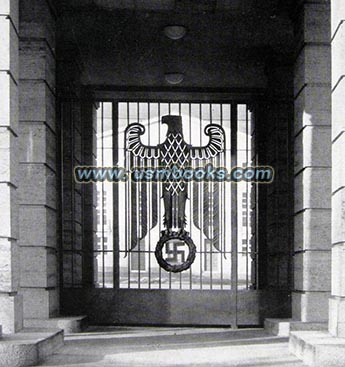 The big 11 x 14 inch, very heavily illustrated art magazine Die Kunst im dritten Reich (The Arts in the Third Reich) and Die Kunst im deutschen Reich (The Arts in the German Reich) was first published in January 1937 by Gauleiter Adolf Wagner. After the first six monthly issues the format was changed to a much larger size and it was published at the direction of Germany's 23rd Chancellor, Adolf Hitler himself, under the supervision of an extremely prestigious group of directors that included Professor Dr. Ing. Fritz Todt, Generalbauinspektor Professor Albert Speer of Berlin, Professor Richard Klein of the Academy of Applied Arts in München (Munich) and Professor Leonhard Gall of Studio Troost in München.
Offered on this USMBOOKS web page is a professionally hardbound book containing eleven of the Die Kunst im dritten Reich magazines for the year 1939 (the September issue is missing). As was the custom in libraries in Germany during the Third Reich, all magazines for a single year were bound together without their paper covers.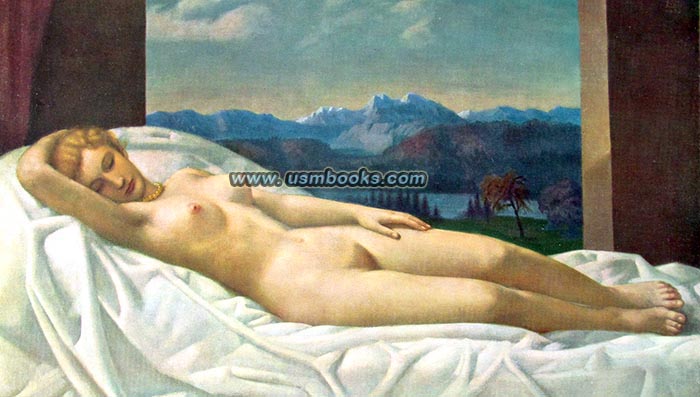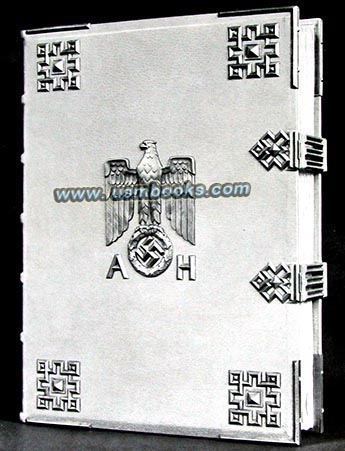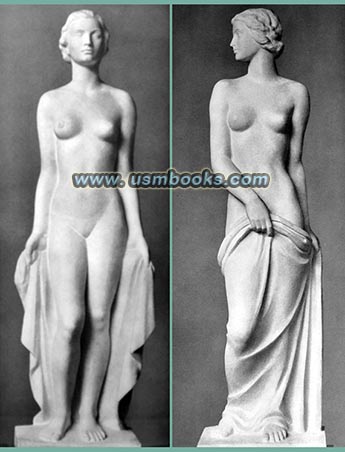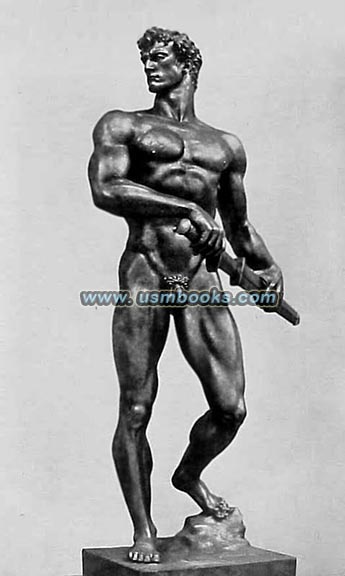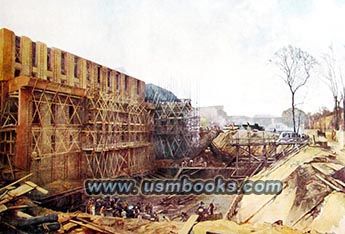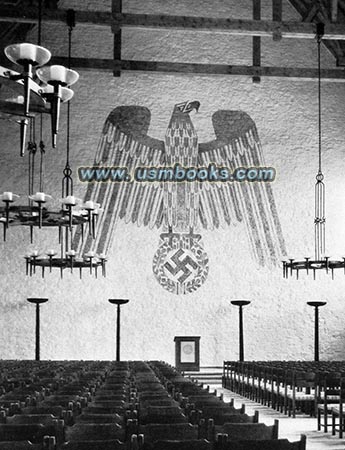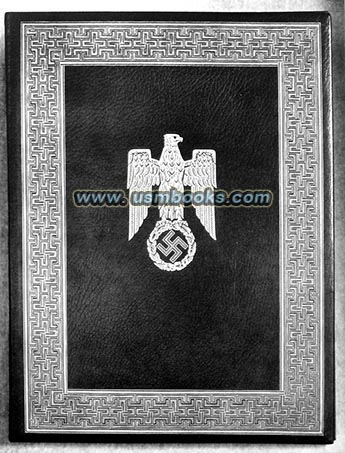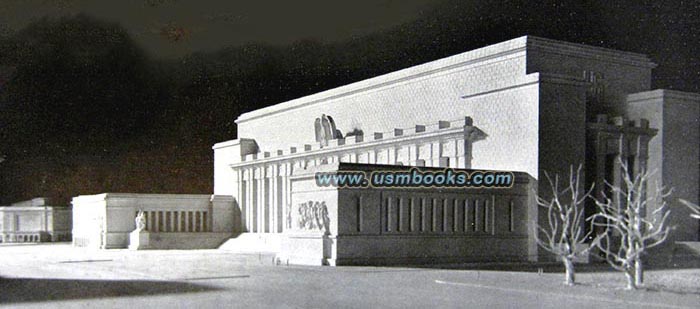 By 1938 the magazine was large in size (about 11 x 14 inches), huge is scope and right to the end it was published by Zentralverlag der NSDAP, Franz Eher Nachfolger (the Central Publishing House of the Nazi Party) on fine quality paper using the best available inks. Huge full-page, full-color and black & white photographs dominated the format of Die Kunst. Many of the pictures were never published elsewhere and none were published in a larger format.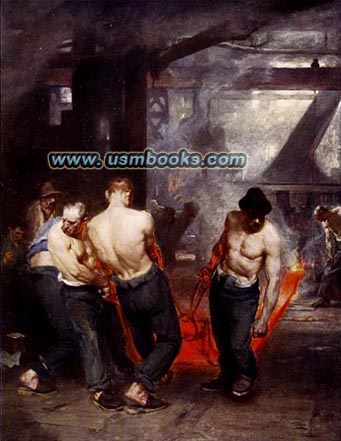 Main articles in various issues of Die Kunst im dritten Reich in 1939 are heroic sculptures by Arno Breker for Adolf Hitler's New Reichschancellery in Berlin, the Hohe Schule of the NSDAP on the Chiemsee (with spectacular architectural models by Hermann Giesler), the Second German Artistic Handwork Exhibition in the House of German Art in Munich, the new facilities of the Reichsarbeitsdienst (RAD or Nazi Labor Service) in Berlin designed by architect Kurt Heinrich Tischer (many interior and exterior photos), the development of German theater sets, Josef Wackerle sculptures, new enormous patriotic German wall paintings (many with National Socialist and military scenes), Japanese Art, sculptures by Richard Scheibe, the Munich Art Exhibition of 1939, modern German artistic wood cutting, sculptor Fritz Klimsch in his studio, architect Paul Schultze-Naumburg, color paintings by Paul Hermann of the construction of the new Reichskanzlei in Berlin, the new Das Haus des deutschen Rechts (The House of German Law) in Munich designed by architect Oswald Bieber (many interior and exterior photos), fancy book covers and bindings for special book presentation copies, the grave of Henry the Lion in Braunschweig, the art of Julius Paul Junghanns, and a wide variety of photographs of paintings, woodcuts and sculptures.
These issues of Die Kunst im dritten Reich also contain architectural designs and models by famous architects including Albert Speer (Reichschancellery Berlin, Wilhelm Kreis (Soldatenhalle of the OKH in Berlin), Leonhard Gall (Braunes Haus Munich), and Ernst Sagebiel (Tempelhof Airport Berlin).
Also shown is work by artists Josef Thorak, Joseph Anton Koch, Hans Holbein, Rudolf Alt, Friedrich Stahl, Adolf Ziegler, Sepp Hilz, Wolf Willrich, Hans Goebl, Georg Müller, Erik Richter, Wilhelm Heise, Theodor Kärner, Hermann Gradl, Wilhelm Dachauer, Arthur Kampf, Elk Eber, Professor Richard Klein, Albrecht Dürer, Georg Kolbe, Fritz Klimsch, Hans Thoma, Hans von Kulmbach, Hubert Netzer, Anton Müller, and many, many others.
Many pieces of art that were on display at the Grosse Deutsche Kunstausstellung held in the House of German Art in Munich in 1939 are pictured and this book also contains the rare often-missing 3-panel (30+ inch) color fold-out of the Festzug, the elaborate parade that was part of the "2000 Jahre deutsche Kunst" art festival in Munich.
Each issue ends with a monthly Kunstausstellungkalender or Calendar for Art Exhibitions in Greater Germany.
This 1-½ x 11 x 14 inch hard cover book containing eleven 1939 issues of Die Kunst im dritten Reich magazines is in very good condition. We did not find any writing or cut-out photos in this 6+ pound book containing about 370 pages.

This Third Reich book has been stored in low humidity at 5000 ft (1500 m) elevation, so the content is very dry and has no perceptible odor.
These hardbound 1939 issues of Die Kunst im dritten Reich are offered for
sale for $175.00 plus postage (see options below).

• USPS Priority Mail with tracking $13.95
OR
Media Mail $8.95.
• IF you wish to purchase highly recommended, but optional insurance, add $3.50.
• We will be happy to ship abroad at additional cost. Please inquire.
BOUND 1939 ISSUES OF DIE KUNST IM DRITTEN REICH
(THE ARTS IN THE THIRD REICH)
NAZI ART MAGAZINE
DIE KUNST IM DRITTEN REICH BOUND ISSUES FOR 1939
6+ POUNDS