The images and the entire text used on this and all other USMBOOKS web pages are the copyrighted property of USM Inc. Those images and the text may be used by others ONLY AFTER completion of a formal international licensing agreement and payment of a licensing fee! It is therefore, illegal for anyone to take any of the material found on USMBOOKS.com and use it for their own purposes without our written permission, irrespective of any excuse they may feel they have for doing so.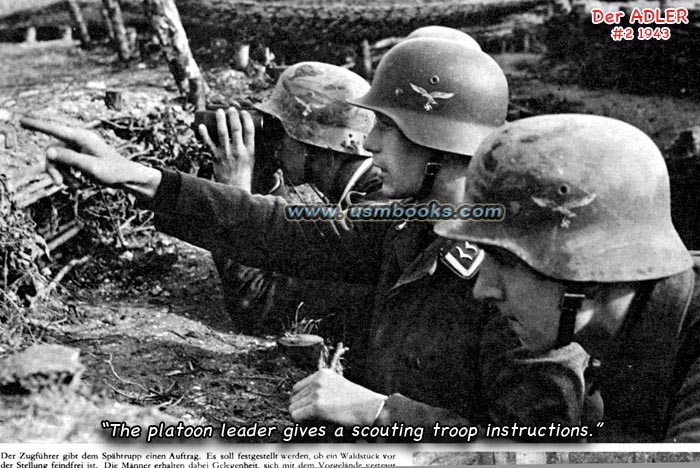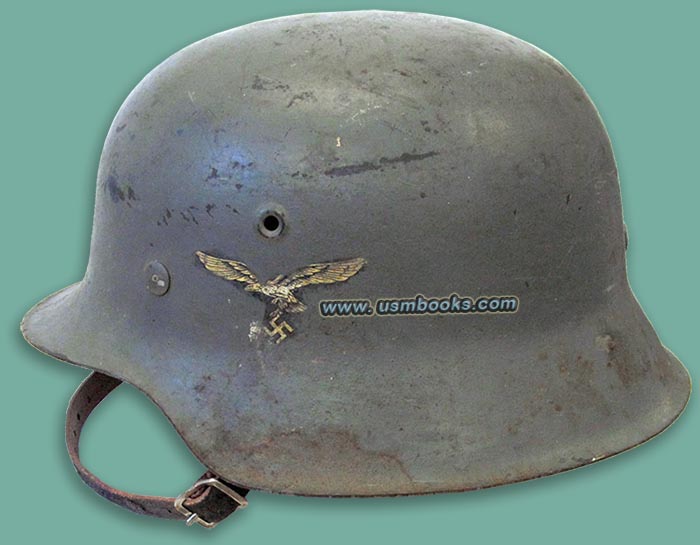 This is a very nice size 56 Nazi steel combat helmet that has never before been owned by a dealer or collector. It has never been to a MAX or other militaria show and has never been messed with or altered since it was brought to America as a war souvenir.

The unique helmet was brought back from Europe by a local American veteran at the end of World War 2 and we purchased it years ago in the veteran's daughter's garage here in Rapid City where it had hung by a piece of cord since he gave it to her decades ago.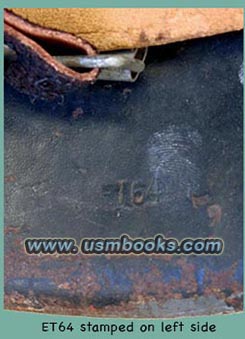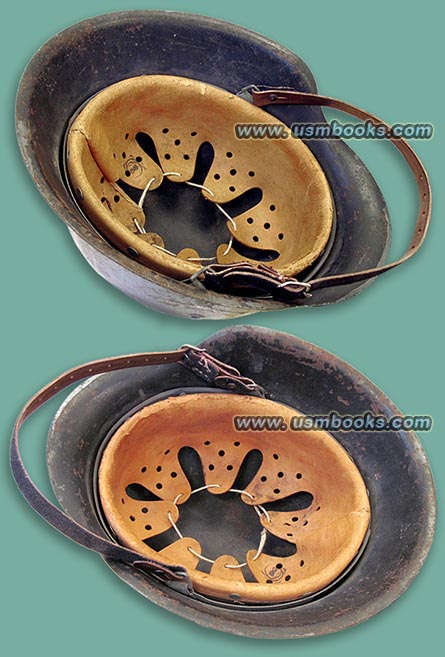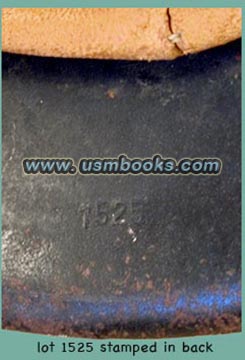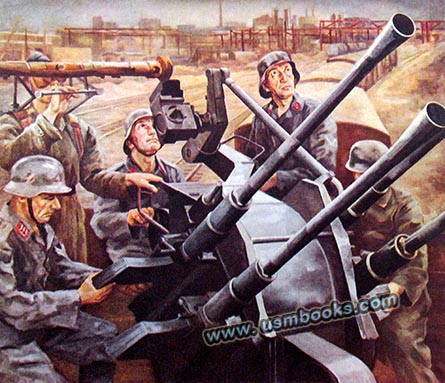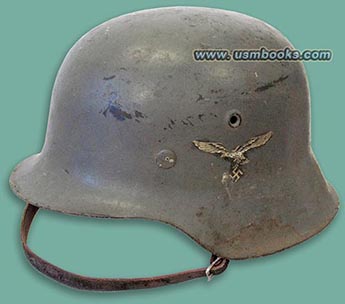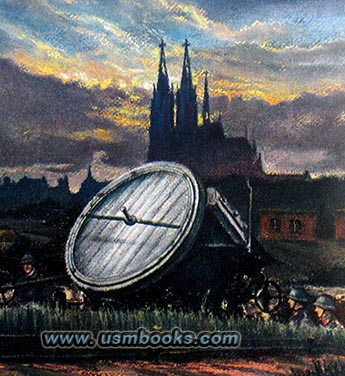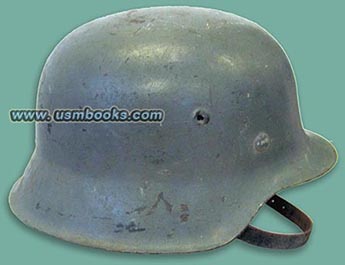 It began life in Germany as an original model 1942 Nazi Luftwaffe single decal steel helmet in dark grey like the ones shown at the top of this USMBOOKS web page. The eagle decal on the left side would be called "remarkable" if this helmet was offered for sale on one of the big-deal German helmet websites on the internet (the helmet would also be priced from $200 to $400 higher).
The heavy steel shell still has much of its original paint on the inside, and of course the original color is painted under the FLAK gray on the outside. The left inside of the flair is stamped ET64 for Eisenhüttenwerke of Thale and the shell size 64. The rear inside flair is stamped with production lot number 1525.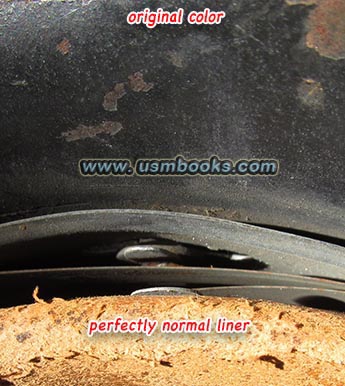 The chin strap is a replacement which we added, as the original was missing when we bought this helmet. The liner leather is complete and in good condition and there is no sweat staining on it or the grey felt sweatband padding.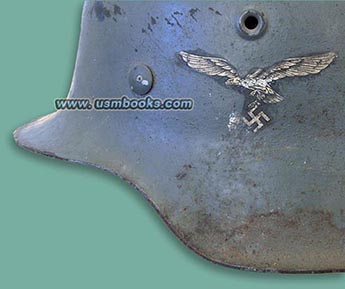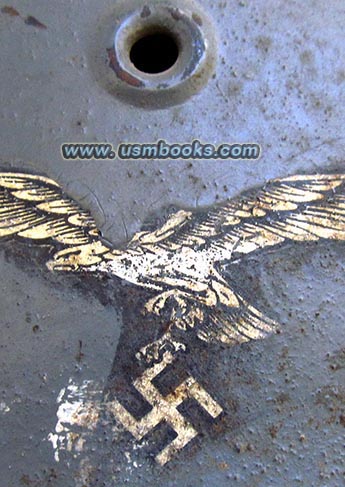 The gray paint on the outside of this helmet shell is classic FLAK ARTILLERY GREY and was applied in the field with a brush. Its age is perfectly apparent by a small crackled paint "run" above the eagle's neck in the photo left. About 85% of the original gray outside repaint is still there and that which is missing has been missing since the end of World War II, judging from the patina on what little exposed steel there is. There are no dents or cracks in the steel.
Curiously, we found a very, very similar helmet on a big-name German militaria website that was said to have been once worn by a former Pope when he was a teenage FLAK helper in the German Luftwaffe!

We make no such claim for this one; it is just a very nice completely original Third Reich example brought home by an American veteran that has never been messed with. We haven't even cleaned it off in the years that we have had it! A great buy at only $595.00!
This Luftwaffe Single Decal Combat FLAK Helmet is offered for sale
for $595.00 PLUS postage - see details below.

• For Priority Mail shipping with USPS Tracking add $16.75
OR
$15.00 for Parcel Post.
• IF you wish to purchase highly recommended, but optional insurance, add $9.45.
• We will be happy to ship abroad at additional cost. Please inquire.
M1942 NAZI LUFTWAFFE SINGLE DECAL COMBAT FLAK HELMET - EISENHÜTTENWERK AG
A VERY NICE COMPLETELY AUTHENTIC M1942 LUFTWAFFE STEEL FLAK HELMET MADE BY EISENHÜTTENWERK AG OF TAHLE, GERMANY