This Nazi Flak Unit 1943 Italian Christmas souvenir is offered for sale
for $85.00 delivered by Media Mail in the continental USA.


USM book # 577
• IF you prefer faster and safer Priority Mail shipping with USPS Tracking add $6.95.
• IF you wish to purchase highly recommended, but optional insurance, add $2.95.
• We will be happy to ship abroad at additional cost. Please inquire.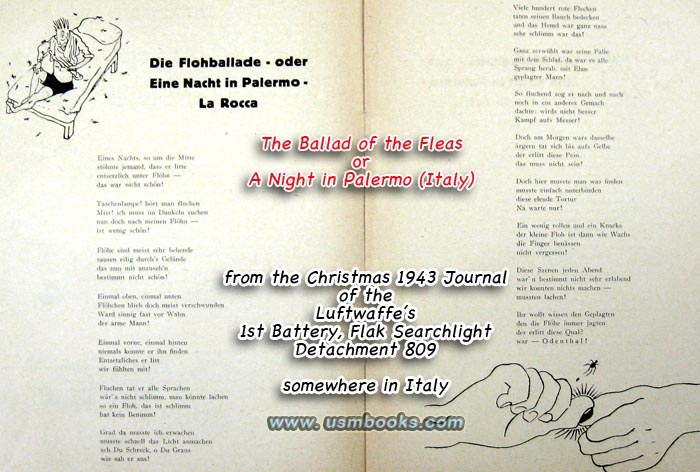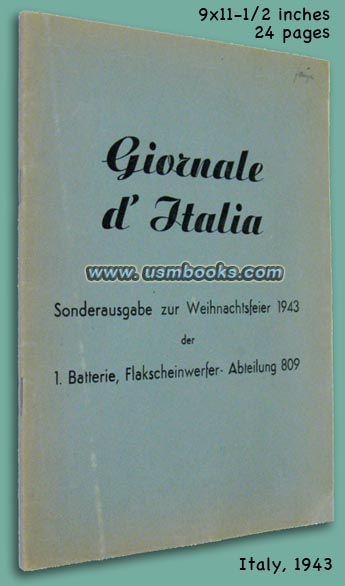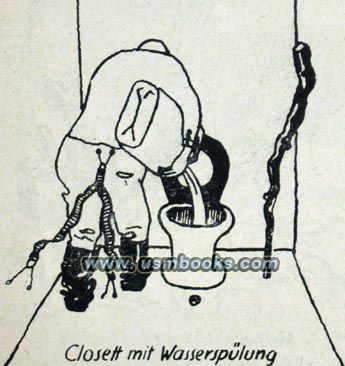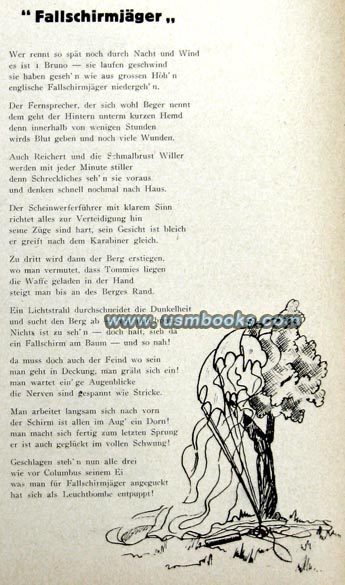 Il Giornale d'Italia was a daily newspaper in circulation in Benito Mussolini's Fascist Italy. Offered for sale on this USMBOOKS webpage is a very funny World War II German printed-in-the-field publication called Giornale d'Italia (Italian Journal) published for German Wehrmacht troops of the 1. Batterie, Flakscheinwerfer Abteilung 809 who were spending Christmas of 1943 in Italy.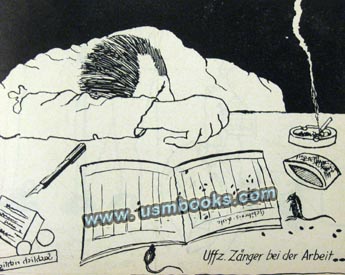 Giornale d'Italia Sonderausgabe zur Weihnachtsfeier 1943 der 1. Batterie, Flakscheinwerfer Abteilung 809 measures 9 x 11-1/2 inch and the 24 pages are filled with funny stories and illustrations about German soldier life with a Flak unit in the field in Italy. Poems and short stories about Palermo, Fallschirmjäger, the constant presence of fleas and battling them, British opponents, marching, troubles with wives on the home front, etc. Unteroffizier Heise was responsible for the written content and the funny cartoon-like drawings were done by Obergefreiter Dörhöfer.

This was clearly published to boost the morale of the men of the Flak Battalion 809 (part of Luftgau VII) during the lonley holiday season of 1943. According to equally funny "publishing information" in the back, the location of where this Sonderausgabe zur Weihnachtsfeier or Special Christmas Celebration Edition of Giornale d'Italia was put together was Geheim!! (Secret!!) and the frequency of publication is shown as "rare / never again hopefully"!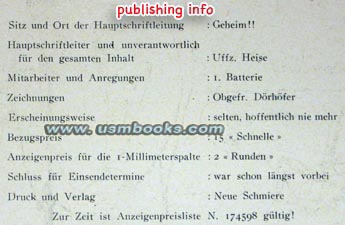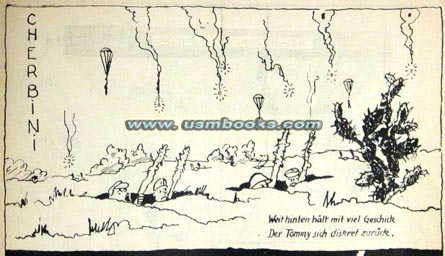 We have never seen an example of this rare magazine before. Apparently, few were kept after they were read and few Wehrmacht soldiers thought about taking one along on their hasty retreat to northern Italy and Nazi Germany in 1945! This one was sent home to a family back in the Fatherland.

Rare and in very good used condition.
NAZI FLAK UNIT IN-THE-FIELD MAGAZINE CHRISTMAS 1943 ITALY
A FUNNY, HEAVILY ILLUSTRATED UNIT PUBLICATION FOR NAZI FLAK TROOPS IN ITALY AT CHRISTMAS OF 1943


The images and the entire text used on this and all other USMBOOKS web pages are the copyrighted property of USM Inc. Those images and the text may be used by others ONLY AFTER completion of a formal international licensing agreement and payment of a licensing fee! It is therefore, illegal for anyone to take any of the material found on USMBOOKS.com and use it for their own purposes without our written permission, irrespective of any excuse they may feel they have for doing so.