The images and the entire text used on this and all other USMBOOKS web pages are the copyrighted property of USM Inc. Those images and the text may be used by others ONLY AFTER completion of a formal international licensing agreement and payment of a licensing fee! It is therefore, illegal for anyone to take any of the material found on USMBOOKS.com and use it for their own purposes without our written permission, irrespective of any excuse they may feel they have for doing so.
IMPORTANT! 10 Jahre Adolf Hitler 10 Jahre Roosevelt (10 Years Adolf Hiter, 10 Years Roosevelt) is an extremely anti-Jewish Nazi book of the most direct sort imaginable, printed in a small edition in 1943. It is a historical Third Reich document of a kind that is virtually impossible to acquire today anywhere. If you are easily upset by historical anti-Semitism, please read no further, and return to the previous USMBOOKS web page.
About Dr. Robert Ley:
Few people are aware of it, but Dr. Ley was the genius behind most of the organization of the Nazi Party. As Reichs Organization Leader (a cabinet level post) he was responsible for the publication of the Organisationsbuch der NSDAP which outlined how every Nazi paramilitary unit from the SS to the Hitler Youth was organized, what uniforms they wore and what their mission was. Dr. Robert Ley, Reichsorganisationsleiter and DAF Reichsleiter, was the man who established the Ordensburgen, made the Volkswagen and developed countless building projects throughout the Greater German Reich, from the time of his service in World War I through May 1945.

Der Deutsche Arbeitsfront (DAF or German Labor Front) was the principal Nazi organization under direct control Dr. Robert Ley. He was the organizer of the annual Reichsparteitag in Nürnberg. He published Der Schulungsbrief (The Party Directive) magazine and wrote part of the text of the Nazi Party member book Ich Kämpfe. Dr. Ley was one of the principal figures of the Nazi Party and an early NSDAP cabinet member in 1933. He was a World War I veteran, an old friend of Adolf Hitler and his degree was in the field of chemistry.

As Reichsleiter of the DAF Dr. Ley built the Ordensburg Castles at Vogelsang, Crössensee and Sonthofen. He built the towns and factories that produced everything from Volkswagens to tanks, and airplanes to ships and plywood. He oversaw every laborer that worked on the Reichsautobahn or elsewhere in Nazi Germany.

On 16 May 1945, Dr. Robert Ley was arrested at his villa in Berchtesgaden by American troops. On 25 October 1945, four days after being indicted at the Nürnberg War Crimes Trials, he committed suicide in his prison cell by hanging himself, thus cheating the Allies out of the chance to try the most anti-Semitic man in Germany. Much of the genius of Dr. Ley was never exposed as he was never put on trial or found responsible for the institutionalized anti-Semitism in Germany. Ley's work as Reichsorganisationsleiter was overshadowed by the high profile war work of Albert Speer who was not hung at Nürnberg, and thus survived the war to become his own best publicist.
This rare original 1943 Nazi book 10 Jahre Adolf Hitler 10 Jahre Roosevelt is
for sale for $145.00 delivered by 1st Class Mail in the continental USA.


USM book # 794
• IF you prefer faster and safer Priority Mail shipping with USPS Tracking add $6.65.
• IF you wish to purchase highly recommended, but optional insurance, add $3.45.
• We will be happy to ship abroad at additional cost. Please inquire.
10 YEARS OF ADOLF HITLER
10 YEARS ROOSEVELT
A VERY RARE 1943
NAZI PROPAGANDA PUBLICATION BY DR. LEY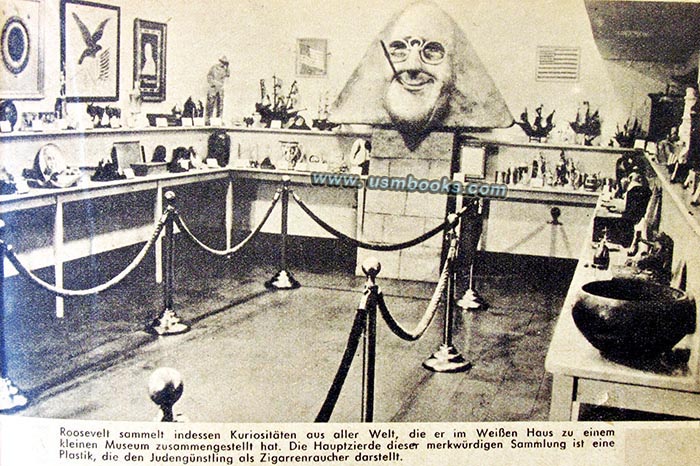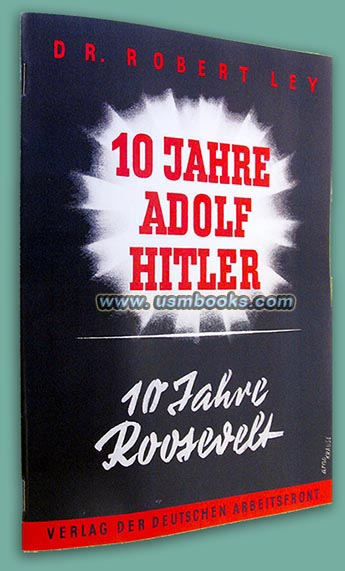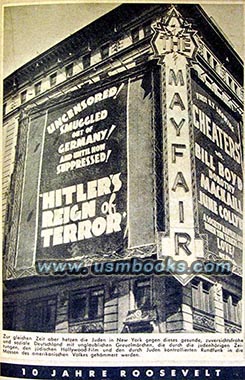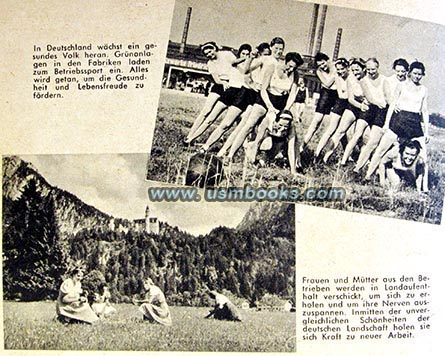 10 Jahre Adolf Hitler 10 Jahre Roosevelt was written by Reichsleiter Dr. Robert Ley. It is a historical comparison of the first ten years in Nazi Germany after Adolf Hitler was elected to power in 1933 and the same decade in the "Land of Utopia of Mr. Roosevelt".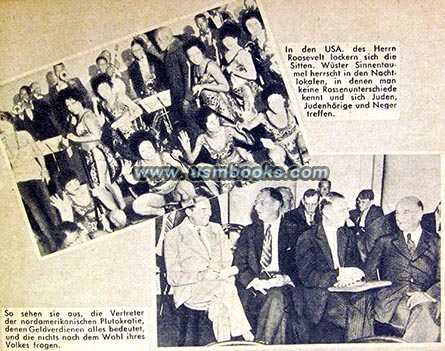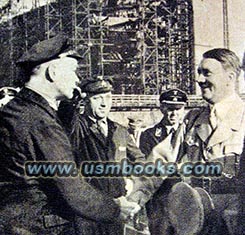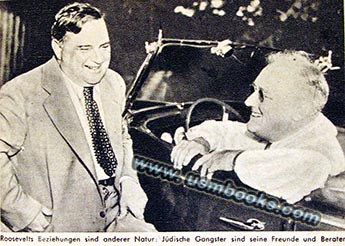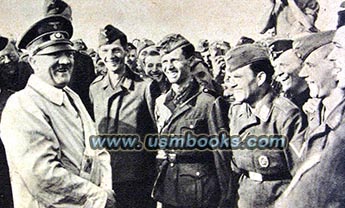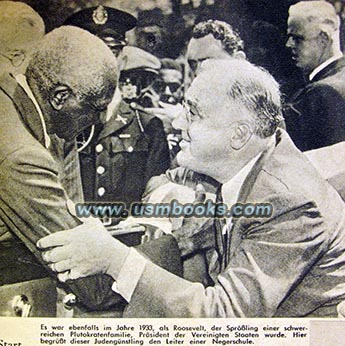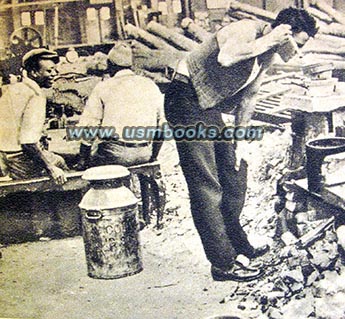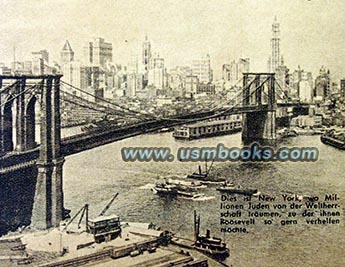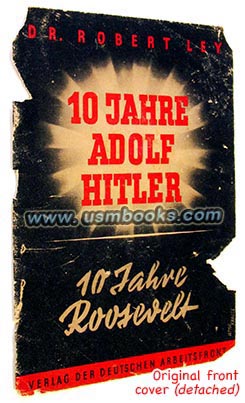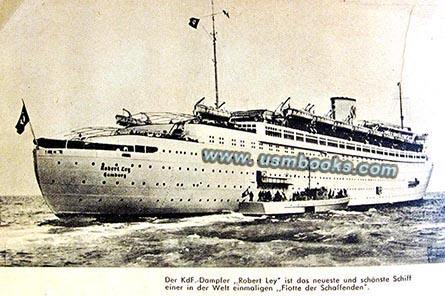 Dr. Ley reported that in Greater Germany there was more employment, increasing wages for all citizens of Nazi Germany (not just a small portion of the population), a bright future for all, KdF vacations for German laborers, a strong and improved military, a growing country, etc. In the United States, more poverty and unemployment, more homeless people, no economic improvement even after many of FDR's campaign promises and government plans and declining morals.
Photos show President Roosevelt surrounded by 'his backers' - Jews and Freemasons; people sleeping in the subway, black dancers in nightclubs, anti-German propaganda in NYC, Jewish gangsters, and with Winston Churchill. The contrast with photos from Greater Germany that Dr. Ley used is stark: happy, healthy Germans at work are shown, BdM girls, festive national holidays, Germans enjoying lovely alpine scenery during holidays, WHW charity collections, newborn Aryan babies in NSV homes, the new KdF cruise ship the "Robert Ley", Adolf Hitler visiting workers, and soldiers in the field and with his Wehrmacht Generals.
The end of 10 Jahre Adolf Hitler 10 Jahre Roosevelt contains several chapters about Germany and the USA at war. The contrast is highlighted again - Dr. Ley says the USA entered the war for economic purposes and Germany to spread peace and order throughout Europe.
Published by Verlag der Deutschen Arbeitsfront in Berlin in 1943, this 64 page Third Reich publication has 27 photos and a cover design by Arno Krause. It is complete and in nice used condition except for its original front cover.
The buyer of this book will receive the original detached front cover as well as a modern facsimile front and back cover made from an original in our archive.
EXTREMELY ANTI-JEWISH NAZI BOOK BY DR. ROBERT LEY