The images and the entire text used on this and all other USMBOOKS web pages are the copyrighted property of USM Inc. Those images and the text may be used by others ONLY AFTER completion of a formal international licensing agreement and payment of a licensing fee! It is therefore, illegal for anyone to take any of the material found on USMBOOKS.com and use it for their own purposes without our written permission, irrespective of any excuse they may feel they have for doing so.
IMPORTANT! Das grösste Sozialistische Aufbauwerk des deutschen Volkes (The Largest Socialist Build-Up Ever of the German Nation) is an extremely anti-Jewish book of the most direct sort imaginable. Printed in a very small edition in 1941, it is a historical Third Reich document of a kind that is hard to acquire anywhere today. If you are easily upset by historical anti-Semitism, please read no further, and return to the previous USMBOOKSweb page.
About Dr. Robert Ley:
Few people are aware of it, but Dr. Ley was the genius behind most of the organization of the Nazi Party. As Reichs Organization Leader (a cabinet level post) he was responsible for the publication of the Organisationsbuch der NSDAP which outlined how every Nazi paramilitary unit from the SS to the Hitler Youth was organized, what uniforms they wore and what their mission was. Dr. Robert Ley, Reichsorganisationsleiter and DAF Reichsleiter, was the man who established the Ordensburgen, made the Volkswagen and developed countless building projects throughout the Greater German Reich, from the time of his service in World War I through May 1945.

Der Deutsche Arbeitsfront (DAF or German Labor Front) was the principal Nazi organization under direct control Dr. Robert Ley. He was the organizer of the annual Reichsparteitag in Nürnberg. He published Der Schulungsbrief (The Party Directive) magazine and wrote part of the text of the Nazi Party member book Ich Kämpfe. Dr. Ley was one of the principal figures of the Nazi Party and an early NSDAP cabinet member in 1933. He was a World War I veteran, an old friend of Adolf Hitler and his degree was in the field of chemistry.

As Reichsleiter of the DAF Dr. Ley built the Ordensburg Castles at Vogelsang, Crössensee and Sonthofen. He built the towns and factories that produced everything from Volkswagens to tanks, and airplanes to ships and plywood. He oversaw every laborer that worked on the Reichsautobahn or elsewhere in Nazi Germany.

On 16 May 1945, Dr. Robert Ley was arrested at his villa in Berchtesgaden by American troops. On 25 October 1945, four days after being indicted at the Nürnberg War Crimes Trials, he committed suicide in his prison cell by hanging himself, thus cheating the Allies out of the chance to try the most anti-Semitic man in Germany. Much of the genius of Dr. Ley was never exposed as he was never put on trial or found responsible for the institutionalized anti-Semitism in Germany. Ley's work as Reichsorganisationsleiter was overshadowed by the high profile war work of Albert Speer who was not hung at Nürnberg, and thus survived the war to become his own best publicist.
Only 3000 examples of Das grösste Sozialistische Aufbauwerk des deutschen Volkes (The Largest Socialist Build-Up Ever of the German Nation) by Dr. Robert Ley were printed in 1941 by Verlag der Deutschen Arbeitsfront.


This 1941 example of Das größte sozialistische Aufbauwerk des deutschen
Volkes is for sale for $75.00 delivered by 1st Class Mail in the USA.


USM book # 828
• IF you prefer faster and safer Priority Mail shipping with USPS Tracking add $6.65.
• IF you wish to purchase highly recommended, but optional insurance, add $3.25.
• We will be happy to ship abroad at additional cost. Please inquire.
A RARE 1941 NAZI PROPAGANDA PUBLICATION BY DR. ROBERT LEY ABOUT SOCIAL IMPROVEMENTS
IN NAZI GERMANY
Ley's speech outlined the National Socialist plan of the Deutsche Arbeitsfront to improve life for all citizens of Nazi Germany - not just for a small segment of German society, but for all Germans!

Photos show happy German factory workers, Westwall workers, modern healthcare facilities for average German citizens, modern social housing and schooling for the average German, a portrait of Adolf Hitler and fierce looking members of the SS and German Army.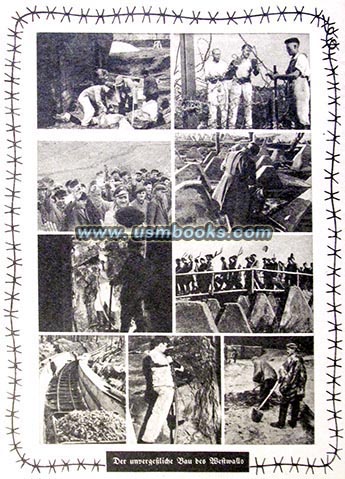 Cover illustration and photo layout by Rolf Schlösser and photos by Heinrich Hoffmann Verlag, Keystone View Company, Ludwig Lang and a few other German photo companies.

This example of Das grösste Sozialistische Aufbauwerk des deutschen Volkes is complete and in very nice, little used condition.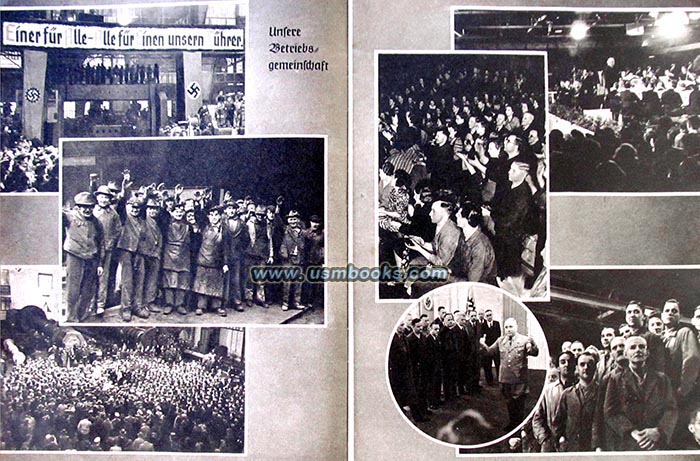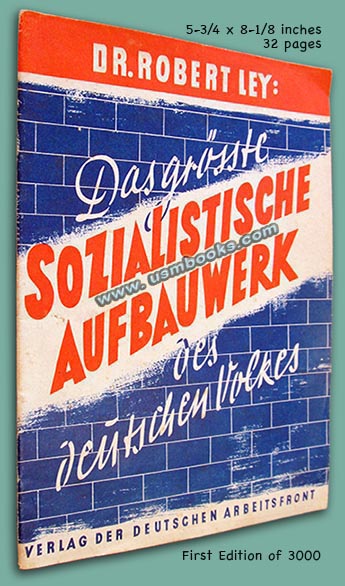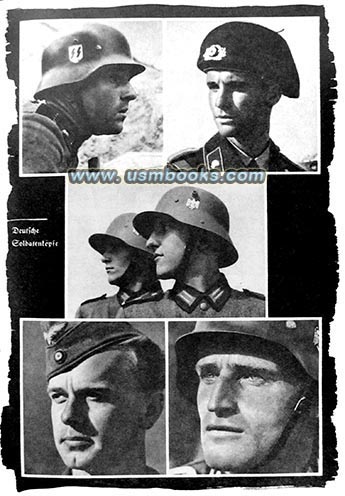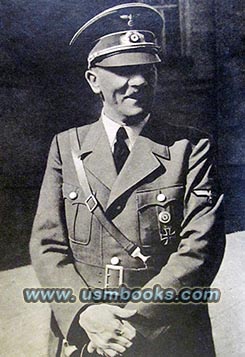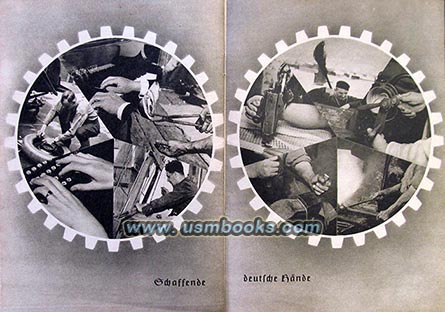 The rare, heavily illustrated 5-3/4 x 8-1/8 inch, 32 page publication contains the text of a speech by Reichsorganisationsleiter and DAF Reichsleiter Dr. Ley gave to the Gau leadership and economic advisors of the NSDAP. Subjects range from the German Social Order, to the Task of the DAF and German Society, the National Socialist Economic Order, Healthcare in the German Nation, Care for the Elderly in the German Nation, Social Housing, National Socialist Wage Regulations, etc. The Nazis endorsed these social programs long before they were adopted by other European nations.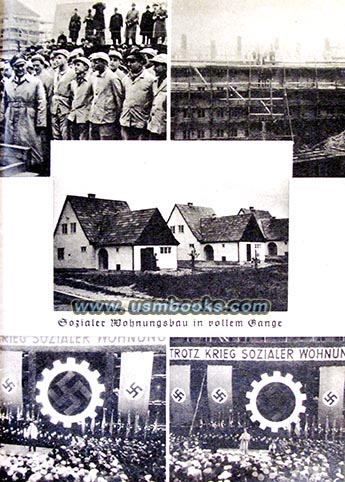 EXTREMELY ANTI-JEWISH BOOK BY DR. ROBERT LEY