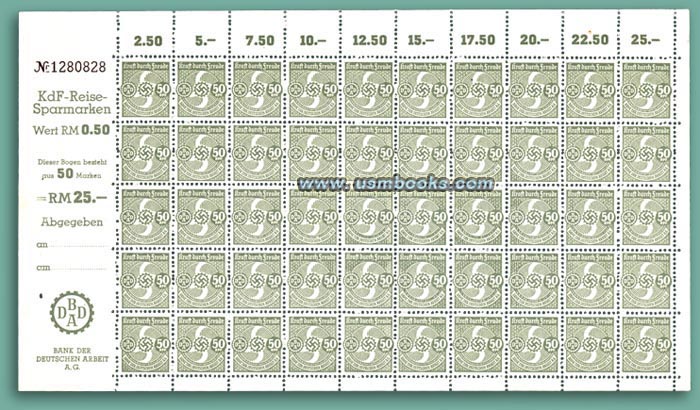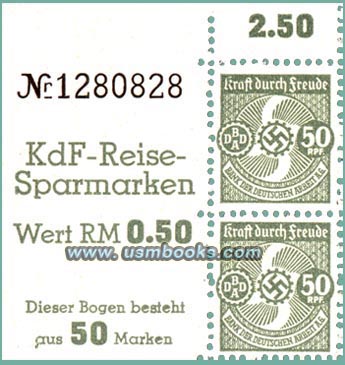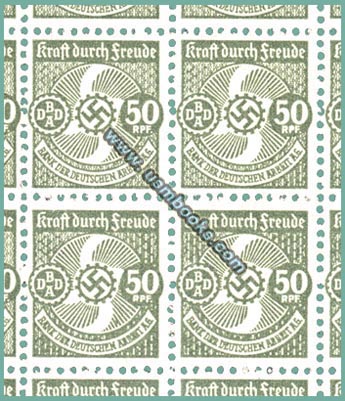 The Third Reich Kraft durch Freude or Strength through Joy organization was part of the Deutsche Arbeitsfront (DAF or German Labor Front). One of the many things the organization did for German laborers was to organize trips, holidays and recreation for millions of German workers, as they believed travel should not only be for wealthier Germans.
Many Third Reich collectors are familiar with the KdF Wagen or Volkswagen car which Germans could purchase by buying KdF savings stamps, and the same system was set in place by the Nazi Strength through Joy organization to save up for an affordable KdF trip.

Offered for sale on this USMBOOKS web page is a very rare original complete sheet of FIFTY unused green embossed 0.50 Reichsmarks KdF-Reise-Sparmarken or KdF travel saving stamps with a combined value of 25 Reichsmarks. This Bank der deutschen Arbeit (Bank of German Labor) stamp sheet is serial number 1280828 and none of the gum-back stamps were ever torn off the 5-½ x 9-1/2 inch perforated sheet. They are in very nice unused condition. Rare!


Through 1939 more than 43 million KdF trips were sold, most of them day trips but also one or two week cruises to Norway and the Mediterranean. A one week cruise to Norway cost only about 60 Reichsmarks (US$ 24) and an all-inclusive 12-day Italian cruise cost around RM 150 (US$60). The average monthly salary of German workers was around RM 150.00 or US$60.00.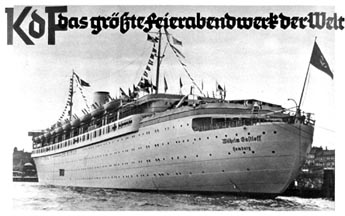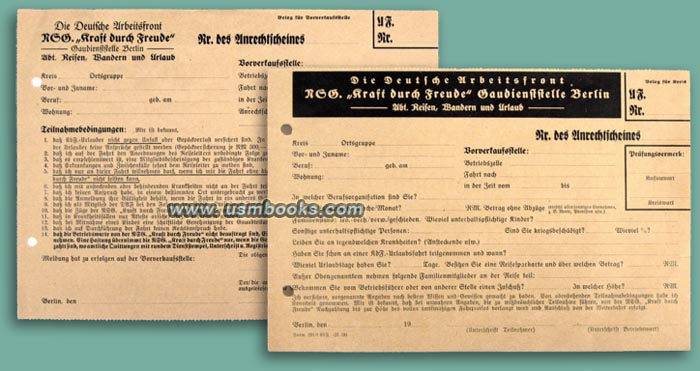 RARE ORIGINAL GAUDIENSTSTELLE BERLIN KdF MEMBER TRAVEL FORMS
TWO RARE NAZI FORMS TO BE FILLED OUT BY DAF MEMBERS WHO WANTED TO GO ON A KdF VACATION
These rare original Gaudienststelle Berlin KdF travel forms are for sale
for $55.00 delivered by 1st Class Mail in the continental USA,
$35.00 if purchased with the sheet of 50 KdF-Reise-Sparmarken sbove.

• IF you prefer faster and safer Priority Mail shipping with USPS Tracking add $6.45.
• IF you wish to purchase highly recommended, but optional insurance, add $2.95.
• We will be happy to ship abroad at additional cost. Please inquire.
These two original Third Reich forms originated at the DAF office of Gaudienststelle Berlin, the KdF (Strength through Joy) department of Reisen, Wandern und Urlaub (Travel, Hiking and Holidays). These forms had to be filled out by DAF members who wanted to take advantage of the travel opportunities offered by the Kraft durch Freude organization of the Deutsche Arbeitsfront.

The 5-1/2 x 8-1/4 inch form with the black header was for personal information: name, address, Ortsgruppe and Kreis, monthly or weekly salary, married/single/divorced, children, illnesses, etc. There is even a question about whether or not the applicant was Kriegsbeschädigt and the official percentage of the "War Damage"!

There are additional questions about the number of vacation days the applicant had available, if he/she had every participated in a KdF vacation before and if a KdF Reisesparkarte (to which the stamps offered above had to be attached) already had been purchased and in which value.

The second form lists 14 Teilnahmebedingungen or Terms of Participation which the traveler had to sign in agreement. They cover rules and regulations regarding illness, cancelation of the trip in case of insufficient travelers, change of destination, accident and luggage insurance (NOT included), having to follow the directions of the Reiseleiter or tour guide at all times, the obligation to wear the DAF-Abzeichen or badge while en route, etc. Number 5 is underlined: the applicant could only participate if he or she could not afford the pay for the trip without the financial help of the NSV!

Both forms have two punch holes and were never filled out. A rare insight into KdF travel in Nazi Germany.


The images and the entire text used on this and all other USMBOOKS web pages are the copyrighted property of USM Inc. Those images and the text may be used by others ONLY AFTER completion of a formal international licensing agreement and payment of a licensing fee! It is therefore, illegal for anyone to take any of the material found on USMBOOKS.com and use it for their own purposes without our written permission, irrespective of any excuse they may feel they have for doing so.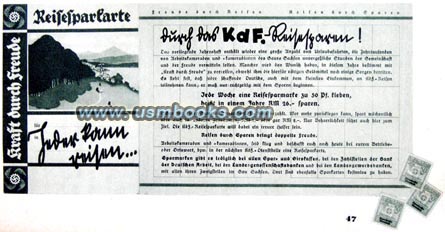 Above is original period advertising for KdF travel saving stamps from a Third Reich travel magazine.
This rare unused sheet of 50 Third Reich KdF-Reise-Sparmarken is **SOLD**.

• IF you prefer faster and safer Priority Mail shipping with USPS Tracking add $6.45.
• IF you wish to purchase highly recommended, but optional insurance, add $5.95.
• We will be happy to ship abroad at additional cost. Please inquire.
NAZI KdF TRAVEL SAVINGS STAMPS - kdF-REISE SPARMARKEN

- SHEET OF 50
AND KdF GAUDIENSTSTELLE BERLIN FORMS FOR FUTURE TRAVELERS
A VERY RARE ORIGINAL FULL SHEET OF 50
DAF KdF-REISE OR STRENGTH THROUGH JOY TRAVEL SAVINGS STAMPS - COMPLETE