The images and the entire text used on this and all other USMBOOKS web pages are the copyrighted property of USM Inc. Those images and the text may be used by others ONLY AFTER completion of a formal international licensing agreement and payment of a licensing fee! It is therefore, illegal for anyone to take any of the material found on USMBOOKS.com and use it for their own purposes without our written permission, irrespective of any excuse they may feel they have for doing so.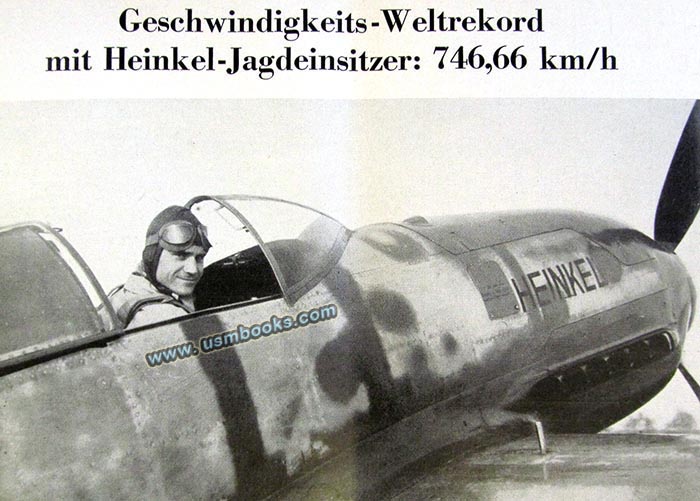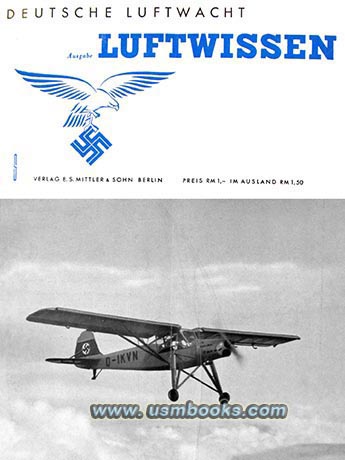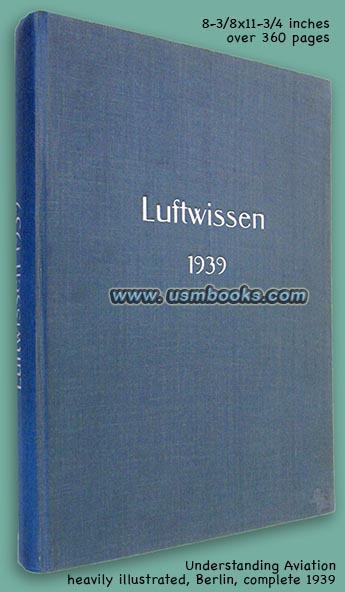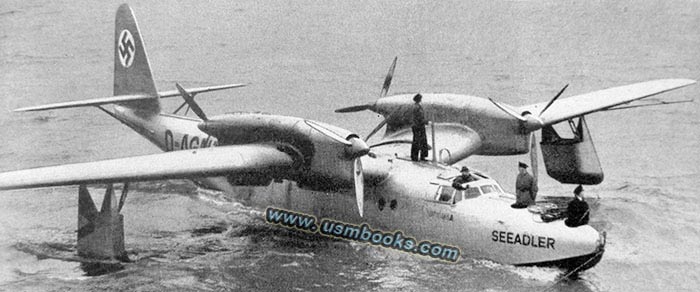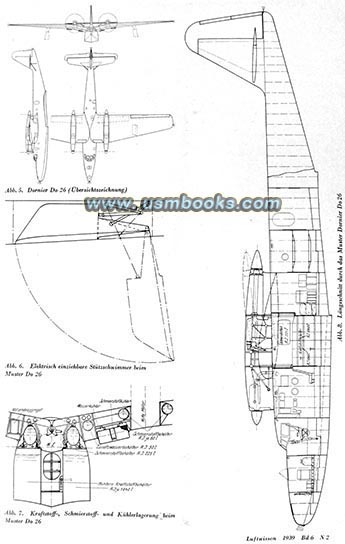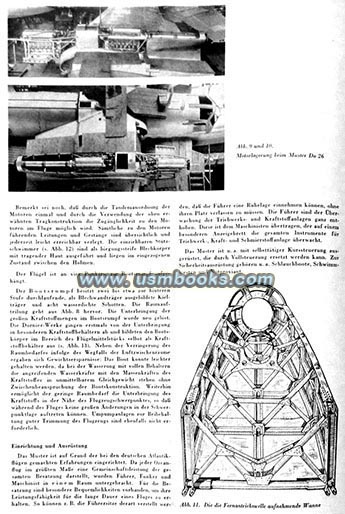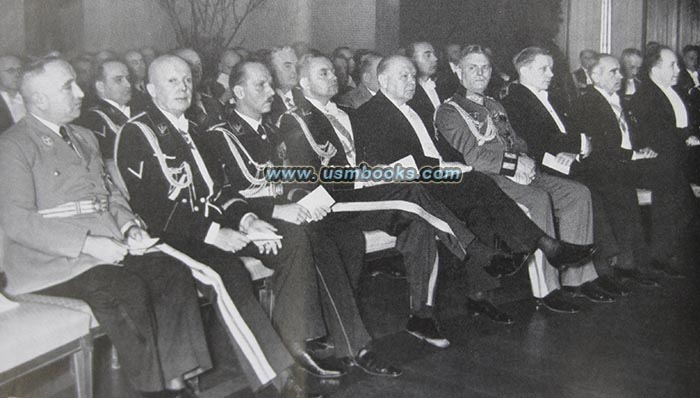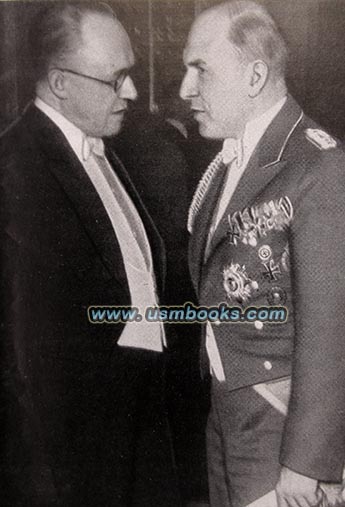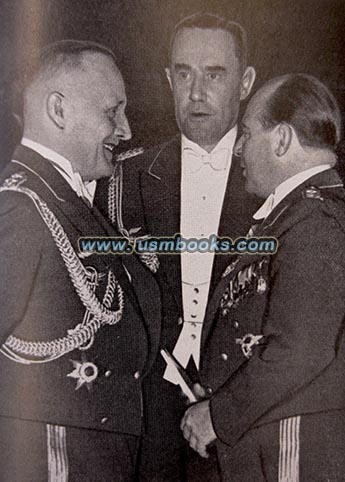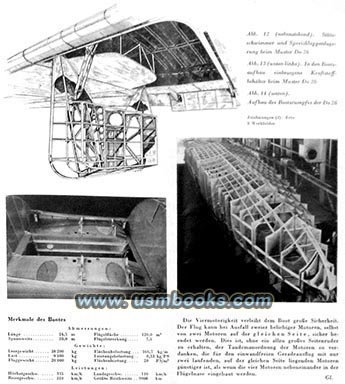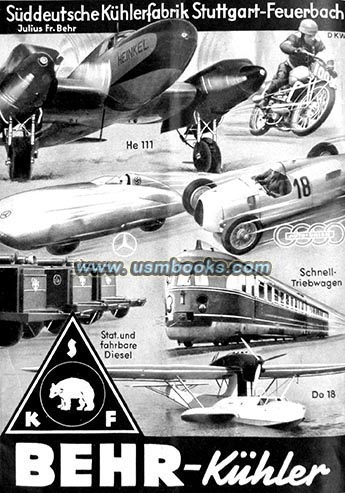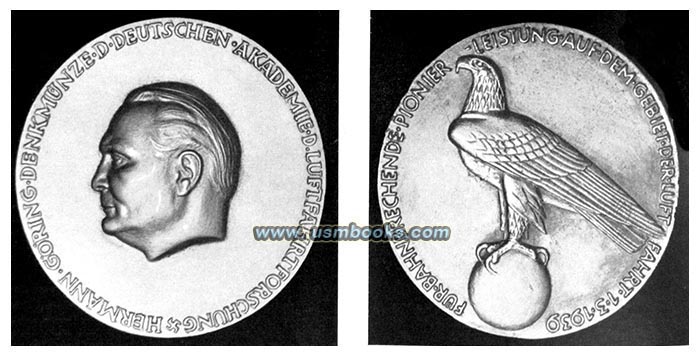 This book contains ALL the 1939 issues of the Nazi aviation magazine Deutsche Luftwacht Ausgabe LUFTWISSEN (German Aviation Review Air Knowledge) bound in hard covers. The 8-3/8 x 11-¾ inch book has over 360 pages stuffed full of the latest in aviation news, airplanes, aeronautical research in the year 1939, complete with fantastic period aviation related advertising and it is fully indexed.
Deutsche Luftwacht Luftwissen
magazine was published in association with the Lilienthal Association for Aviation Research in Berlin by W.S. Mittler & Sohn in Berlin. This is the sister-publication of the Third Reich aviation magazine
Deutsche Luftwacht LUFTWELT
. The price of each issue in Germany was RM 1.00 and RM1.50 for subscribers outside Nazi Germany.
Every 1939 issue of Deutsche Luftwacht Ausgabe Luftwissen contains sophisticated in-depth photo reports on subjects such as the Aviation Exhibition held in Paris, new designs and airplane construction methods, engine manufacturers, the Arado Ar79 flight to Australia, airplane cabin manufacture, high-altitude sailplane flying, the transoceanic Dornier Do26 (design, technical drawings with dimensions, photos), the Protectorate of Bohemia and Moravia and Aviation, machines to help with bad weather landings, aerodynamic resistance, the Junkers Ju90, new aviation speed records (Junkers, Gotha and Messerschmitt), the latest aviation developments, Focke-Wulf Condor Fw200, festivities during the Day of German Aviation (attended by Nazi dignitaries such as Dr. Robert Ley, Reichsminister Lammers, OKW Generaloberst Keitel, Reichssportführer State Secretary Hans von Tschammer und Osten, and even the German Ambassador in Washington Dr. Heinrich Dickhoff!), the reception of the German Academy of Aviation Research (attended by Nazi dignitaries such as Dr. Robert Ley, Professor Heinkel and Messerschmitt, Ernst Udet, General der Flieger Stumpff, Generalmajor Bodenschatz, Dr. Fritz Todt, Ministerialdirektor von Manteuffel, General der Flieger Kesselring, Generaloberst Keitel, reports from the public meeting of the German Academy of Aviation Research held on 10 and 11 May 1939, pilot promotions, the DeHavilland D.H. 95 'Flamingo', the Italian parachute 'Salvator D.39', long distance flight techniques and non-stop flights from Germany to South America, airplane engine oil, high-altitude flying, new radio equipment for sailplanes, the BMW airplane engine 132L, problems with mass production of airplanes, measuring airplane speed records, automatic pilot, lowering airplane fuel use, the Focke-Wulf Fw 58, the Invasion of Poland, the English aircraft carrier 'Courageous' and 'Ark Royal', the Pratt & Whitney 'Double Wasp' airplane engine, the Hs126, the founding of the French Aviation Research Association, new wind tunnels, etc., etc., etc.
There are many short technical and research announcements, reviews of new Third Reich aviation books, announcements of test pilot deaths, as well as wonderful advertising by Blohm & Voss, Siemens, Fieseler Flugzeugbau, Behr, Ernst Heinkel Flugzeugwerke, Askania, Junkers Flugzeug- und Motorenwerke, Zeiss-Ikon, Dornier, Lorenz, Dresdner Bank, Henschel Flugzeug-Werke, Focke-Wulf, IG Farben, Telefunken, Arado, Continental, Bosch, etc.

The covers of Luftwissen magazine always have large interesting photos of subjects like the Fieseler Storch, Nazi gliders, famous Nazi aviation personalities, Luftwaffe pilots in action, etc.

These 1939 issues of Deutsche Luftwacht Ausgabe Luftwissen were bound when they were in very good condition. They are very rare, irreplaceable historical Third Reich technical aviation material and the bound book is in very good condition.

The front flyleaf has the stamp of Bücherei Dr. Othmar Helwig, apparently the library of the company that had these rare Nazi aviation magazines bound. Priceless photographic content.
This bound volume of all 1939 Deutsche Luftwacht LUFTWISSEN magazines
is for sale for $295.00 delivered by Media Mail in the continental USA.


USM book #782
• IF you prefer faster and safer Priority Mail shipping with USPS Tracking add $9.95.
• IF you wish to purchase highly recommended, but optional insurance, add $4.95.
• We will be happy to ship abroad at additional cost. Please inquire.
HARDBOUND BOOK CONTAINING ALL THE 1939 ISSUES OF NAZI
DEUTSCHE LUFTWACHT LUFTWISSEN MAGAZINE
ALL 1939 ISSUES OF THE
HEAVILY ILLUSTRATED
NAZI MAGAZINE
'AVIATION KNOWLEDGE'
PROFESSIONALLY HARDBOUND IN A BOOK
IN NAZI GERMANY,
FULLY INDEXED