The images and the entire text used on this and all other USMBOOKS web pages are the copyrighted property of USM Inc. Those images and the text may be used by others ONLY AFTER completion of a formal international licensing agreement and payment of a licensing fee! It is therefore, illegal for anyone to take any of the material found on USMBOOKS.com and use it for their own purposes without our written permission, irrespective of any excuse they may feel they have for doing so.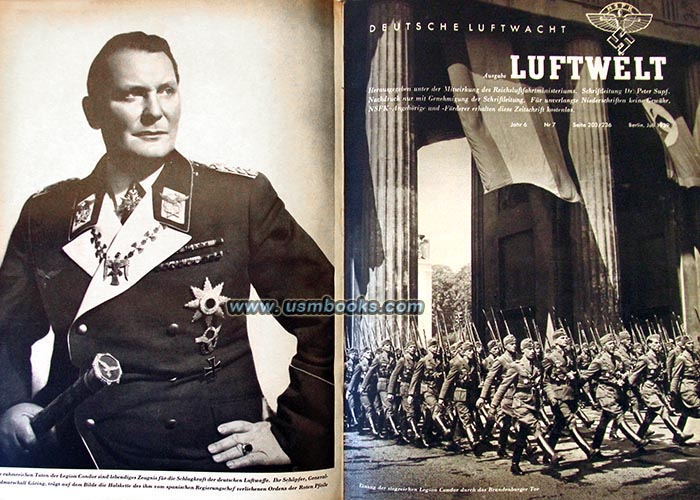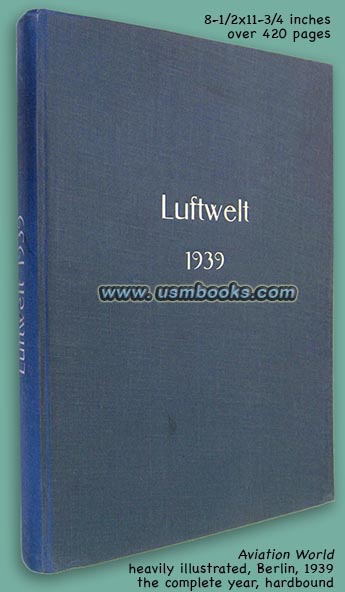 ALL 1939 ISSUES OF THE HEAVILY ILLUSTRATED
NAZI MAGAZINE 'AVIATION WORLD' PROFESSIONALLY HARDBOUND IN A BOOK
IN NAZI GERMANY,
FULLY INDEXED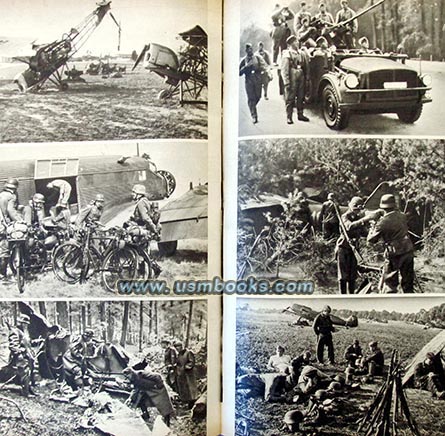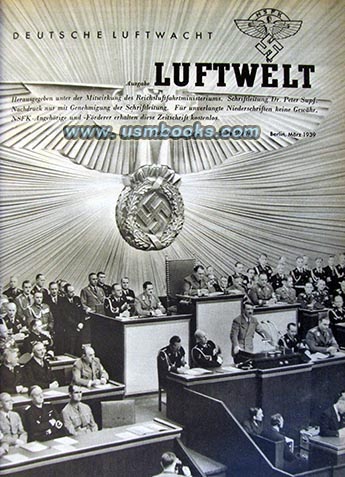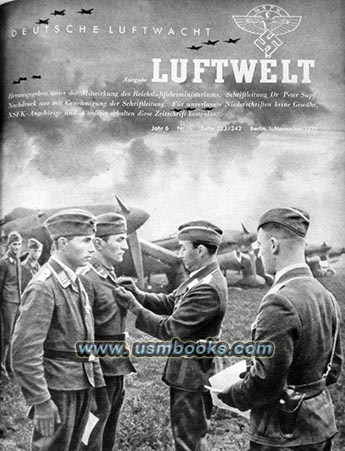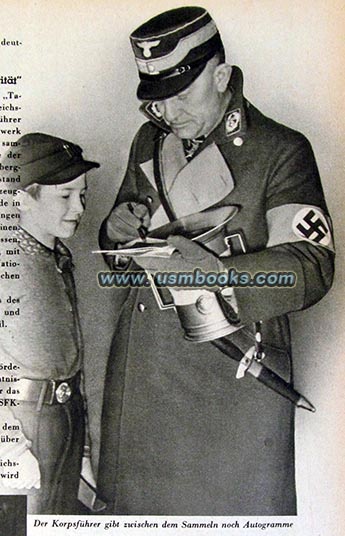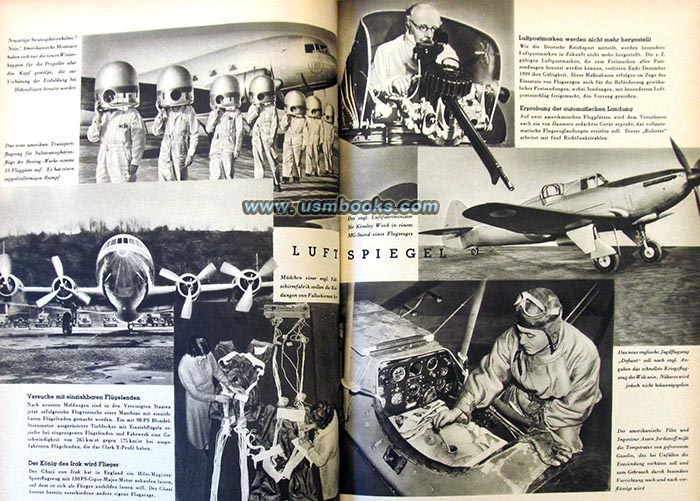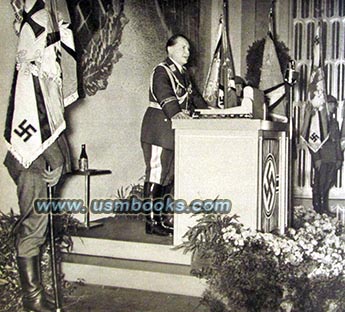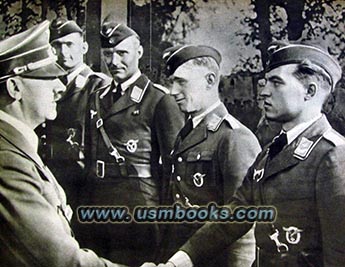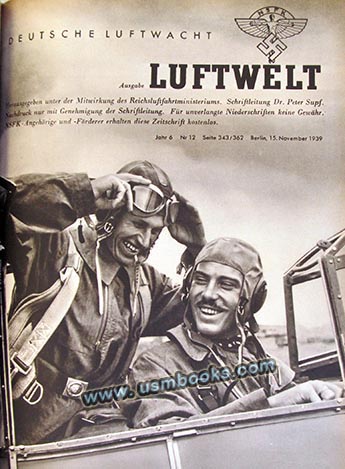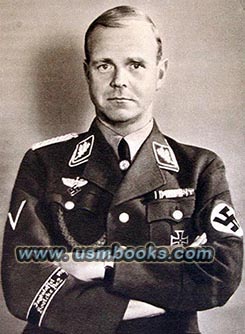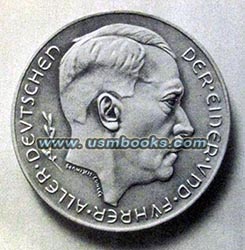 This book contains ALL 1939 issues of the Nazi aviation magazine Deutsche Luftwacht Ausgabe Luftwelt library-bound in Nazi Germany in hard covers. The 8-½ x 11-¾ inch book has over 400 pages stuffed full of the latest in aviation news, airplanes, parts, engines, etc. in the year 1939, complete with fantastic period aviation related advertising, and it is fully indexed.
Deutsche Luftwacht Ausgabe Luftwelt
magazine was published in association with the
Reichsluftfahrtministerium
(German Aviation Ministry) in Berlin by W.S. Mittler & Sohn of Berlin. This is the sister-publication of the Third Reich aviation magazine
Deutsche Luftwacht LUFTWISSEN
and
Deutsche Luftwacht LUFTWEHR
. The price of each issue was RM 0.50but available at no cost for members of the NSFK!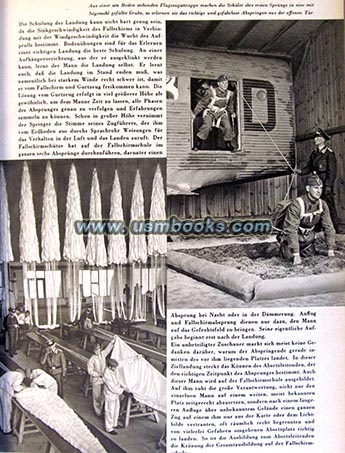 Every 1939 issue of
Deutsche Luftwacht Ausgabe Luftwelt
contains sophisticated in-depth photo reports on subjects such as the NS-Fliegerkorps leader Luftwaffe General Friedrich Christiansen looking back on the 'victorious' year 1938, new aviation records, the launch of the German aircraft carrier 'Graf Zeppelin', the Paris Aviation Show and Conference, the NSFK in Ostmark, Generalleutnant Udet after a record test flight, the making of the new German aviation movie
"Pour le Mérite"
, new NSFK construction, the new trans-atlantic Dornier Do 26, the de-icing battle, changes in the organization of the Luftwaffe and the promotion of Friedrich Christiansen to General der Flieger, aviation in Sudetenland, paratroopers at Stendal, the 25th anniversary of the Dornier company, the nomadic life of Luftwaffe pilots, NSFK, HJ and Olympic Sailplane competitions, barrage balloons, foreign dignitaries visiting the grave of Manfred von Richthofen, paratrooper gear, the Italian Armed Forces and the Lilienthal Gesellschaft study trip to Italy, famous female aviator Elly Rosemeyer-Beinhorn, Third Reich aviation art, the return of the victorious Legoin Condor to Berlin, model airplanes, Fw 200 Condor flights to South America, Sportflieger Helmut Taxis, Aero-Club von Deutschland, the bombing of Warsaw on 1 October 1939, the Nazi aviation movie
"D III 88"
, Luftwaffe reconnaissance over England, and much, much more.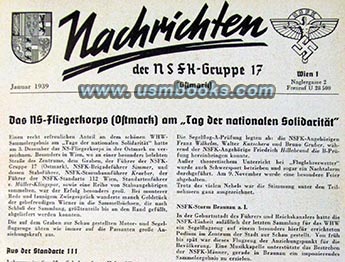 There are reviews of new Third Reich aviation books (some endorsed by Udet and Christiansen), announcements of test pilot deaths, as well as wonderful advertising by Deutsche Lufthansa, Siemens, Krupp, NSU, Otto Boenicke, the 1939 International Auto and Motorcycle Exhibition in Berlin, BP, Shell, Deutsche Reichspost, Ernst Heinkel Flugzeugwerke, Gothaer Waggonfabrik, Focke-Wulf, Henschel Flugzeug-Werke, Arado, etc.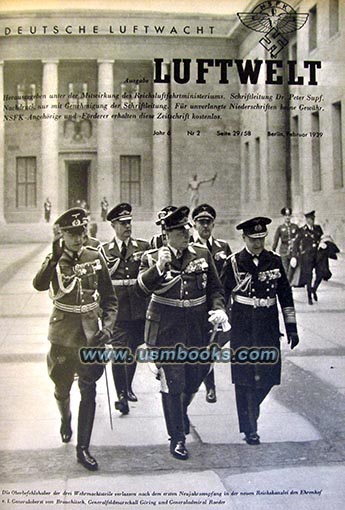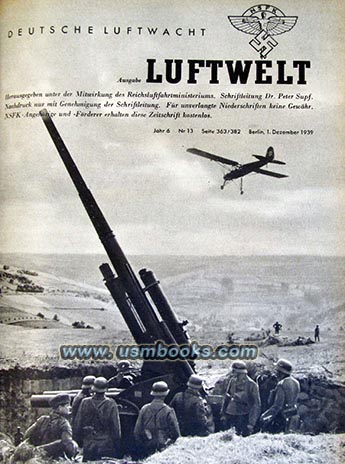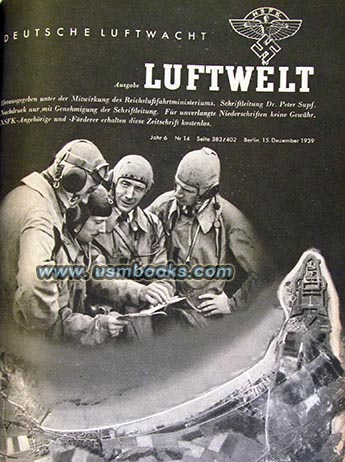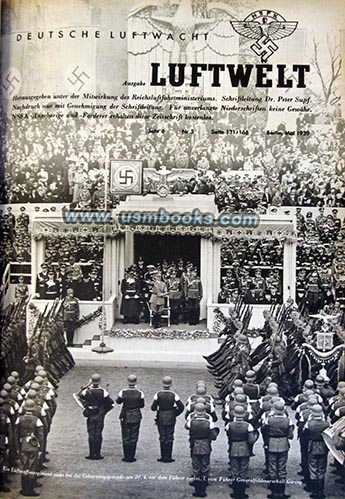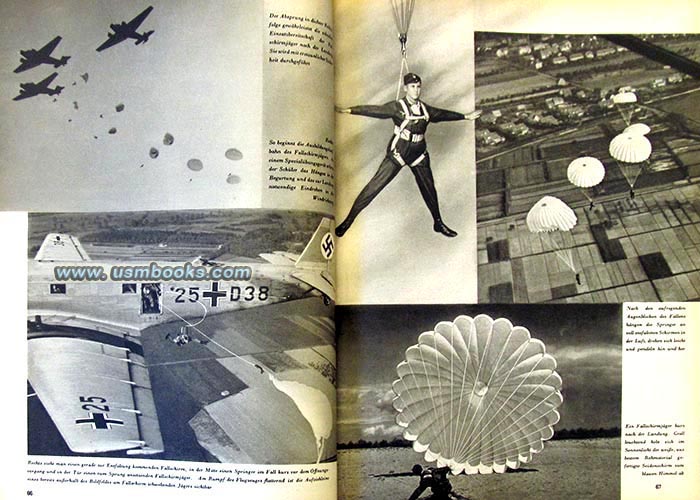 These 1939 issues of Deutsche Luftwacht Ausgabe Luftwelt were bound when they were in unread condition. They are very rare, irreplaceable historical Third Reich aviation material and the bound book is in very good condition.

The front flyleaf has the stamp of Bücherei Dr. Othmar Helwig, apparently the library of the company that had these rare Nazi aviation magazines bound. Priceless photographic content.
This bound volume of all 1939 Deutsche Luftwacht LUFTWELT magazine
is **SOLD**.


USM book #784
• IF you prefer faster and safer Priority Mail shipping with USPS Tracking add $8.95.
• IF you wish to purchase highly recommended, but optional insurance, add $4.95.
• We will be happy to ship abroad at additional cost. Please inquire.
HARDBOUND BOOK CONTAINING ALL THE 1939 ISSUES OF
NAZI DEUTSCHE LUFTWACHT LUFTWELT MAGAZINE