The images and the entire text used on this and all other USMBOOKS web pages are the copyrighted property of USM Inc. Those images and the text may be used by others ONLY AFTER completion of a formal international licensing agreement and payment of a licensing fee! It is therefore, illegal for anyone to take any of the material found on USMBOOKS.com and use it for their own purposes without our written permission, irrespective of any excuse they may feel they have for doing so.
This official Nazi guidebook to the 1940 House of German Art Exhibition
is for sale for $65.00 delivered by Media Mail in the continental USA.


USM book #687
• IF you prefer Priority Mail shipping with USPS Tracking add $6.65.
• IF you wish to purchase highly recommended, but optional insurance, add $2.95.
• We will be happy to ship abroad at additional cost. Please inquire.
The Haus der Deutschen Kunst (House of German Art) was built in a park-like setting just northeast of the Feldherrnhalle in downtown München (Munich) on the orders of Adolf Hitler, to replace the Crystal Palace Gallery which had been destroyed by fire in 1931. It was built under the direction of Professor Paul Ludwig Troost who died before it was finished. The building was completed by his widow, Gerdie Troost with the help of her associate professor Leonhard Gall in 1937. Each year the work of German artists from Germany and abroad was showcased at the House of German Art.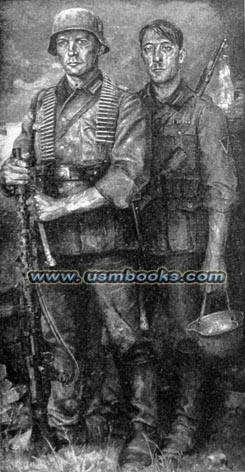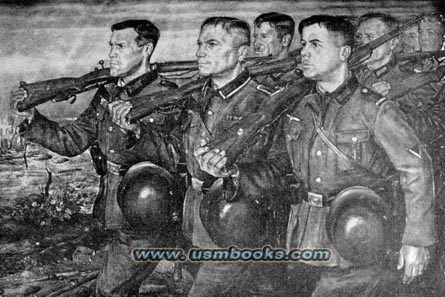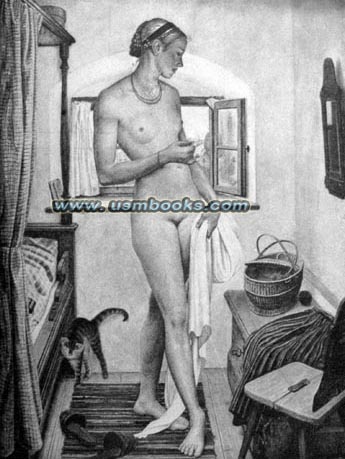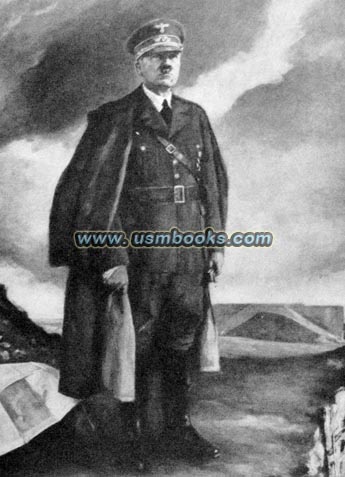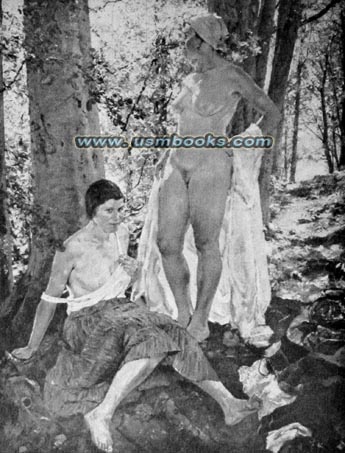 Offered for sale on this USMBOOKS web page is the full exhibition catalog for the Grosse Deutsche Kunstausstellung (Greater German Art Exhibition) held from June through October 1940 at the House of German Art in central München, Germany.
The 196-page, 5-7/8 x 8-1/4 inch heavily illustrated softcover book begins with a portrait of the Führer followed by a picture and multi-color floor plans of the Haus der Deutschen Kunst. That is followed by a written overview of the building and a directory of each of the artists and the works being exhibited and reproductions of the principal works of the exhibition (top Nazis, nudes, heroic sculptures, landscapes, etc.) one to a page.
Some of the artists featured in the 1940 catalog are Sepp Hilz, Josef Thorak, Arno Breker, Georg Kolbe, Klimsch, Werner Peiner, Wolf Willrich, Hans Happ, Herbert Kampf, Eduard Thöny, Junghanns, Oskar Martin-Amorbach, Konrad Hommel, Willy Waldapfel, Klaus Bergen, Elk Eber, Paul Mathias Padua, Wamper, etc.

The last pages are advertising for things like SS Allach (Frederick the Great), Heinrich Hoffmann Photo Studios, Rosenthal porcelain, Germany's biggest advertising agency ALA, Löwenbrau beer, and other products and services.

This book is complete and in very nice condition.
NAZI 1940 HOUSE OF GERMAN ART EXHIBITION CATALOG
THE OFFICIAL 1940 NAZI

HAUS DER DEUTSCHEN KUNST

OR HOUSE OF GERMAN ART
EXHIBITION CATALOG