The images and the entire text used on this and all other USMBOOKS web pages are the copyrighted property of USM Inc. Those images and the text may be used by others ONLY AFTER completion of a formal international licensing agreement and payment of a licensing fee! It is therefore, illegal for anyone to take any of the material found on USMBOOKS.com and use it for their own purposes without our written permission, irrespective of any excuse they may feel they have for doing so.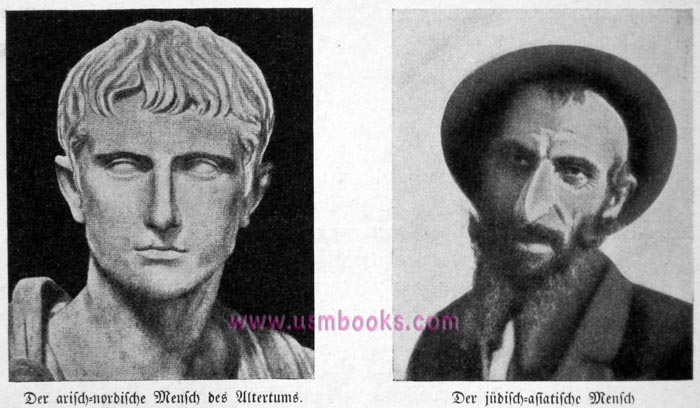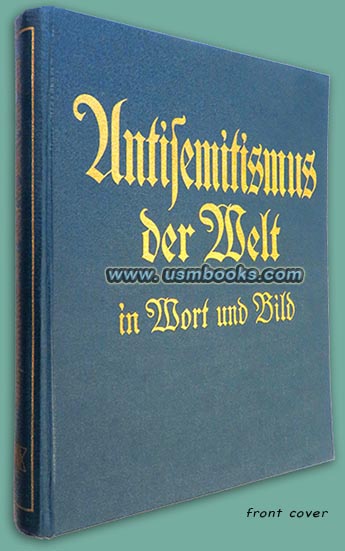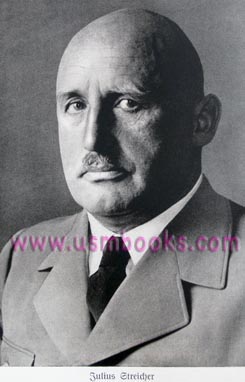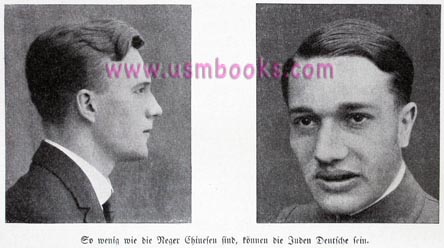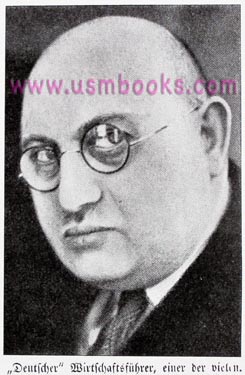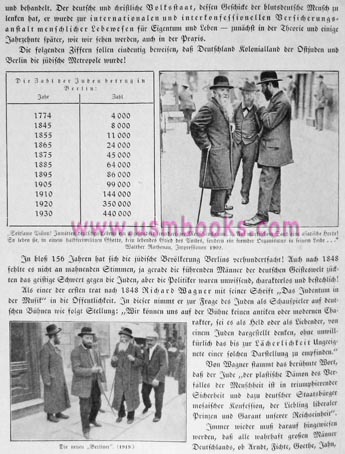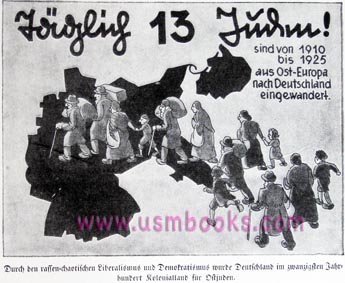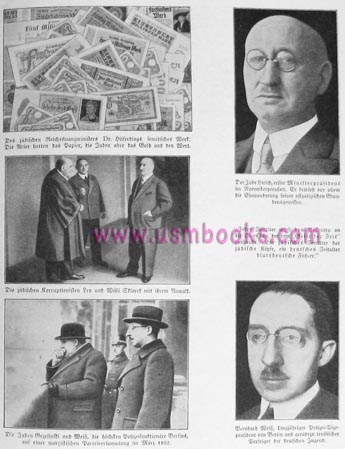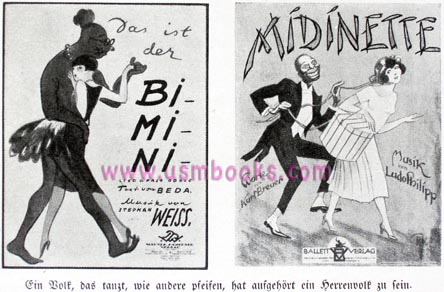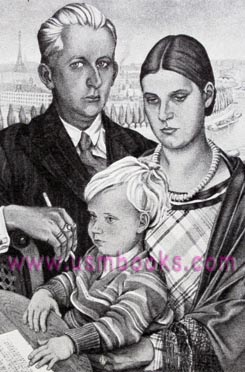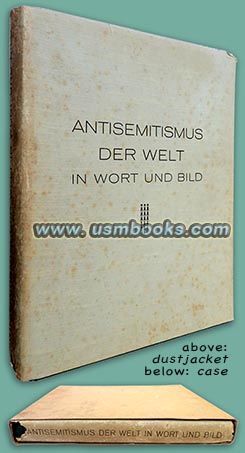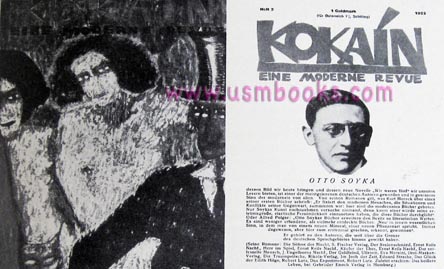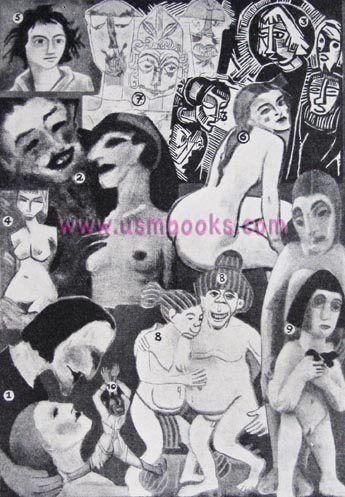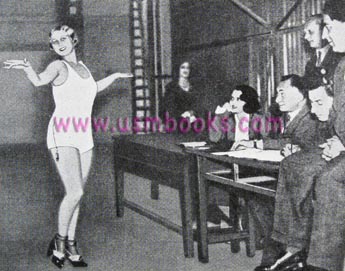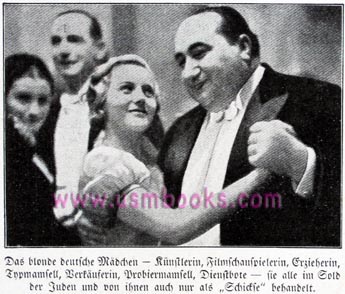 This is an exceptionally nice example of the very big 9 x 11-1/2 inch (and 1-1/2 inches thick!), 326 page, very, very heavily illustrated 5 pound hard cover book Antisemitismus der Welt in Wort und Bild (Anti-Semitism in the World - in Word and Picture) by Dr. Robert Körber, Prof. Dr. Theodor Pugel in cooperation with Regierungsrat Prof. Dr. Benno Immendörfer and Dr. Erich Führer as published in 1935 by M.O. Groh of Dresden.
The book is dedicated to the most anti-Jewish human in all of Germany, Frankenführer and publisher of the anti-Semitic Der Stürmer newspaper, Julius Streicher.
Following a brief but very direct anti-Jewish rant of four pages, the book focusses on anti-Semitism in Egypt and Palestine from the time of Emperor Tiberius. There are full-page pictures of Roman leaders and important historical sites.
A second portion of the book covers anti-Semitism in the Middle Ages from the time of the German Battle of the Teutoburg Forest through the many medieval Popes and the consolidation of the power of the Roman Catholic Church in Europe. Another portion of the book focusses on the anti-Semitism of the historic era through 1800 covering things like the Crusades, Kaiser Friedrich II in Jerusalem, Martin Luther, Christopher Columbus, Napoleon, Franz Grillparzer, and the French Revolution.
Next, Dr. Körber covers anti-Semitism of the modern era around the world with population statistics and a focus on French and British anti-Semitism. Dr. Pugel wrote the chapter on anti-Semitism in northern and eastern Europe with the main focus on Russia and Soviet Russia. Yet another chapter focusses on anti-Semitism in the Austro-Hungarian Empire.
The last half of of the book becomes vastly more direct utilizing every imaginable example of what the book refers to as the Jewish destruction of European and especially german culture in the modern era. There are full-page portraits of Frederick the Great, Johann Wolfgang von Goethe, Freiherr Karl von und zum Stein, Ernst Moritz Arndt, Friedrich von Schiller, Karl Marx-Mardochai, Friedrich Ludwig Jahn, Helmuth von Moltke, Richard Wagner, Fürst Bismarck, Theodor Fritsch, Julius Streicher, and others above quotations that give an idea of their attitude towards Jews.

There are dozens of photographs of the most important European Jews of the day with highly inflammatory and derogatory commentary.

There is a portrait of Dr. Theodor Innitzer, Kardinal Fürstbischof of Vienna and many photos showing the contrast that the text supports between racially pure Aryan German people and the Asiatic Jews that had emigrated into Germany over the previous couple of hundred years. The caption of one pair of photos states that it is as likely for a Negro to be Chinese as it is for a Jew to be German!
In one section there are many examples of what the book calls Jewish art and photographs showing Jews using economic power to subjugate Aryan German girls. Another photo shows a white German woman in the French occupied Rhineland with two half-black babies and suggests that too is a problem of the Jews.

Near the end of the book there is statistical information about the numbers of East European Jews that emigrated freely into democratic Germany in the period from 1910 to 1925. Other statistical charts show the percentages of non-Jewish Germans employed in certain trades and the percentage of Jews in Germany involved in occupations like banking, publishing, medicine, theater, wholesale trade, large industries and retail.

A very important book on the subject of anti-Semitism in the world, but especially as it was practiced in Western Europe and specifically in Germany. This First Edition of Antisemitismus der Welt is complete and in very good original condition. With the original dust jacket and even the original Third Reich protective cardboard sleeve. No odor.
This huge anti-Jewish Nazi book is **SOLD**.


USM book #298
• IF you prefer faster and safer Priority Mail shipping with USPS Tracking add $13.65.
• IF you wish to purchase highly recommended, but optional insurance, add $3.50.
• We will be happy to ship abroad at additional cost. Please inquire.
ANTISEMITISMUS DER WELT IN WORT UND BILD
THE MOST ANTI-SEMITIC ILLUSTRATED NAZI BOOK EVER!
'ANTI-SEMITISM IN
THE WORLD IN WORD
AND PICTURE'

A HUGE, HEAVILY ILLUSTRATED HARDCOVER THIRD REICH BOOK DEDICATED TO THE MOST ARDENT NAZI ANTI-SEMITE, DER STÜRMER PUBLISHER JULIUS STREICHER