This 1939 KdF Italy cruise ticket book is **SOLD**.

• IF you prefer faster and safer Priority Mail shipping with USPS Tracking add $6.65.
• IF you wish to purchase highly recommended, but optional insurance, add $3.45.
• We will be happy to ship abroad at additional cost. Please inquire.
The tickets themselves are both bound and stapled into the book and allowed for various activities both onboard the ship and ashore. The activities includes things like guided city tours, meals, seats at various events, etc.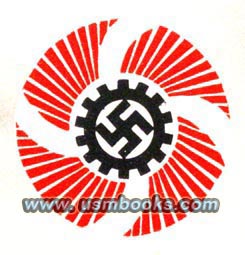 This 5 x 8 inch, 23 pages bound booklet is a complete series of tickets and/or their stubs related to the 15 - 25 January 1939 Rund-um-Italienfahrt 'Der Deutsche' or the "Cruise Around Italy" of the KdF ship "Der Deutsche". The booklet serial number 569 was sold to Reinhard Schoen for just under 50 Reichsmarks (about $10.00). The tour visited Genoa, Naples, Pompeii, Palermo, the Greek island of Corfu and Venice.
The booklet includes a fold-out map and timetable of the excursion from Genoa around the bottom of Italy and back up through the Adriatic to Venice, and a two-sided instruction sheet on how to use the tickets, ending with the words, Heil Hitler!
There were baggage labels, maps of the cities visited along with historical and tourist information, etc.

There is also an example of the ship's newspaper Neueste Nachrichten der Transocean-Gesellschaft or Latest News from the Trans-Ocean Company dated 23 January 1939. The news that day included Viktor Lütze and the SA, Italian Foreign Minister Count Ciano in Yugoslavia, trouble on the Poland-Tschechen border, bombing attacks in Ulster (what's new?), etc.
The booklet included little Italian and Nazi flags that the passenger could use to identify his nationality; the Italian flags remain in the book, the Nazi flags are torn out along the perforations. The return train ticket from Venezia to Düsseldorf is still in the book.
A very rare piece of KdF ephemera that provides a perfect inside look into both the cost and the pleasures of a KdF steamship cruise 73 years ago.


The images and the entire text used on this and all other USMBOOKS web pages are the copyrighted property of USM Inc. Those images and the text may be used by others ONLY AFTER completion of a formal international licensing agreement and payment of a licensing fee! It is therefore, illegal for anyone to take any of the material found on USMBOOKS.com and use it for their own purposes without our written permission, irrespective of any excuse they may feel they have for doing so.
NAZI KdF MEDITERRENEAN CRUISE TICKET BOOK
A VERY RARE DAF KdF TICKET BOOKLET FOR A CRUISE ABOARD 'DER DEUTSCHE' IN JANUARY 1939