The images and text used on this and all other USM web pages are the copyrighted property
of USM Inc. Those images and the text may be used by others ONLY AFTER completion
of a formal international licensing agreement and payment of a licensing fee!
This rare 1938 Nazi AO meeting guidebook is
**SOLD**.

We will be happy to ship abroad at additional cost. Please inquire.
USM book #294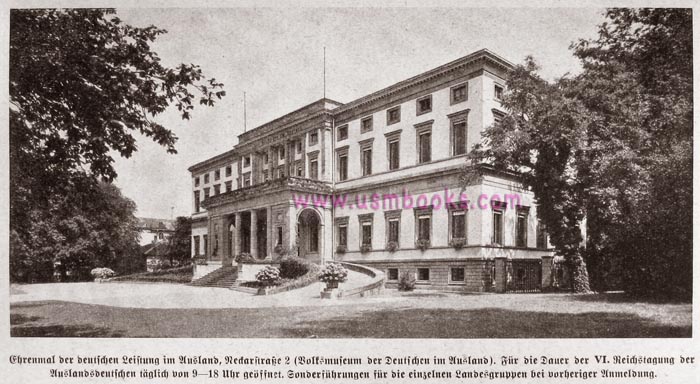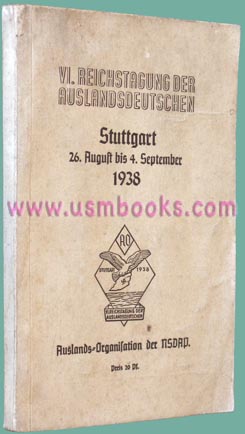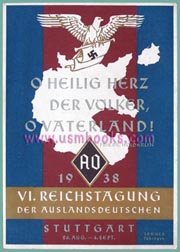 (6th ANNUAL
NATIONAL DAYS
OF FOREIGN
GERMANS IN
STUTTGART)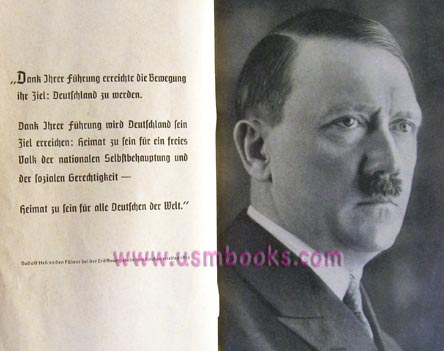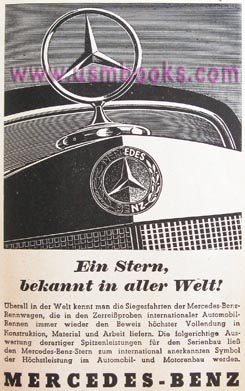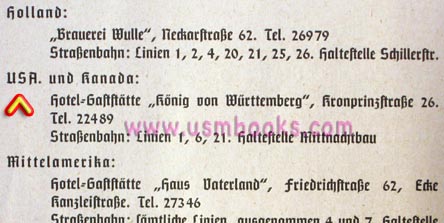 As most collectors are aware, the country of Germany was divided during the Third Reich into 42 Gaue or administrative districts each headed by a Gauleiter. Many don't know that there was a 43rd Gau - Germans living abroad - under the watchful eye of the Auslands-Organisations der NSDAP or AO and its Gauleiter Ernst Wilhelm Bohle.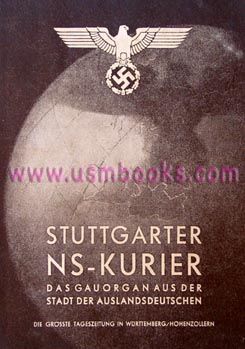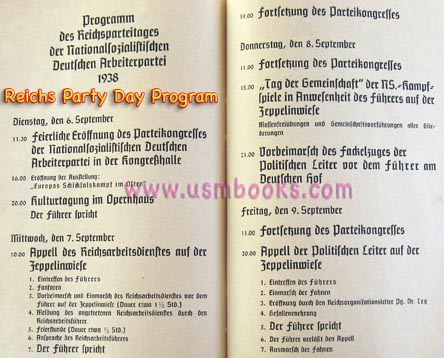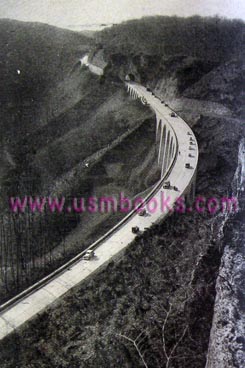 Each year foreign Germans were invited to come to AO headquarters in Stuttgart for special functions just before Reichs Party Days in Nürnberg. After the festivities in Stuttgart and others throughout Germany many of the Ausland or foreign faithful went to on the Reichsparteitage in Nuremberg to see Hitler and witness the greatest annual celebration every staged in Germany.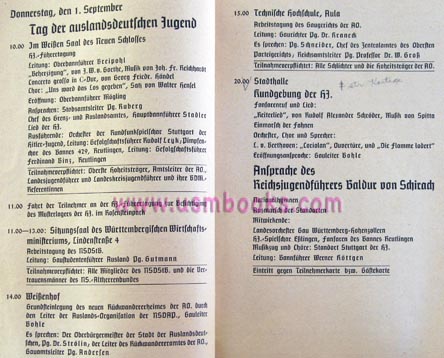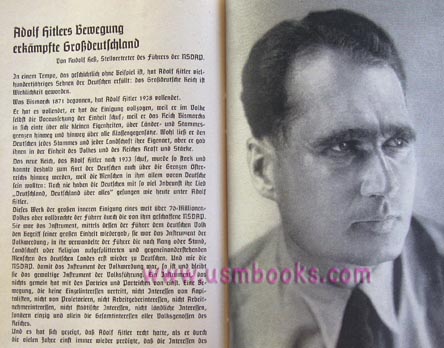 The book we offer here is a nice used example of the rare 4-3/4 x 7 inch, 160 page heavily illustrated VI. Reichstagung der Auslanddeutschen Stuttgart 26 August - 4 September 1938, or guidebook to the events of the 6th National Days of Foreign Germans.

The book begins with an apt quotation and a portrait of Adolf Hitler and various greetings before getting down to a virtual minute-by-minute schedule of events to show Germany to foreign Germans and to show foreign Germans gathered in Germany to the world.
There is advertising in the book from many of the biggest German industrial companies like
Mercedes-Benz
,
Continental Tire
, AEG, Hanomag, BMW, NSU,
Hohner
,
Löwenbräu beer
, Schering,
Kodak
, Lodenfrey, Mauser-Werk, Lanz tractors, Telefunken,
Deutsche Reichsbahn
(the largest industrial conglomerate in the world), Junghans, etc.
An excellent feature of the book is the multi-page comprehensive schedule of events at the last
Reichsparteitag
in Nürnberg from 6 - 12 September 1938.
This book came back to America with an American girl of German descent who attended the festivities. She made a few notations in the book in pencil related to the cost of incidentals like tickets (see image above).
Rare and in nice used condition.
NAZI 1938 AUSLANDS-ORGANISATION MEETING BOOK
A NICE EXAMPLE OF THE VERY
RARE 1938 POSTCARD AND
GUIDEBOOK FOR THE
VI. REICHSTAGUNG DER AUSLANDDEUTSCHEN
This USM Books website is Copyright © 2013 by USM, Inc., and the text and images on it are fully protected by international copyright law. It is therefore, illegal for anyone to take any of the material found here and use it for their own purposes without our written permission, irrespective of any excuse they may feel they have for doing so.