The images and text used on this and all other USM web pages are the copyrighted property
of USM Inc. Those images and the text may be used by others ONLY AFTER completion
of a formal international licensing agreement and payment of a licensing fee!
This Third Reich Hohner soldier harmonica is **SOLD**.

We will be happy to ship abroad at additional cost. Please inquire.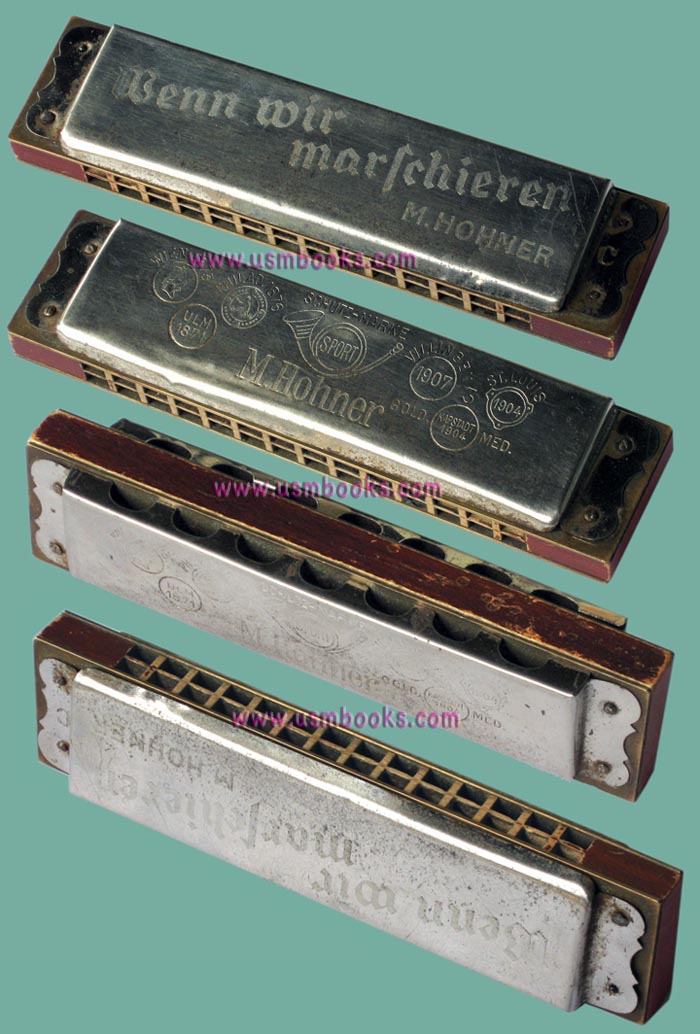 A SPLENDID ORIGINAL THIRD REICH WEHRMACHT
WENN WIR MARSCHIEREN (WHEN WE MARCH)
SOLDIER HARMONICA BY HOHNER
This is a wonderful example of a rare World War II era German Hohner harmonica in the key of C manufactured and sold in the early 1940s to soldiers on duty with the Waffen-SS and Wehrmacht. Just prior to World War II the 80 year old M. Hohner company of Trossingen, Germany was producing millions of harmonicas per year for sales in Germany and around the world. In Germany at least, the introduction of the Wenn wir marschieren! Mundharmonika had an enthusiastic reception among servicemen and civilians.
This harmonica is approximately 1-1/8 inches wide by 4-3/4 inches long by 7/8 inches thick. We don't know how it plays, as we don't play the harmonica. Because this harmonica was made during World War II the metal parts are not nickel plated but have a plating of some bright metal. The top surface is stamped with the words Wenn wir marschieren!, M. HOHNER and the letter C. On the back side is the name of the company M. Hohner, their trademark and the dates of gold medals they had won at international fairs from Vienna to Ulm and Philadelphia to St. Louis.

Condition exactly as shown above.
To see original Nazi soldier songbooks for sale on USMBOOKS.com, click HERE.
NAZI ,,WENN WIR MARSCHIEREN" HOHNER HARMONICA
This USM Books website is Copyright © 2011 by USM, Inc., and the text and images on it are fully protected by international copyright law. It is therefore, illegal for anyone to take any of the material found here and use it for their own purposes without our written permission, irrespective of any excuse they may feel they have for doing so.