The images and text used on this and all other USM web pages are the copyrighted property
of USM Inc. Those images and the text may be used by others ONLY AFTER completion
of a formal international licensing agreement and payment of a licensing fee!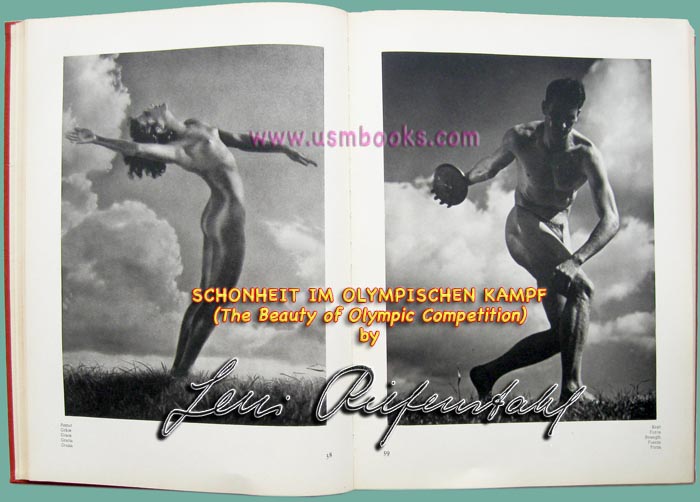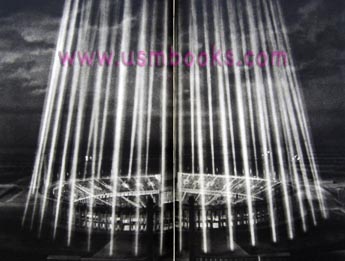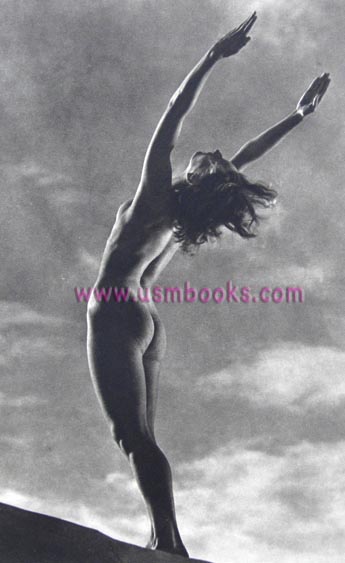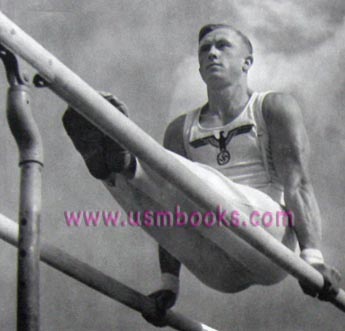 This is a used example of Leni Riefenstahl's magnificent photographic chronicle of the beauty associated with the 1936 Olympic competition in Berlin, Germany. Riefenstahl was a well-known German photographer given the impossible task of creating a documentary of the Olympic Games as they played out in Garmisch-Partenkirchen and Berlin. She succeeded even beyond her own expectations by creating a book and a movie that won countless international awards. When Riefenstahl came to the United States with her award winning movie to introduce it to the American public, she was unceremoniously run out of town by the domestic film industry and anti-German elements.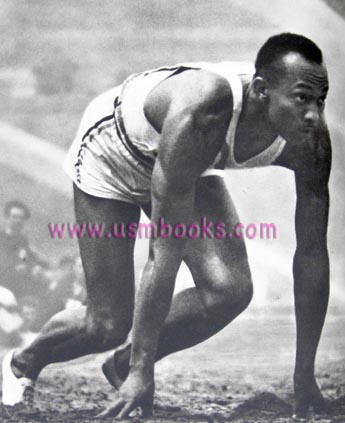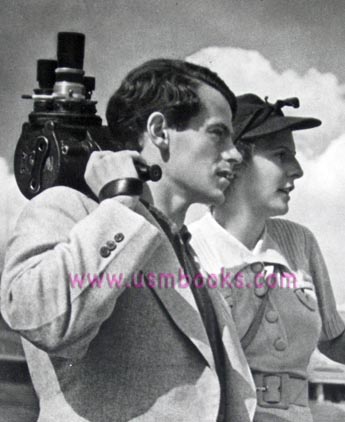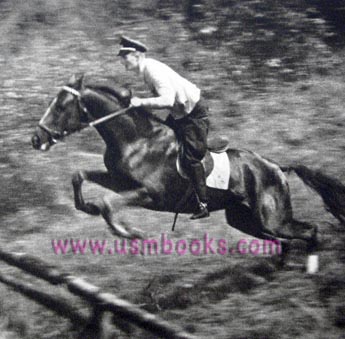 The reality is that the opportunity Riefenstahl had to document the preparations, ceremonies and competitions at the 1936 Olympics was masterfully handled by her invention of new techniques, new equipment and new approaches to filming grand events. In Germany and most of Europe, she was acknowledged for her triumph and objective film professionals and amateur viewers today also acknowledge the lasting importance of her Olympic work.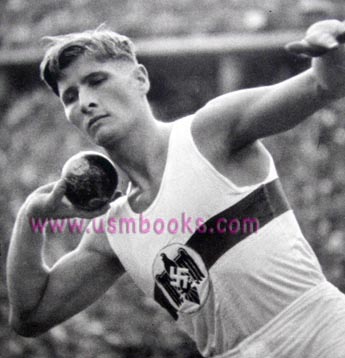 Most of the people who have seen her movie of the 1936 Olympics (OLYMPIA), have never even heard of the book we offer on this web page, SCHÖNHEIT IM OLYMPISCHEN KAMPF (The Beauty of Olympic Competition). The big 282 page, very, very heavily illustrated hard cover book weighs almost 5 pounds. It is beautifully printed by the gravure process on heavy yellow art stock giving the extra large photos a realistic effect. It was published in 1937 by Deutscher Verlag AG in Berlin. Each of the pictures has a caption in German, French, English, Spanish and Italian.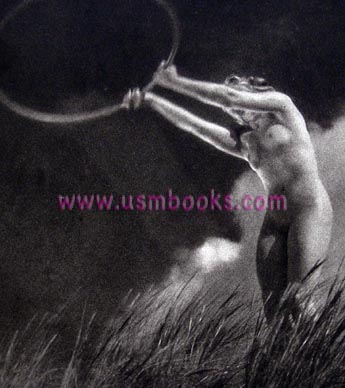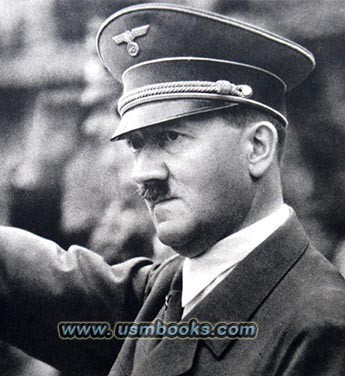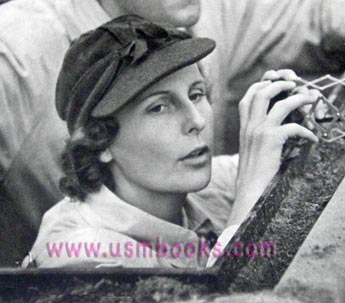 There is a one page introduction over a facsimile signature of Leni Riefenstahl followed by several photos of Olympic material in Greece. There are photos of the Olympic facilities in Berlin and the sailing venue in Kiel as well as photographs associated with the making of the movie
OLYMPIA
. There are photos of Riefenstahl with
Reichssportführer
Hans von Tschammer und Osten and with her photographers and technicians. There are photos of
Führer und Reichskanzler
Adolf Hitler, the opening ceremonies of the games, and the most famous athletes such as Jessie Owens, Luz Long, Sievert, Kuntsi, Stöck, Woellke, Torrence, Towns, Fleisher, Mauermayer, Lovelock, Sefton, Tajima, Clarck, Morris, Parker, Lippert, Stubbendorff, Wangenheim, etc.
In virtually every documentary of the 1936 Olympic Games or Leni Riefenstahl, the central thesis seems to be that Riefenstahl was an ardent Nazi and that Hitler and all the Nazis refused to acknowledge the amazing athletic ability and decent character of American runner Jesse Owens. There is nothing whatsoever in this book that would leave one with that impression. Quite the contrary, Riefenstahl went out of her way to acknowledge Owens and photograph him, even with his new German friend and competitor Luz Long (right). There is not a hint on the photos, text and captions that this was any sort of "Nazi Olympics" and no attempt at Nazi propaganda of any kind.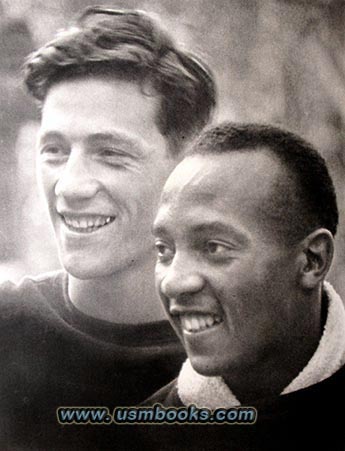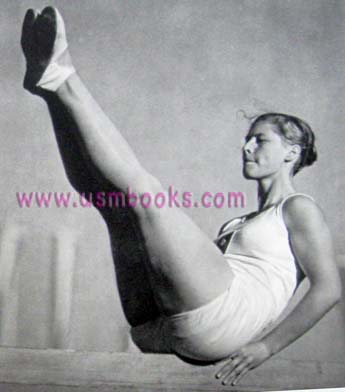 This example of SCHÖNHEIT IM OLYMPISCHEN KAMPF has light thumb smudges in the bottom right corner of many pages but all the photos and captions are there and in very nice condition. The binding at the spine is not broken loose, but is not tight as it was when manufactured.
**SOLD**.

USM book #291b
• IF you wish to purchase optional insurance, add $6.95 to your payment.
• We will be happy to ship abroad at additional cost. Please inquire.
RARE LENI RIEFENSTAHL BEAUTY OF OLYMPICS BOOK
THE RARE
LENI RIEFENSTAHL BOOK
SCHÖNHEIT IM OLYMPISCHEN KAMPF
(THE BEAUTY OF
OLYMPIC COMPETITION)
This USMBOOKS web page is Copyright © 2014 by USM, Inc., and the text and images on it are fully protected by international copyright law. It is therefore, illegal for anyone to take any of the material found here and use it for their own purposes without our written permission, irrespective of any excuse they may feel they have for doing so.