The images and the entire text used on this and all other USMBOOKS web pages are the copyrighted property of USM Inc. Those images and the text may be used by others ONLY AFTER completion of a formal international licensing agreement and payment of a licensing fee! It is therefore, illegal for anyone to take any of the material found on USMBOOKS.com and use it for their own purposes without our written permission, irrespective of any excuse they may feel they have for doing so.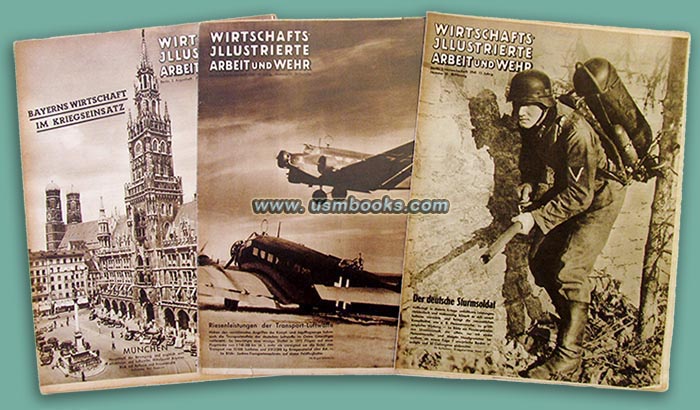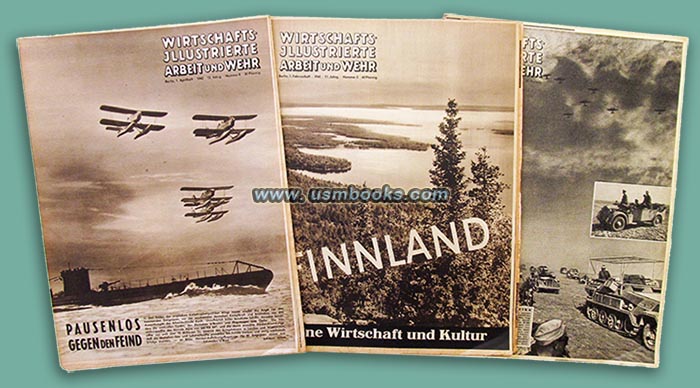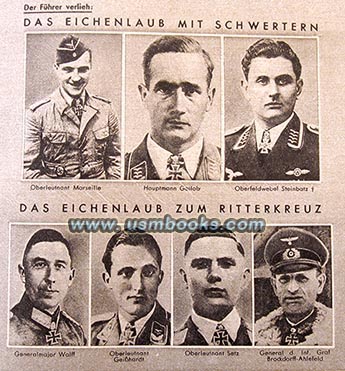 The heavily illustrated magazine Wirtschafts-Illustrierte Arbeit und Wehr (Illustrated Economics Magazine - Industry and Defense) was published four times per month in Third Reich Germany by Verlag Hans Wilhelm Rödiger in Berlin. Each 9 x 12-1/4 inch very heavily illustrated 16 - 48 page issue cost 30 Pfennigs. A one year subscription cost RM8.58 and the price for six months was RM4.29.

All issues contain a wealth of information and dozens of photographs of war industries and the military economy in Nazi Germany and abroad, defense technology, new construction techniques, new weapons, the latest aircraft, military vehicles, machinery, railways, electronics, war art, etc. The magazines announced important war news, innovations, manufacturing advances, Knights Cross of the Iron Cross winners, etc. Each article or feature was accompanied by detailed black and white photos of the subject. Every issue also had a fine selection of period advertising.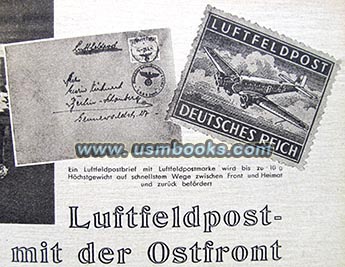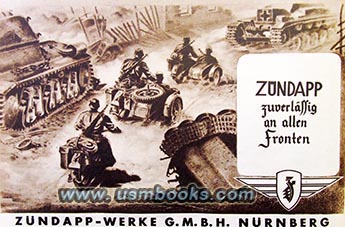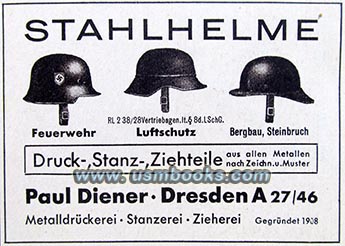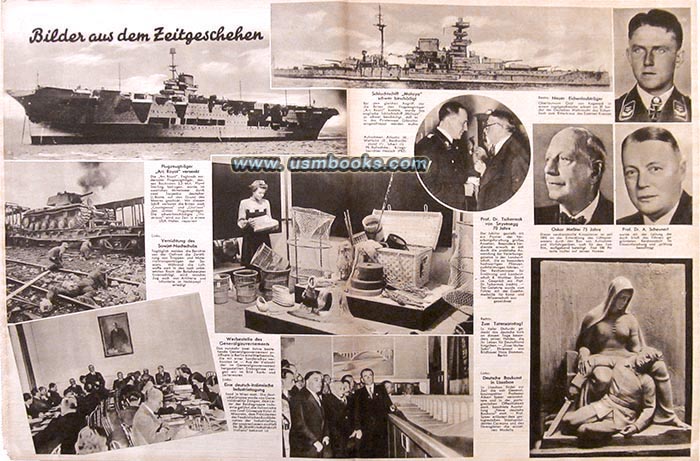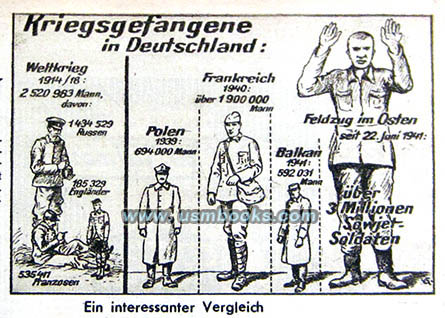 Offered on this USMBOOKS web page is a lot of SIX issues of Wirtschafts-Illustrierte Arbeit und Wehr from 1941 and 1942.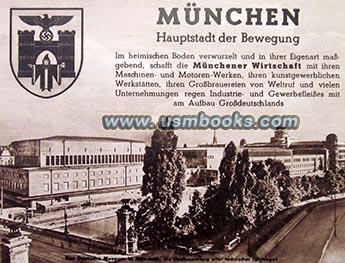 Number 5, 1st February 1941 issue with 30 pages
A special issue about Finland - its economy, culture, trade with Nazi Germany, the wood industry, tourism, nature, education, Finnish army volunteers, Boys Scouts and farmers.

Number 28, 2nd August 1941 issue with 48 pages
A special issue about the war effort in Bayern (Bavaria) - its economy, war industry, beer breweries and vineyards, tourism and museums, etc.
Number 31, 2nd September 1941 issue with 16 pages
Luftwaffe Transport Planes, the Importance of Vitamins, Economic War against Japan by the ABCD Block, Firefighter Training and current news photos.

Number 35, 2nd November 1941 issue with 16 pages
The Modern Wehrmacht Soldier, the Italian War Industry, Industry in the German Ruhr, the Planned Gibraltar-Africa Tunnel, the Sinking of the British Aircraft Carrier Arc Royal, Building New Naval Ports and current news photos.
Number 8, 1st April 1942 issue with 16 pages
Japanese coastal blockade, Test Pilots of Fw187, Ju 90, Do 26, HS 126 airplanes, the Steel Industry in Styria, Wehrmacht Supply Companies in Winter, German Inventors in the USA, Wehrmacht Railroad Engineers and current news photos.
Number 14, 1st July 1942 issue with 16 pages
Victory in North Africa, British Losses at Sea, Nazi Tank Factory, Air Mail to the East Front, the State Funeral for NSKK-Korpsführer Hühnlein, Knights Cross Oak Leaf recipients, Port Darwin, Luftwaffe Spotters, new books and current news photos.

These issues of Wirtschafts-Illustrierte Arbeit und Wehr also contain some short stories, crossword puzzles and advertising by Agfa, Deutsche Reichspost, Wybert, Dr. Oetker, Bayer, BMW, MAN, Messerschmitt AG, Zündapp, Triumph Werke Nürnberg, RWS, Rosenthal, AEG, beer breweries, banks, etc.

These 74+ year old magazines contain over 140 heavily illustrated pages with very interesting content not found in other Nazi magazines. The photo content is superb. All six issues are complete an in very nice used condition. Nothing has been cut out, no defaced pictures, no odor.
Left, an interesting comparison of the numbers of POWs from the November 1941 issue of Wirtschafts-Illustrierte Arbeit und Wehr.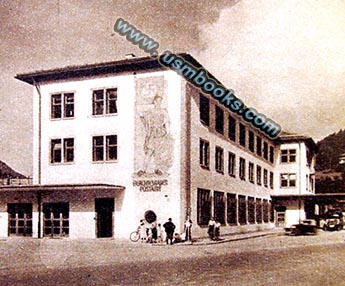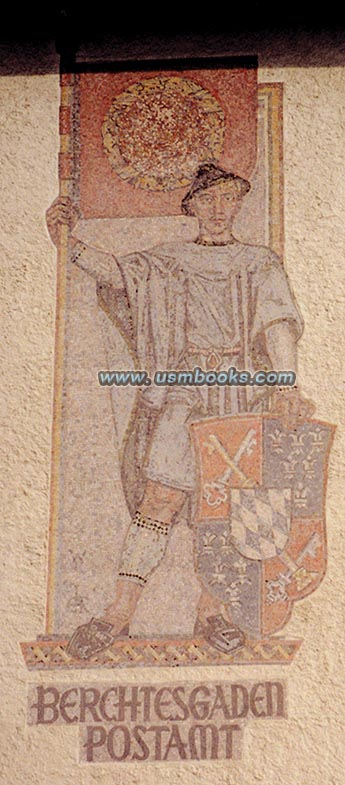 Above, the new Postamt or post office in Berchtesgaden and left as the mural on the side looks today. Note the swastika has been obliterated.
This lot of 6 wartime Wirtschafts-Illustrierte Arbeit und Wehr magazines
is for sale for $125.00 PLUS postage (see options below).

•For Priority Mail plus USPS Tracking add $7.75
OR
add $5.75 for Media Mail..
• IF you wish to purchase highly recommended, but optional insurance, add $3.50.
• We will be happy to ship abroad at additional cost. Please inquire.
VERY HEAVILY ILLUSTRATED NAZI DEFENSE-TECHNOLOGY MAGAZINES
SUPERB PHOTO CONTENT
WIRTSCHAFTS-ILLUSTRIERTE ARBEIT UND WEHR
(ILLUSTRATED ECONOMICS MAGAZINE INDUSTRY
AND DEFENSE) LOT OF SIX FROM 1941 AND 1942